With Winmate's focus on designing strong rugged industrial computers, IP rated water and dust proofing has been a mainstay in our philosophy, which is exemplified through the technology needed for the IP69K Flat P-Cap Stainless Panel PC series.
Designed as a machine controller or operator control PC for applications with high hygienic requirements such as the food and beverage or chemical processing industries, the IP69K series is built to withstand extensive wash downs with corrosion resistance against cleaning agents, especially against close-range high-pressure, high temperature wash downs. This level of protection allows for easy cleaning and sterilization using water with temperatures of up to 80°C and pressure of up to 30 Bar. Available with a high-performance Intel Core i5-7200U Kaby Lake processor, the stainless series allows for powerful computing in a reliable package that goes beyond that of a standard industrial panel computer.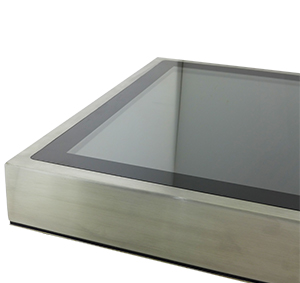 The specially designed housing for this IP69K Stainless series is made from SUS304 stainless steel to resist against corrosion and liquids with a true flat, easy to clean edge-to-edge front surface. This true flat front side prevents the build up of any particles on the bezels that might be found on standard monitors which makes it harder to clean thoroughly for complete sterilization. Waterproof connectors and an air venting valve that prevents moisture from building up within the housing allows for full waterproof protection against any sort of washdowns during the cleaning process.
For those that work in the food and beverage processing industry or chemical manufacturing, the ability for the machine controller panel pc to withstand washdowns will ensure a sanitized clean environment that helps make the manufacturing process more efficient and safer for both the employees and for the end products destined for consumers. As these stainless multi-touch panel pcs will have employees interacting with them by hand, or will be positioned in areas where food processing occurs, it is essential to maintain hygiene with easily cleanable devices.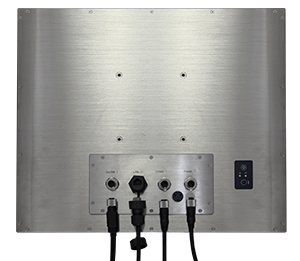 Product Features:
15", 17", 19", 21.5", 23.8" Display sizes with P-Cap multi-touch screens
Fan less design
High performance Intel® Core™ i5-7200U Kaby Lake processor (Optional Intel Pentium N4200 Apollo Lake)
IP69K sealed waterproof and corrosion resistant stainless steel enclosure with air venting valve
A true flat, easy-to-clean front surface with edge-to-edge design
Waterproof ports with adapter cables for external connectivity
VESA mount, Yoke Mount
Optional Glove / Rain touchscreen modes