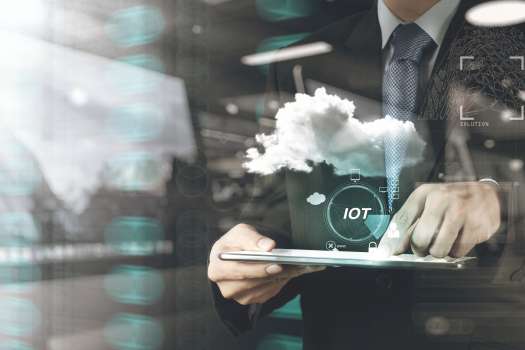 So, what is the Industrial Internet of Things?
Introduction
Nowadays, the term "the Industrial Internet of Things" has become increasingly more pervasive in the context of industry as digitization has become a business priority for many organizations. So, what is the Industrial Internet of Things?
The Industrial Internet of Things (IIoT), also known as the Industrial Internet, brings together brilliant machines, advanced analytics, and people at work. It's the network of a multitude of industrial devices connected by communications technologies that results in systems that can monitor, collect, exchange, analyze, and deliver valuable new insights like never before. These insights can then help drive smarter, faster business decisions for industrial companies.
IIoT is transforming industry—changing the way industrial companies operate from day-to-day. Whether it's enabling predictive analytics to detect corrosion inside a refinery pipe, providing real-time production data to uncover additional capacity in a plant, or accelerating new product development by feeding operations and service data back into the product design cycle, IIoT—and the software solutions powered by it—are driving powerful business outcomes.
By combining machine-to-machine communication with industrial big data analytics, IIoT is driving unprecedented levels of efficiency, productivity, and performance. And as a result, industrial companies in original equipment manufacturing, chemicals, food and beverage, automotive, steel, and many other industries are experiencing transformative operational and financial benefits.
There is such great potential for the Industrial Internet to change the way industry works that GE Digital predicts the benefits to the global economy through IIoT will be:
46% of global economy that can benefit from the Industrial Internet
100% Industrial Internet potential impact on energy production
44% Industrial Internet potential impact on global energy consumption
The term Industrial Internet
Who coined the term Industrial Internet?
As the premier digital industrial company, GE coined the term Industrial Internet in late 2012. It estimates the Industrial Internet could be a $225 billion market by 2020, and has made significant investments in the Industrial Internet. It created GE Digital, its software business dedicated to making digital the core foundation of GE's operations.
GE is one of the companies that founded the Industrial Internet Consortium to accelerate the development, adoption, and widespread use of interconnected machines and devices, intelligent analytics, and people at work.
Leveraging the promise of the Industrial Internet, or IIoT, GE is driving its own digital industrial transformation. And based on its experience and deep technology and industry expertise, GE is helping customers accelerate their digital transformation journeys with GE Digital's Predix Portfolio of industrial applications and IIoT platform.
How to invest
How do I invest in the Industrial Internet?
The Industrial Internet is already allowing digital industrial leaders to transform their operations and deliver critical business outcomes. But according to research, only 5% of companies have succeeded in digital transformation—largely due to the lack of a purpose-built industrial platform.
That's why GE created Predix Platform, to address the unique needs of industrial companies on the path to digitization. Predix Platform is a distributed application platform that's purpose-built for the digital industrial era. It captures and analyzes the unique volume, velocity, and variety of machine data in a secure, industrial-strength cloud environment. So, you can tap into your data and apply it to achieve new levels of business performance.
With the industrial world primed for digitization, GE Digital is leveraging the power of the IIoT. Its software connects streams of machine data to powerful analytics and people, providing industrial companies with valuable insights to manage assets and operations more efficiently.
For example, what if you could use advanced analytics to predict events before they happened? Predix Asset Performance Management (Predix APM) helps you increase asset reliability and availability while optimizing maintenance costs, mitigating operational risks, and reducing total cost of ownership (TCO).
What if you could use real-time visibility to recover production capacity and drive greater efficiency and optimization? With Predix Manufacturing Execution Systems (Predix MES), you can digitize your manufacturing plant or factory with insights that optimize your processes.
What if you could increase field service efficiency, improve customer experience, and maximize profitability? Predix ServiceMax Predix ServiceMax enables dispatchers to schedule and dispatch service jobs, while providing technicians with the process, steps, and data on equipment, customer, and parts that they need to deliver service.
What if you could help your operators know the right actions to take every time? That's where next-generation Predix HMI / SCADA solutions can help you drive smart operator decisions with model-based high performance HMI for faster response and development.
These IIoT solutions are helping companies drive big gains in productivity, availability, and longevity—making digital transformation for industrial organizations possible.
Comparison
The Industrial Internet vs. Internet of Things
One perspective is to think of the Industrial Internet as connecting machines and devices in industries such as oil and gas, power generation, and healthcare, where there is more at stake or where system failures and unplanned downtime can result in life-threatening or high-risk situations. On the other hand, the Internet of Things tend to include consumer-level devices such as heart monitoring fitness bands or smart home appliances. They are functional and can provide conveniences but do not typically create emergency situations if downtime were to occur.
For example, the Industrial Internet envisions machines that tell operators how to optimize productivity or detect a failure before it occurs, potentially saving companies billions of dollars a year, while the Internet of Things includes connected refrigerators that can purchase more milk and eggs online before they run out
As the Industrial Internet connects critical machines, it can deliver powerful financial and operational outcomes. For example, one of our customers, a power company saves $.5MM annually by using our asset performance management solution to gain asset, plant and fleet reliability. Another customer, AkzoNobel, increased capacity by 20% and reduced lead time to customer delivery, and improved traceability by leveraging our MES solutions.
When it comes to the power of IIoT, the sky is the limit. As more and more data is created from increasingly connected machines, systems, and devices, the volume of critical and valuable insights to be realized and acted upon is limitless.
Accelerate your IIoT journey
Are you ready to accelerate your IIoT journey?
No matter where you are on your Industrial Internet journey, GE Digital's Customer Success Services can help you take the next step. Applying data science and design thinking to blueprinting and solution architecting—and everything in between and beyond—we're ready to help you maximize your IIoT investments.
GE Digital