The current industrial automation market is trending towards increasingly compact form factors and intelligent designs that offer space savings and boost efficiency.

Advantech's IPC-220/240 is an ultra-compact industrial edge computer that features a wide operating temperature range, wide input power tolerance, and front-facing I/O for convenient access and easy deployment. Despite its compact size, the IPC-220/240 offers high expandability to support machine vision and motion control, making it ideal for industrial automation and equipment manufacturing applications.

Moreover, with Advantech's rapid and localized configuration services, the IPC-220/240 reduces the time-to-market for machine builders and accelerates the realization of Industry 4.0.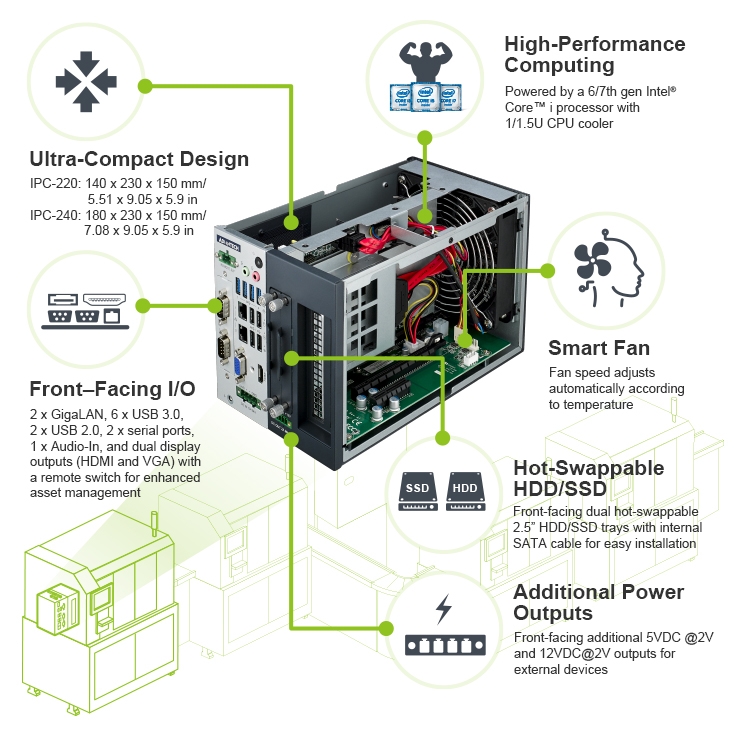 | | | |
| --- | --- | --- |
| Product Offering | | |
| | | |
| Ultra-Compact Motherboard | Ultra-Compact Chassis | Compact IPC Series System |
IPC-220

6/7th Gen Intel® Core™ i socket-type (LGA 1151) processor with Intel® Q170/H110 chipset
IPC-220 chassis is compatible with PCE-2029 and PCE-2129 motherboards and supports PCIe x16 and PCIe x4 expansion slots

IPC-240

6/7th Gen Intel® Core™ i socket-type (LGA 1151) processor with Intel® Q170/ H110 chipset
IPC-240-01A1 chassis is compatible with PCE-2029 and PCE-2129 motherboards and supports PCIe x16, PCIe x4, and dual PCI slots
IPC-240-00A1 chassis is compatible with the PCE-2129 motherboard and supports PCIe x16, dual PCIe x4, and PCIe x1 slots