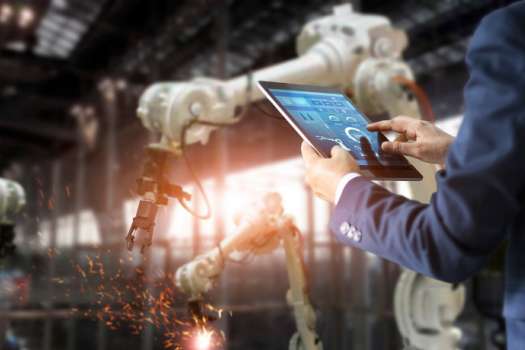 New wave of data-driven digital transformation
Industrial IoT (IIoT) involves integrating big data, cloud, and AI applications. To embrace this trend, Advantech is collaborating with domain-focused system integrators (DFSIs) to develop industrial apps (I.Apps). These I.Apps are organized and listed on the WISE-Marketplace, an online IoT cloud marketplace for industrial apps. Using this marketplace enables the rapid development of solutions and significantly accelerates the implementation of smart factory applications in various sectors, significantly promoting the realization of Industry 4.0.
Interview with Allan Yang, CTO, Advantech; Willie Lin, Senior Manager of iFactory Solution BU, Advantech
The integration of big data, cloud computing, AI, and other cutting-edge technologies has changed how industries compete. A shift from "supply chain versus supply chain" to "ecosystem versus ecosystem" has occurred and driven a new wave of digital transformation in manufacturing. However, information systems embraced by enterprises for 40 years, such as enterprise resource planning (ERP) systems and manufacturing execution systems (MES), are proving insufficient. Enterprises seeking competitive advantages and the realization of Industry 4.0 must adopt AI, IoT, and big data-integrated cloud architecture as a basis for building an intelligent application system that incorporates information technology (IT) and operation technology (OT).
New wave of data-driven digital transformation
Advantech CTO Allan Yang posits that the new wave of digital transformation can be explained by three phenomena. First, after the emergence of e-commerce and social networking services (i.e., Amazon and Facebook), external users of IT services increased exponentially. Therefore, internal employees are no longer the sole clients of an enterprise's IT services. As traditional client- server corporate IT became insufficient, cloud-based corporate IT emerged. Second, the technology used for storing and processing big data collected by e-commerce/social networking services has matured. Third, cloud service providers have begun analyzing users' behavior data, leading to the implementation of artificial neural networks aimed at achieving marketing and service innovations.
The popularity of cloud, big data, and AI technologies is not confined to business-to-consumer markets. Vertical industries such as healthcare, manufacturing, and retail are also actively leveraging these technologies to promote a new digital transformation. Using smart manufacturing as an example, Dr. Yang elaborated, "These technologies can be leveraged to acquire data on human behavior. The same technology can be utilized to acquire and analyze factory equipment data while implementing intelligent automation for factories." In the past few decades, IT and OT have significantly improved manufacturing production efficiency. Despite high levels of informatization and automation, human operators remain necessary to the manufacturing process. The present operation of factories has shifted from a function- driven model to a data-driven model. This transformation was driven by a combination of factors—the integration of IT and OT with the aforementioned technologies, data- based intelligent decision making that emulates human cognition, and judgments formed via deep learning models that exceed human intelligence.
I.Apps and the WISE-Marketplace accelerate the implementation of Industrial IoT
Since 2014, Advantech has promoted innovative products and solutions in response to the trend for data-driven manufacturing models. Dr. Yang stated, "Although we endured many trials and errors, making improvements and adjustments has yielded new headway, accelerating the implementation of smart applications." He further confessed that in 2014, Advantech did not fully realize that data was the key. At that time, Advantech used a function-driven model for promoting smart retailing, manufacturing, and healthcare. Moreover, many smart application implementations used a project-based model, and replicating their deployment from project to project was extremely challenging. These issues made accelerating the promotion of IoT applications virtually impossible.
Upon recognizing the central role of data, Advantech's R&D team swiftly developed a data-driven application platform—the WISE-PaaS platform. In the following years, the company began to actively promote co-creation, using decoupling and refactoring concepts to collaborate with global partners in developing industrial applications (I.Apps). Dr. Yang explained that through decoupling and refactoring, I.Apps can be restructured and reused modularly. This ensures rapid and flexible development while making it easier for partners to co- create with Advantech. In 2020, Advantech adopted a concept similar to the Apple App Store and rebuilt its WISE-Marketplace to accelerate the implementation of IoT applications.
Building ecosystems to actively promote smart manufacturing
Using I.Apps and the WISE-Marketplace, Advantech is accelerating the implementation of smart manufacturing in various regions around the world. Willie Lin, Advantech's iFactory Solution BU Senior Manager, pointed out that the company has more than 30 years of experience developing industrial PCs and data acquisition equipment. He added that Advantech remains a pioneering leader of industrial intelligence innovation. With the development of I.Apps that enable swift restructuring, Advantech can provide factories with comprehensive and flexible solutions. These apps facilitate the development and implementation of data acquisition systems, management visualization and cloud services, intelligent manufacturing analytics, and smart factory operations.
Mr. Lin elaborated that 80% of I.Apps on the WISE-Marketplace are mainstream apps, and the remaining 20% are domain-specific apps. This gives Advantech's DFSI co-creation partners flexibility to choose mainstream or domain-specific apps according to their existing IT infrastructure and intelligent development goals. Partners benefit from fast implementation, while significantly reducing implementation costs and minimizing the failure rates associated with introducing smart applications.
Using the comprehensive I.Apps and WISE-Marketplace resources, Advantech has deepened its co-creation relationships with its partners. This has included investing in system integrators (SIs) such as Information Technology Total Services (ITTS) and Impelex Data Transfer Co., Ltd. Dr. Yang emphasized that with the formation of upstream and downstream co-creation partner relationships, SIs can utilize any software and hardware resources within Advantech's WISE-PaaS platform. Leveraging its extensive experience of implementing I.Apps in smart factories to accelerate intelligent production, Advantech provides manufacturing industries with the necessary building blocks for implementing the data-driven models required to realize Industry 4.0.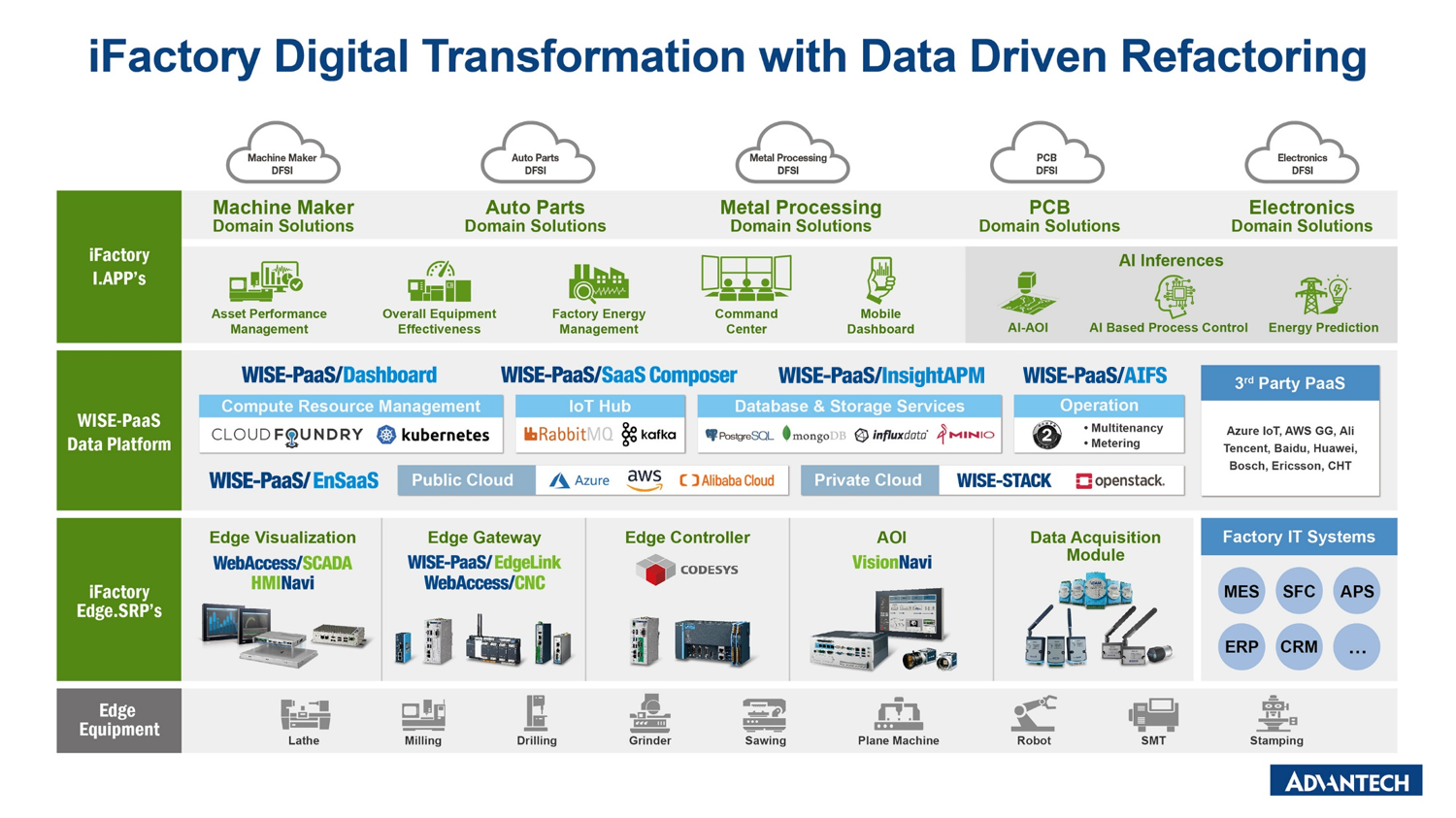 WISE-PaaS & WISE-Marketplace
The WISE-PaaS data application platform end-to-cloud architecture provides a comprehensive development environment for data collection, analysis, management, and applications, while promoting interoperability between I.Apps via the WISE-Marketplace and accelerating the development of industrial solutions.