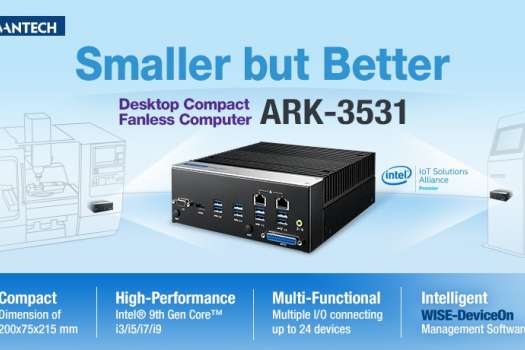 Solution for applications in kiosks and intelligent manufacturing
Advantech, a leading provider of global AIoT platforms and services, is pleased to announce ARK-3531, a compact fanless computer for kiosk and intelligent manufacturing applications. ARK-3531 is powered by a 9th Gen. Intel® Core™ i3/i5/i7/i9 35W desktop processor and provides a ruggedized compact design (200 x 75 x 215 mm/7.87 x 2.95 x 8.46 in) ideal for harsh limited-space environments. Indeed, Advantech's ARK-3531 delivers desktop-comparable computing power, supports 9 ~ 36VDC power input, and provides an IP40-rated vibration/shock-resistant design capable of functioning in broad temperature ranges (-20 ~ 60 °C / -4 ~ 140 °F). This innovative embedded solution is designed to ease management of smart automation and kiosk applications by supporting versatile I/Os capable of connecting to 24 devices. Additionally, ARK-3531 is pre-loaded with WISE-DeviceOn software to help users remotely monitor and manage connected devices. When paired with Advantech's edge AI VEGA modules, this fanless computer can function as an AI inference system in AI image recognition applications.
Compact Design with Desktop Processor
ARK-3531 delivers high-performance in a compact device via an Intel® 9th Gen. Core™ i3/i5/i7/i9 35W processor. This embedded computer supports dual DDR4 2666MHz SO-DIMM memory with a 64GB maximum capacity. ARK-3531 offers similar performance to an ATX tower, but is 10 times smaller. When utilizing Advantech's VEGA-320 and VEGA-330 edge AI modules, ARK-3531 functions as an AI inference system for applications in robotics, kiosks, smart manufacturing, and transportation.
Versatile I/Os Connecting up to 24 Devices
ARK-3531 is a multi-functional computer with diverse I/Os including 2x USB 3.1, 6x USB 3.0, 8x COM ports and 16bits GPIO. It provides 1x mini PCIe slot and 1x M.2 2230 E key slot for convenient device integration. Using Intel® RAID 0/1 software, ARK-3531 accommodates two 2.5" SATA III hard drive bays enabling adaptability in diverse applications.
WISE-DeviceOn Intelligent Management Software
Remote monitoring and management via a centralized platform enables predictive maintenance and efficient troubleshooting while minimizing IoT device downtime. Advantech's WISE-DeviceOn software platform features a suite of programmable APIs including a multi-level watchdog, hardware monitor, system restore mechanism, and other user-friendly interfaces. With the inclusion of WISE-DeviceOn, ARK-3531 can be used for remotely managing, monitoring, configuring, and controlling numerous terminals—ensuring easy maintenance and recovery.
Key Features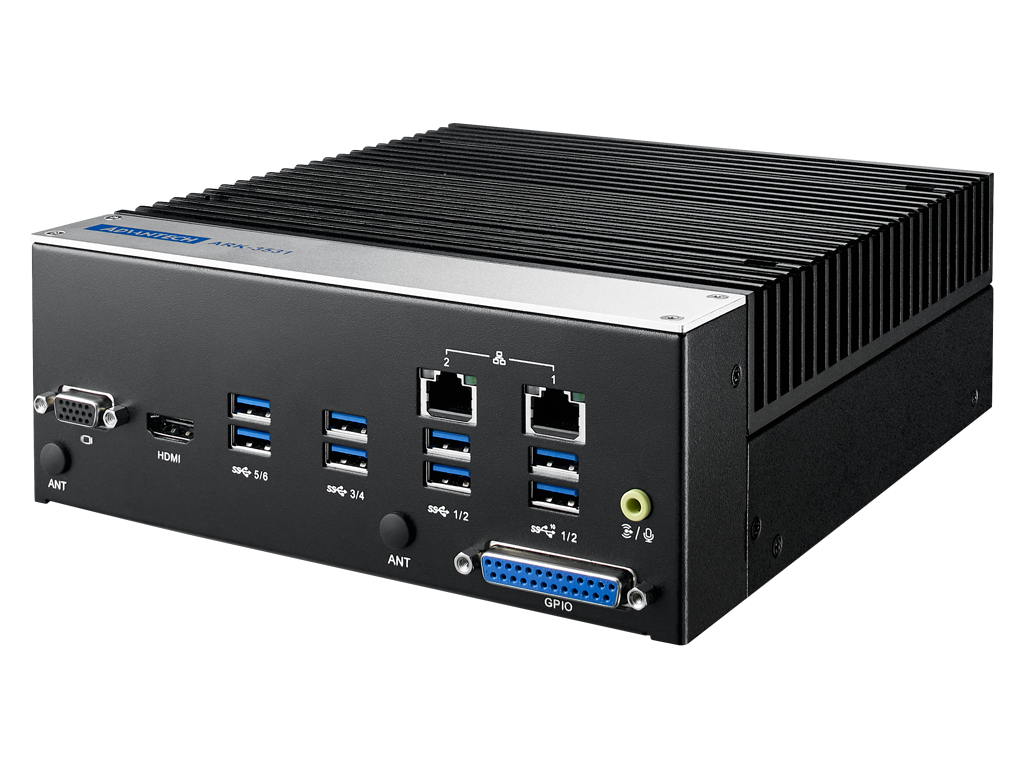 Supports 9th Gen. Intel® Core™ i3/i5/i7/i9 35W processor
Dual display: VGA + HDMI DDR4 2666MHz SO-DIMM memory support up to 64 GB
9~36VDC wide range power input and IP40 rating
Versatile I/Os including 2x USB 3.1, 6x USB 3.0, 8x COM ports, and 16bits GPIO
Supports 2x internal 2.5" Hard Drive bays (Intel® SW RAID 0/1)