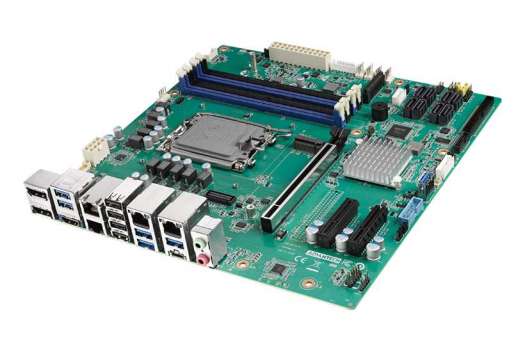 Advantech has released AIMB-588, a Micro ATX motherboard with 12th Gen Intel® Core™ processors.
Powerful Image Computing Empowers Embedded Industrial Applications
AIMB-588 provides advanced graphics processing capabilities via PCIe Gen 5 x16. Research from Intel® indicates that PCIe Gen 5 x16 provides double the bandwidth and giga-transferring rate as PCIe Gen 4 — allowing data to be transferred at speeds up to 32GT/s. These capabilities empower the use of high-performance graphics cards (like the RTX3090) for complex processing tasks including facial and object recognition. In addition, AIMB-588 supports 4 x independent displays with 4K@60Hz via 2 x DisplayPort 1 x HDMI, and 1 x EDP for image processing. By integrating the latest interface and diverse expansion slots, AIMB-588 optimizes the performance of medical imaging and machine vision systems.
Flexible I/O Design Improves Functionality
The 12th Gen Intel® Core™ processor features an innovative hybrid architecture with dual cores for comprehensive computing management that empowers AIMB-588 to provide superior visual computing capabilities. AIMB-588 also boasts superior, high-resolution visual output through high compatibility I/O design. Illustratively, it includes 4 x GbE LAN ports up to 2.5 GbE for high-resolution, low-latency image capture via IP and/or high-speed cameras. This solution supports up to 8 x USB 3.2 for image data processing via different peripherals. Buttressing this, AIMB-588 supports 8 x SATA III and 6 x COM (RS-232/422/485 auto-flow control) for superior data synchronization precision and reduced latency.
WISE-DeviceOn Delivers Remote Control with Reduced Cost of Ownership
AIMB-588 avoids system failures using WISE-DeviceOn software. WISE-DeviceOn provides real-time hardware, software, and peripheral monitoring for real-time alert notifications. These features are buttressed with an over-the-air (OTA) BIOS system that facilitates remote BIOS updates, and provides backup recovery mechanisms that prevent interruptions and boot up failures. AIMB-588 also uses USB power on/off functions that prevent unauthorized access and reboot the USB device without turning the power off. This combination of features reduces maintenance costs and improves IoT efficiency by identifying and resolving issues preemptively.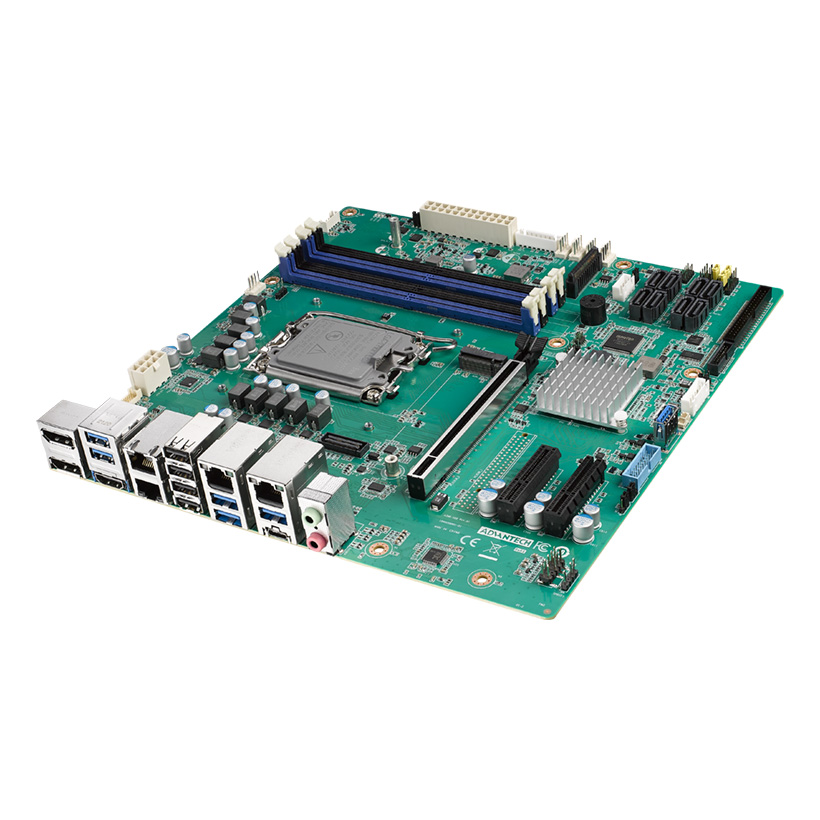 Highlighted Features:
12th Gen Intel® Core™ i9/i7/i5/i3 processor with Q670E/ R680E/ H610E chipset
PCIe Gen 5 x16 , PCIe Gen 4 x4, and PCIe Gen 3 x4
Up to 8 x USB 3.2, 1 x USB 3.2 Gen 2 Type C, 4 x USB 2.0, 8 x SATA III, 1 x GbE LAN, 3 x 2.5GbE LANs, & 1 x M.2 M-Key
Four displays ( 2 x DP++, HDMI, & eDP)
Intel® AMT and vPro technology
Software RAID 0, 1, 5, 10, and TPM 2.0
AIMB-588 is an excellent choice for applications requiring real-time processing and superior graphics capabilities.