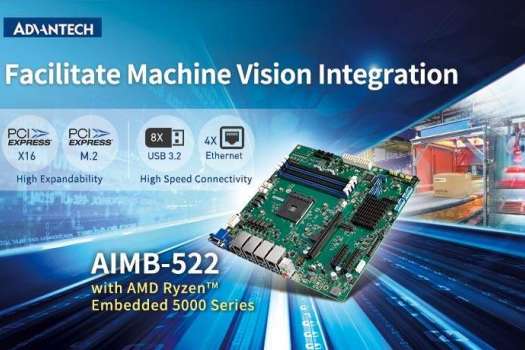 Advantech is proud to release its industrial Micro-ATX AIMB-522 for AI image processing in automation and surveillance.
Powered by AMD first desktop processor "Ryzen™ Embedded 5000" with up to 8 high performance "Zen 3" cores, AIMB-522 come with a full suite of technologies designed to elevate your applications including high computing performance-efficiency, high expandability with PCIe Gen4, and up to 4x Gigabit Ethernet ports and 8x USB 3.2, yielding an ideal solution for factory automation, smart logistics and intelligent surveillance.
Off-the-Charts Performance with AMD Desktop Processor Ryzen™ Embedded 5000
AIMB-522 features AMD latest desktop processor Ryzen™ Embedded 5000 with "Zen 3" performance, achieving new levels of processing and power efficiency. The Instructions Per Clock of Zen 3 core is 19% additional performance from every MHz of frequency relative to the previous generation. Likewise, the Zen 3 architecture transitions to a new design that brings 8 cores and 32MB of L3 cache into a single group of resources. Latency-sensitive applications like smart manufacturing, automated visual inspection and intelligent surveillance especially benefit from this change, as tasks now have direct access to twice as much L3 cache versus "Zen 2." Impressively, the performance gains of the "Zen 3" architecture can be delivered with no increase to power consumption or TDP. With the industry-leading 7nm process, AMD Ryzen™ 5000 Series deliver a 24% generational improvement in energy efficiency, and a stunning 2.8X lead over competing architectures.
Sufficient High Speed Interfaces for Camera-based Applications
To ensure easy deployment for diverse computer vision applications, the integration of multiple high-speed digital cameras is essential to capture images seamlessly. AIMB-522 heavily equipped with 4x Gigabit Ethernet ports and 8x USB 3.2 10Gbps interfaces, offering complete connectivity for latest high data throughput cameras with transfer bandwidths up to 350MB/s and 60 fps. It made AIMB-522 able to integrate more than 10 high video quality cameras without additional peripherals cards. For extra connectivity, the onboard PCI-Express x4 slots offer flexibility to support more camera devices or industrial controllers with add-on cards.
Adequate adaptability for industrial applications
The deep learning assisted imaging processing will be the key requirement in automated manufacturing applications in coming years. AIMB-522 support one PCI-Express x16 Gen4 technology for graphics demanding applications. Furthermore, dual PCI-Express x4 slots offer the expandability to integrate the robotic (arm) controller cards in the industrial market. The onboard M.2 M-Key socket support high-speed SSD for Real-Time OS operations. The just-fit adaptability of AIMB-522 for industrial peripherals help customer to upgrade the controller of factory automation to AI-enabled imaging processing solution.
Key Features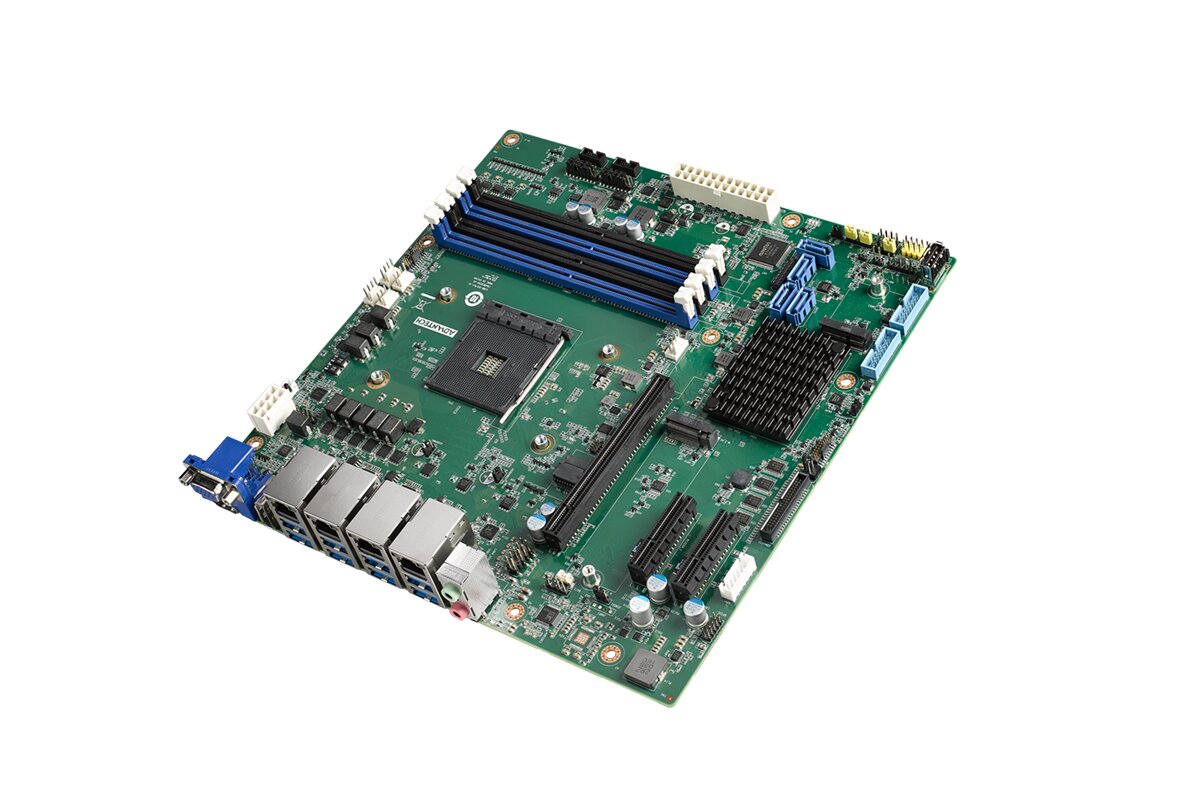 AMD Ryzen™ Embedded 5000 Series in high-performance Zen 3 architecture
High speed connectivity – 4x Gigabit Ethernet & 8x USB 3.2
High expandability – One PCI-Express x16, two PCI-Express x4, one M.2 M-key (PCI-Express x4)
Diverse I/O for industrial application – One Mini card slot, 4x RS232, 2x RS232/422/485