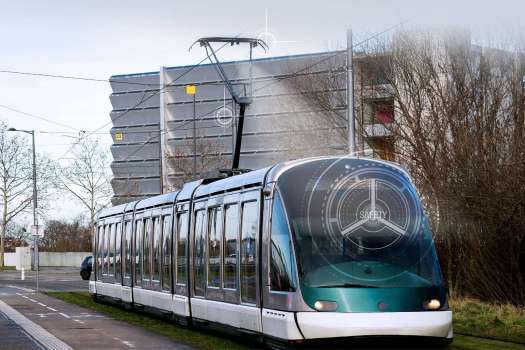 Train-Mounted Pantograph Monitoring System with Advantech Modular CompactPCI Products
Introduction
Most metropolitan Mass Rapid Transit (MRT) systems and high-speed railways run on electricity and the pantograph is the apparatus mounted on the roof of trains that collects power from overhead cables and transfers power to the trains.
Pantographs contain multiple components making safety inspection and monitoring complex. Traditional manual inspections are inefficient so some railway companies have begun to use technology to build train-mounted pantograph monitoring systems that find potential equipment issues, so they can proactively fix them. However, there are difficulties in developing these monitoring systems. In addition to limited installation space, a monitoring system has to collect large amounts of imaging and sensing data.
The monitoring solution used Advantech's CompactPCI series products because of their industrial grade reliability and high performance. Using modular cards, a single backplane can be equipped with several processing units, multiple communication ports, and plenty of storage space with easy-to-maintain hot swap capability. The system also provided excellent thermal design and robust anti-vibration and wide temperature operation features.
System Requirement
A high-tech company in China that specializes in providing online monitoring solutions for urban rail transit safety, designs and builds pantograph monitoring systems for railways that are widely used in China's first- and second-tier cities. In order to improve train safety and monitoring accuracy, a railway company in China planned to upgrade their train-mounted pantograph monitoring systems. However, the installation space the trains used for the monitoring system was quite small and heat dissipation would be an issue.
The new system would need multiple cameras and sensing devices around the pantograph on top of the train to dynamically evaluate the health of the equipment by acquiring images, video, temperature, and voltage data. Since the system needed to collect such large amounts of data and process it in real time, the specifications of the system needed to be much higher than general system requirements in terms of performance, I/O flexibility, storage capacity, reliability and longevity.
The system integrator (SI) determined that a general purpose IPC or Box PC would neither be flexible enough or cost-effective. It would also be difficult to upgrade or expand in the future so they decided upon Advantech's 3U CompactPCI products and listed the following requirements:
3U CompactPCI products dimensions conform to the height and width of the train rack with excellent heat dissipation properties.
Backplane offered more than 20 empty slots to configure multiple computing units needed to provide the required computing performance.
Multiple I/O interfaces to meet all the data acquisition and transmission needs.
Excellent expansion and compatibility features to meet future needs.
System Description
Advantech provided a variety of 3U CompactPCI products for this project through their one-stop-shop and integration service. Products included a MIC-3023 enclosure, a MIC-3332 processor blade, a MIC-3954 storage carrier board, a MIC-3955 serial communication board, a MIC-3956 power module, a MIC-3958C Ethernet board, and a MIC-3958D Ethernet switchboard.
Using Advantech's total solution, the train-mounted pantograph monitoring system received data from front-end cameras and sensing devices which recorded, transmitted, stored, and analyzed all operation values from the pantograph. If any data exceeded standard values, the system would display warnings to the driver machine interface (DMI) in driver cab, and simultaneously send alarms that notified operators at the central control room.
A key product was the MIC-3332 processor blade. The use of Intel's sixth-generation Core-i processor with up to 16GB of DDR4-2133 memory gave the blade exceptional computing performance. Moreover, unlike general plug-in SO-DIMM memory, MIC-3332 used built in onboard memory directly for better anti-vibration capabilities. MIC-3332 complies with the EN50155 standard for railway applications. Its optimized thermal design effectively solved the heat dissipation problems, and guaranteed smooth operation of the system. Supporting Plus IO and providing rich I/O interfaces allowed the SI to give full play to their creativity and design a complete monitoring system.
Another product, MIC-3023, adopted the nVent Schroff 3U chassis, which is a standard 19-inch rackmount enclosure with a passive backplane that supports up to 21 slots. It is suitable for multi-system compact PCI applications. nVent Schroff chassis feature a robust design that can effectively dissipate heat as well as provide outstanding RFI shielding and protection from high shock and vibration. For example, the backplane is able to accommodate three computing units and two power modules on the backplane to meet the needs of the system for high-speed flexible computing involving large amounts of data.
The MIC-3954C is a hot-swapping independent storage carrier board, which means it can be hot-swapped directly without turning off the power. The MIC-3955 is a communication card that supports multiple RS-232/422/485 serial communication. The communication card provided multiple serial communication modes, so the developers could choose their preferred mode according to the needs of the project without replacing the card, which saves integration effort.
Furthermore, the MIC-3956 is a standard 110VDC power supply module, which can receive power as input voltage through the M12 or terminal block. The MIC-3958C and MIC-3958D are Gigabit-level Ethernet and Ethernet switch cards and both products use robust M12 connectors to ensure reliable operation.
Advantech has strong R&D capabilities in CompactPCI products and has many years of successful experience in rail transit applications. Advantech conducts comprehensive tests on CompactPCI products before they leave the factory to ensure product quality and reliability. System Integrators can therefore be confident there will be no trouble with hardware incompatibility for future system upgrades.
System Diagram
.
Project Implementation:
MIC-3023 : 3U CompactPCI enclosure for different types of 3U cards
MIC-3332 : 3U CompactPCI PlusIO Intel 6th Gen. Quad-Core processor blade
MIC-3954C : 3U CompactPCI serial carrier board with 2.5" SATA SSD
MIC-3955 : 3U CompactPCI RS-232/422/485 serial communication card
MIC-3956 : 3U CompactPCI DC110V input power supply unit
MIC-3958C : 3U CompactPCI 4 ports M12 X-Code Ethernet card
MIC-3958D : 3U CompactPCI 3 port/5 port M12 X-Code Ethernet switch card
Conclusion
To meet the demands for large-scale data collection and high-speed computing for the train-mounted pantograph monitoring system, the SI needed a multi-system solution as the monitoring host, but they also had to tackle the problem of limited installation space and difficult heat dissipation.
Advantech's modular 3U standard CompactPCI products are a robust solution with excellent performance, optimized heat dissipation, flexible configuration, easy expansion, and easy maintenance. The SI adopted Advantech's CompactPCI solution because of its many advantages. The train-mounted pantograph monitoring system has now been successfully developed and implemented in many cities in southern China, and has become a standard solution for providing stable power supply and driving safety on trains.