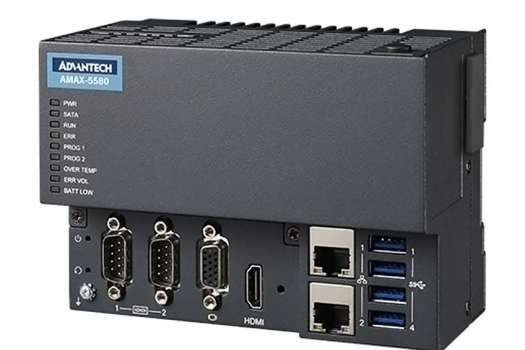 Advantech introduced a new product
Driven by the burgeoning Industrial Internet of Things (IIoT), equipment manufacturers are increasingly demanding miniaturization, digital integration, and cloud storage for data. Yet the existing embedded systems, industrial computers, and single-board computers that are the core of industrial equipment control often fail to meet these demands: they are too big, difficult to integrate, limited in their specifications, and hard to scale. To solve these problems, Advantech introduces the AMAX-5000 series EtherCAT Slice I/O and Controller – designed with the smallest programmable automation controller (PAC) in the Core i class, modular I/O, and PCIe communication interface. This latest addition to the AMAX series provides users with a solution that is both easy to integrate and arbitrarily scalable. With this series, equipment manufacturers can easily set EtherCAT I/O modules to perform tasks such as data acquisition, detection, and machine control. When it comes to integration, manufacturers will also benefit cloud platform and IT/OT integration from the PAC's open architecture.
The AMAX-5000 is a revolutionary controller featuring compact size, high-speed processing, flexible expansion, and a high degree of integration. This series offers an impressive array of features: a AMAX-5580 embedded controller, the EtherCAT I/O module AMAX-50xx series, and PCIe module AMAX-54xx series.
The AMAX-5580 possesses the industry's smallest controller and one of the fastest on an open platform. Its compact size (W13.9 x H10 x D8 cm), featuring a built-in 6th Generation Intel Core i processor, saves space while providing optimal computing performance. AMAX-5580 also supports the powerful CODESYS software that industrial equipment manufacturers can use for program development and testing. It provides a VGA and HDMI dual display interface to facilitate equipment status visualization. The standard DIN rail mounting eliminates the need for additional drilling and screws to secure the controller, providing great convenience and ease of use for system installation and maintenance.
The AMAX-5580 controller is equipped with standard PCI Express and EtherCAT communication interfaces on both its left and right side so that users can select communication and I/O modules according to their specific application requirements. The inclusion of a high-speed PCIe interface as well as an EtherCAT interface that supports transmission speeds of up to 100 Mbps enhances the performance of AMAX-5580 for large-scale data transmissions and processing.
The AMAX-5000 series is a core platform for Advantech's Edge SRP software and hardware integration solutions. It can integrate with third-party software, making it easier for industrial equipment manufacturers to develop smart IIoT applications. When integrating machine vision and machine control, users can install image recognition software on the AMAX-5580, connect to a USB 3.0 or PoE module on the left side to connect the industrial camera, and pair it with the EtherCAT I/O module on the right side to control the robotic arm. For predictive equipment maintenance applications, after configuring the acquisition and analysis software on the AMAX-5580, the EtherCAT I/O module allows operators to rapidly collect data remotely on the right side and obtain equipment status and diagnostics. The addition of a data storage module and wireless network module to the left side allows for storing a large amount of data locally and uploading important data to the cloud to perform predictive maintenance on the machine.
Advantech understands the need for size, speed, I/O expansion, and software and hardware integration in the development of innovative industrial equipment applications. Advantech's revolutionary AMAX-5000 series, with its compact size, high speed processing, expansion flexibility, and high degree of integration, helps creators overcome a variety of challenges. The flexible combination of the latest AMAX-5580 IIoT embedded controller with an EtherCAT I/O module and PCIe module offers a powerful tool for realizing smart industrial 4.0 applications. Advantech will introduce related products in the future.