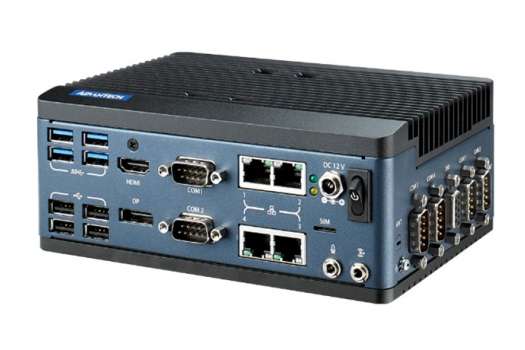 Advantech is pleased to announce EPC-C301, a compact fanless box PC powered by 8th Gen. Intel® Core™ processor.
This system features diverse domain-focused I/O and can operate in broad temperature ranges. EPC-C301 integrates Intel® and Canonical technologies, provides Ubuntu OS and OpenVINO toolkits, and is aimed at accelerating the advancement of AIoT. This powerful system is an excellent choice for machine vision applications, such as automated optical inspection (AOI), and automated plate number recognition (APNR).
Domain-Focused Functional I/O Meets Industry Demands
EPC-C301 supports 4 x GbE LAN and 4 x USB 3.2 Gen2 x1 (10Gbps) to accommodate the IP/HD camera inputs required for AOI, APNR, and other machine vision applications. To improve expandability, Advantech's compact design (170 x 118 x 70 mm) features 4 x USB 2.0 and 4 x UARTs for card readers, barcode scanners, key pads, fingerprint sensors, and other peripherals. EPC-C301 further provides 2 x isolated CANBus ports designed for use in automation and medical applications. This solution is equipped with Windows and Linux based drivers/APIs to dramatically improve convenience and compatibility. This combination of diverse I/O and OS makes EPC-C301 exceedingly adaptable.
Enables Powerful Computing and Comprehensive Expansion
EPC-C301 powered by 8th Gen. Intel Core processor is the first U-series processor that doubles the core count to quad-core on a low power 15Watt CPU, provides 1.5x CPU performance versus its previous generation. High-bandwidth dual-channel DDR4 supports up to 32GB while satisfying intensive data handling and image processing requirements. EPC-C301 is equipped with an M.2 M-Key 2280 which accepts both SATA SSD and PCIex4 SSD enabling improved computing speeds.
Advantech's solution boasts the expansion abilities needed to meet AIoT challenges on the edge. It includes M.2 E-Key for Wi-Fi and Bluetooth, M.2 B-key for LTE, and a mini-PCIe, which is compatible with Advantech's VEGA-330. This system functions in broad operating temperatures (-20 ~ 60 °C/-4 ~ 140 °F) found in outdoor applications like passenger information systems (PIS) and smart parking solutions.
Intel® OpenVINO™ Toolkit Accelerates AIoT
Advantech's EPC-C301 accelerates the advancement towards AIoT using the Intel® OpenVINO™ toolkit. The OpenVINO™ developer kit is compatible with the VEGA-330 AI acceleration card and the pre-loaded Ubuntu 18.04 LTS yielding a comprehensive set of functions. Sameer Sharma, General Manager of Smart Cities and Transportation at Intel® stated, "With an increase in urban population and road vehicles, there is a significant opportunity to help cities stay ahead of growing demands that put strain on existing road infrastructure. Intel's collaboration with Advantech, coupled with investment in AI technologies, including the Intel® Distribution of OpenVINO™ toolkit, can help accelerate the transformation towards safer, greener, and more efficient road infrastructures."
Supports Embedded Software Services and WISE-DeviceOn
EPC-C301 comes with Windows 10 image, Ubuntu 18.04 LTS image, and iManager software API. "By certifying Advantech's EPC-C301 for Ubuntu 18.04, Canonical guarantees 10-years of software update support that gives enterprises a stable and secure AIoT platform for their industrial automation and robotics," said Loic Minier, Global Director Devices Field Engineering at Canonical. Likewise, Advantech's EPC-C301 features WISE-DeviceOn, an IoT device operation and management software, which enables users to integrate, visualize, operate, and manage their industrial IoT devices through cloud services easily.
Key Features:
8th Gen. Intel® Core™ i7-8665UE/i5-8365UE processor

Dual Channel DDR4-2400MT/s up to 32GB with HDMI + DP* Dual 4K Displays

4 x GbE, 4 x USB 3.2, 4 x USB 2.0, 3 x RS-232/422/485, 1 x RS-232, 2 x isolated CANBus, and 8 GPIO

M.2 E-Key 2230, B-Key 3042, M-Key 2280 for SATA & PCIex4 SSD, and mini-PCIe

DC-12V, and -20 ~ 60 °C (-4 ~ 140 °F) operating temperature

Supports iManager software APIs for Windows 10, Linux and WISE-DeviceOn Developer kit (EVK) SKUs default equip VEGA-330, Ubuntu 18.04 LTS, Intel OpenVINO Toolkit.
Fanless Embedded System EPC-C301