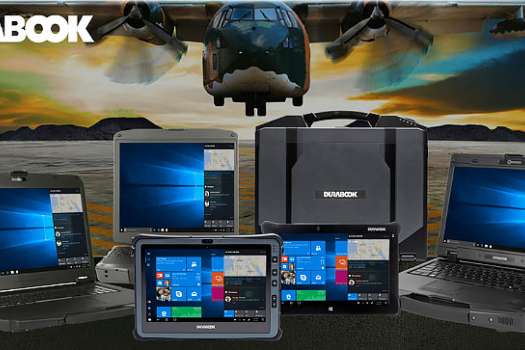 PROXIS™ Introduce a new brand DURABOOK
About DURABOOK
DURABOOK is the core brand by Twinhead International Corporation. In 2000, the company manufactured its first military-grade rugged laptop, followed by the introduction of the DURABOOK brand in 2002. The DURABOOK line quickly expanded to meet the demands of customers in a broad range of markets that require rugged mobile solutions.
Today, rugged Durabook devices have a loyal customer base around the globe, including most branches of the U.S. Armed Forces, public safety agencies, numerous field service organizations, as well as companies that specialize in oil & gas, logistics, healthcare, utilities and automotive industries.

From its founding in 1984, Twinhead International Corporation, now a public listed Taiwan company, has been a major supplier of computing devices for more than 35 years with commitment on developing products and solutions for the computer industry.
Innovative driven with great engineering capability, strict production quality control and uncompromising customer-oriented services, Twinhead business covers mobile systems, tactical solutions, peripherals and industrial oriented PCs and displays.
Why Durabook
State-Of-The-Art Technology
Durabook offers latest Intel® generation processors, packed with great performance and visuals into a compact form. Plus, the high-speed data transmission capability of newest Intel® Dual Band Wireless and Bluetooth® V5.0 means smooth, congestion-free processing at all times.
Compact Built for All Purposes
We deliver compact design and rich range of built-in connectivity options to maximize the efficiency for those who work in extreme conditions. Durabook redefines what a rugged mobile device should be and make its products the world's thinnest and lightest in its class.
DynaVue® - Detail at A Glance
Durabook's proprietary DynaVue® technology offers the highest contrast ratio, which helps to eliminate internal reflections that enhance viewing clarity even from different angles, and in bright sunshine or low light conditions.
The 10-point capacitive multi-touch panel has four Touch Modes (Glove, Stylus, Water, Finger), optimizing use of the device for both indoor and outdoor applications.
Built for All Environments
With invincible mechanical design and rigorous component selection, our products adapt to any environments flawlessly. DURABOOK products are MIL-STD-810G, MIL-STD-461F certified, ANSI 12.12.01 C1D2 certified, and IP rated, assuring shock, drop and vibration protection, as well as the ability to withstand use in a wide range of temperatures, which makes it more rugged than ever.
Boundless Customization
Durabook products are built with modular design for easy addition of feature. For more extensive customized products, we provide a rich pool of design collaterals. From boards, displays to chassis, we can build to your need quickly and economically.
Fast and Reliable Service
We are committed to excellent service, offering fast delivery time, flexible customization service and complete warranty package to ensure user satisfaction. There are several warranty packages for various levels of coverage, providing you the accessible after-sales services, you can rely on.
TAA Compliance
Durabook products are made in Taiwan to ensure the best quality and to meet the requirements forth by the Trade Agreement Act (TAA).
Protected Durabook tablets:
Rugged Durabook laptops: