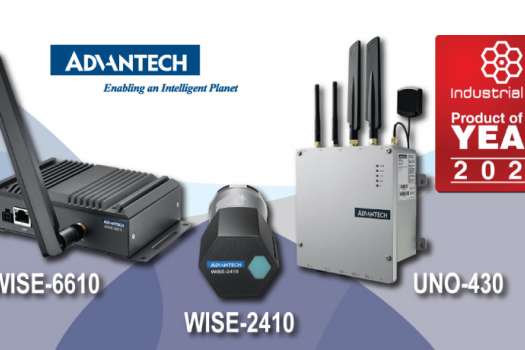 Advantech announced that WISE-2410 & WISE-6610 LoRaWan products and the UNO-430 have received the 2021 IoT Evolution Industrial IoT Product of the Year Award from IoT Evolution World
The WISE-6610 is a high-performance LoRaWAN gateway with reliable connectivity options for industrial environments and LoRaWAN protocol support for building LoRaWAN private and public networks. It also supports other protocols, including MQTT, and its hardware and software flexibility provides rich features to edge intelligence systems. The WISE-6610 allows for VPN tunnel creation with various protocols that ensure safe communication. It also provides a network server that can encrypt and convert LoRaWAN data in the device, and its redundancy-enhanced functions are specifically designed to prevent connection loss.
WISE-2410 LoRaWAN Wireless Condition Monitoring Sensor
The WISE-2410 is a LoRaWAN wireless conditional monitoring sensor integrated with ARM Cortrex-M4 Processor, LoRa transceiver, 3-axis accelerometer and temperature sensor. It balances the wireless bandwidth between the WISE-2410 and the gateway (WISE-6610), so it also mitigates the data transmission fail rates between edge-devices and gateways.
UNO-430 Waterproof Edge Intelligent Gateway
Designed for use in harsh industrial environments, the UNO-430 features all-around IP69K/68-rated ingress protection and M32 and M12 I/O connectors to provide a truly watertight solution that can withstand the most demanding applications. The waterproof enclosure features a front door for easy access and maintenance as well as a cable gland that offers further ingress protection, reducing the need for waterproof cables and wiring. This comprehensive protection also eliminates the need for a waterproof cabinet, allowing customers to use the UNO-430 gateway as a standalone data acquisition gateway.
"The solutions selected for the Industrial IoT Product of Year Awards represent the diverse range of innovation driving the multi-billion dollar IoT market today. It is my honor to congratulate Advantech for their innovative work and superior contribution to the rapidly evolving IoT industry," said Ken Briodagh, Editorial Director for IoT Evolution.
"It is my pleasure to recognize the WISE-2410, WISE-6610 and the UNO-430 as innovative solutions that earned Advantech the 2021 Industrial IoT Product of the Year Award," said Rich Tehrani, CEO, TMC. "I look forward to seeing more innovation from Advantech in the future."