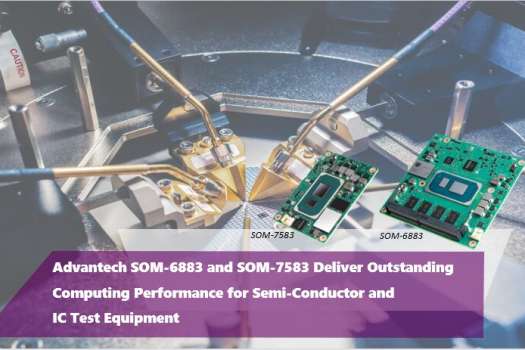 Using Advantech modules for testing semiconductor devices
Why do semi-conductor and IC test equipment need an upgrade?
With the increasing demands from many new high-powered applications, Advantech SOM team is aiming to better serve customers in the semi-conductor and IC test equipment fields. Semi-conductor and IC test equipment are designed for batch testing hundreds of integrated circuit boards and chipsets such as CPUs, SoCs, SSD and memory products—in different lines, on one test machine, all at the same time.
In order to test batches of IC products in a less costly and more efficient way, IC test equipment tend to have equivalent amounts of function boards corresponding to each device under testing and the function boards test the ICs with pre-loaded test programs.
Due to the fact that test programs are becoming more complex, larger memory capacities, and faster data transmissions are key requirements to shorten the average test cycle. Since one IC tester will contain hundreds of modules, compact boards with optimized thermal solutions are preferred in order to make the system smaller and operate reliably.
What's so special about SOM-6883 & SOM-7583?
Core-i computing power: The most powerful SoC in a compact form factor
Integrated IBECC: Data correction with on-board memory for system stability
Provides the fastest data transmit speed throughput:

PCIe Gen3/Gen4
SATA3
USB4/USB3.2 Gen2

Configurable TDP (cTDP) enables the user to optimize system power consumption based on their own needs while Advantech provides a low-profile fanless thermal module designed to minimize system size.

Systems will be scalable with COM carrier boards
What value can Advantech teams provide to SOM?
The latest COM Express solutions, (SOM-6883 and SOM-7583), are compact sized and help customers to minimize their systems while end customers can just focus on their unique application development. Both solutions are based on 11th Gen. Intel® Core™ processors. The maximum TDP of SOM-7583 is up to 28 Watts. It is designed to deliver outstanding performance in a fanless cooling solution. The integrated copper heat pipes enable efficient heat transmission while the optimized fin-pitch design creates maximum heat transfer areas and ventilation flow fields. With a total height of less than 1U (4.4cm), the unified thermal module is a perfect fit for customers to design their own system level cooling solutions.
With PCIe Gen. 4 enabled, the SOM-6883 is aimed at high data transmission applications. Customers can utilize PCIe Gen. 4 by adding an FPGA on the carrier board to develop their own domain-focused functions while keeping their industrial know-how confidential. SOM-6883 has on-board memory and provides memory expansion via additional SO-DIMM sockets, which allows customers to have more options for their system design. The Advantech in-house designed Quadro Flow Cooling System (QFCS) thermal solution enables the system to run at full speed without any throttling.
Both the SOM-7583 and SOM-6883 are designed to take wide range voltage inputs and operate in extended temperatures from -40 to 85 °C (-40 to 185 °F). Furthermore, with the on-board NVMe SSD, we can help customers to pre-load the OS with licensed software bundles. Lastly, with Advantech device management software, WISE-DeviceOn users can monitor device health conditions remotely and conveniently.
To summarize, the IC test equipment makers value efficiency and stability the most. With SOM-6883 and SOM-7583, test productivity and system expansion are guaranteed.