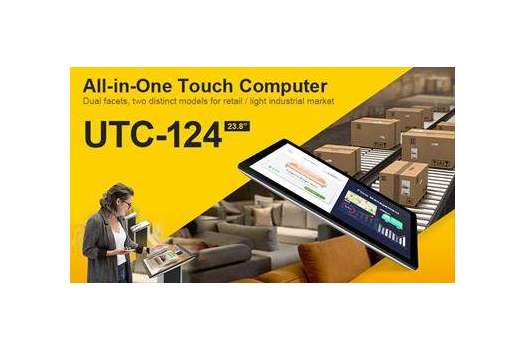 Advantech announces a new prodact - 23.8" AIO UTC-124
Advantech, a leading provider of service automation solutions, is pleased to announce the launch of its UTC-124—the first 23.8-inch all-in-one touch computer in the UTC family. Featuring a slim form-factor, projected capacitive (PCAP) touch control, and an ultra-low-voltage Intel® Pentium® processor, the UTC-124 provides a reliable embedded computing solution for dedicated tasks. The system comes in two different connectivity arrangements for particular usage scenarios. Moreover, this dual-facet touch computer can adapt to various urban services and light-industrial environments, including retail outlets, restaurants, hotels, leisure establishments, banks, lobbies, public venues, warehouses, and logistics centers.
Inheriting the UTC series' industrial design, the UTC-124's fanless system ensures quiet operation and prevents dust ingress. Furthermore, the full-HD 1080p touch display delivers sharper, more detailed images for an enhanced viewing experience. Additionally, to enable easy integration with existing systems, the UTC-124 supports multiple OSs, including Windows 10 IoT Enterprise, Linux Ubuntu 18.04, and Android 8.0 & 10.1. It is compatible with diverse mounting options for flexible installation and it enables businesses to advertise, inform, and entertain guests more creatively by presenting targeted customized content that enhances the overall customer experience.
Dual Facet I/O Connectivity
The UTC-124 comes in 2 different types of I/O layout. The UTC-124G1 is geared toward retail and service industries, while the UTC-124G3 is geared toward light industrial or warehouse usage. Whether customers need the flexibility of 2-sided I/O of the UTC-124G1 or the extra ports of the UTC-124G3, they can choose one that suits their application.
Flexible Installation and Configuration for Diverse Applications
The UTC-124 supports both portrait and landscape screen orientations and is equipped with a VESA mount (100x100) for flexible installation. To satisfy specific usage requirements, the UTC-124 can be integrated with modularized peripherals, including an RFID reader, 5M camera, smart card reader, magnetic strip reader, 1D/2D barcode scanner, and LED light bar for value-added functionality. The UTC-124 also features sectional I/O with three-way cable routing to ensure secure connectivity and reliable, safe operation.
Native DB-9 RS-232 COnnector and Optional Lockable DC-in
The UTC-124G3 provides DB-9 RS-232 interfaces for industrial machines, networking equipment, and scientific instruments. By connecting to the RS-232 serial devices straight through the DB-9 serial ports, the UTC-124G3 accommodates most installation scenarios without needing a converter cable.
Key Features
Energy-efficient, slim, fanless design
Intel® Celeron® J3455 processor
23.8" full HD monitor with 16:9 widescreen display
Supports both landscape and portrait screen orientations
IP65-rated front panel protects against water and dust ingress
VESA (100 x 100) mount facilitates diverse mounting configurations
Streamlined rear cover with three-way I/O cable routing for secure connections
Both models can be ordered at the link