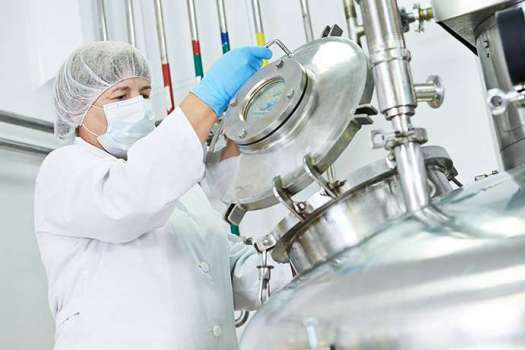 Advantech's Weighroom Monitoring Solution Streamlines Management and Enhances Productivity
Introduction
During the manufacture of pharmaceuticals, raw materials must be weighed and separated into specific amounts for subsequent use. Consequently, every pharmaceutical manufacturing plant features a room, known as the weighroom, for weighing and separating raw materials. This room typically comprises three process areas for raw material staging, weighing, and work-in-process staging. For all three processes, the cleanliness of the room is critical to preventing cross-contamination. At the weighing stage, systems must be in place to ensure the accuracy of measurements, the safety of the weighroom environment, and compliance with regulatory standards.
União Química, one of Brazil's largest pharmaceutical manufacturers, wanted to implement an automated data acquisition system to improve its production efficiency and traceability. They planned to achieve this by installing systems for monitoring the material weighing process in order to improve production safety while minimizing the risk of cross-contamination. This required an internal system to monitor the weighing process and an external system to monitor the weighroom environment.
Challenge
Because weighing and separating raw materials is essential, pharmaceutical manufacturers are particularly concerned with the efficiency of such processing, especially with regard to managing production lead times and production traceability. To ensure optimum productivity, pharmaceutical weighrooms must be configured to meet stringent quality requirements while ensuring efficient operations.
Additionally, the internal system had to accommodate peripheral devices that support the following processes: During raw material staging, materials are stored in containers and marked with a unique barcode to ensure that the correct materials are being used at all times and to provide a means of tracking which materials have been stored in which containers. Materials are then weighed individually using high-precision scales, the calibration of which must be verified daily. Next, weighed samples are labelled before being transferred to the work-in-process staging area. To monitor the weighroom environment, the external system must be able to collect data regarding the room's cleaning history, temperature, humidity, and air pressure.
Thus, the internal system would need to provide connectivity for barcode scanners, scales, and a printer, and the external system would need the ability to connect to various types of sensors. Both systems also needed to feature a touchscreen and protection from water ingress to enable easy cleaning. The main challenges faced by the customer were integrating historical data with the computer system and achieving real-time monitoring of work processes.
Solution
Advantech proposed a solution that comprised an internal system for monitoring the weighing process and an external system for monitoring the weighroom environment. For the internal monitoring system, Advantech's IPPC-5211WS multi-touch panel PC was selected to provide Bluetooth, RS-232, and Ethernet connectivity for the workstation peripherals (i.e., barcode scanner, scales, and printer). The IPPC-5211WS features a 21.5" full HD display screen with 16:9 widescreen aspect ratio, stainless steel design, 7H surface hardness, and IP96K-rated ingress protection, making it ideal for cleanroom applications.
For the external monitoring system, Advantech proposed its UNO-2483G embedded automation controller combined with its FPM-8151H industrial monitor. The UNO-2483G controller was selected for its compact fanless design, ample processing power (4th Generation Intel® Core™ i7/i3/Celeron up to 1.9GHz), built-in memory (4/8 GB DDR3L RAM), and numerous connectivity options (4 x GbE, 4 x USB 2.0/3.0, 2 x RS-232, 2 x RS-422/485, 1 x VGA, 1 x HDMI, and 1 x audio). The FPM-8151H display is a 15" XGA LCD monitor with LED backlight. The front panel is rated IP65 for protection against dust and water ingress, and like the IPPC-5211WS, also features a stainless steel design, making it particularly suitable for cleanroom environments.

Benefit
The proposed monitoring solution enabled connectivity with the company's barcode readers, scales, printers, and sensors in the weighroom. Once integrated with the company's network, the solution enabled real-time monitoring of the weighing process and weighroom environment, improving the management of production lead times and production traceability. The stainless steel design and IP69K/IP65 rating ensured that the system could withstand washing with water jets, while the easy-access design of the IPPC-5211WS monitor meant that external cables could be easily connected. Ultimately, the proposed system provided accurate real-time data that allowed factory managers to monitor the weighroom conditions without actually entering the room, thereby eliminating the risk of cross-contamination.