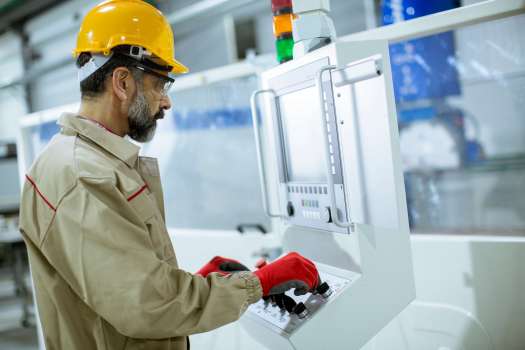 Industry 4.0 powder coating systems
Summary
Powder Coating is a process during which a metal part is covered with high-quality, durable finish with improved efficiencies and simplified environmental compliance. Unlike conventional liquid paint which is delivered via an evaporating solvent, powder coating is typically applied electrostatically and then cured under heat. This coating method is common for many markets, including industrial production, automotive and domestically used goods.
Challenge
Powder Coating process is complex and consists of powder delivery systems, electrostatic powder spray guns, control units, cyclone units, painting booths, movement sensors, automated movement handles and curing cameras. Industrial powder coating systems can cost millions of Euros and their components must work in perfect harmony to achieve maximum efficiency and coating quality. In addition, changing powder and/or parts that need to be covered is a challenge for system operators who must adjust system settings on-the-go to minimize powder material wastage and optimise coating quality. In practice, meticulous process, coating performance and quality monitoring is needed to proactively react and change required settings. However, with multiple coating systems and changing staff shifts it's difficult to keep informational continuity and ensure optimal operation and availability of the system.
Solution
Currently there is a rise in popularity of Industry 4.0 enabled powder coating systems which, in comparison to traditional ones, add a component of remote connectivity via cellular 4G LTE. New or legacy systems can be upgraded with Industrial Cellular Routers or Gateways to be connected to the automated control units. These devices provide secure and uninterrupted connectivity channel between the system, the manufacturer of the system and system operators, such as production, service, quality and/or process managers with the help of dedicated IoT Platform as a user interface.
Topology Benefits
RUT240 with 4G LTE allows direct system connectivity to the manufacturer which enables live support and configuration services to help system operators solve challenges arising from coating process.
Wi-Fi functionality grants local connectivity for system operators to visualize system data using portable devices.
System operators of different responsibilities are able to see live data dashboards tailored to their interests, providing early notifications regarding maintenance, efficiency and coating quality.
System owners are able to have full data regarding the use of their equipment to prevent possibilities of unauthorized use of expensive powder coating systems.
RUT240 is Teltonika Remote Management System (RMS) compatible, therefore it is possible to monitor and control not only the router, but also have direct connection to powder coating system via secure channel.
Why Teltonika Networks?
Remote machine monitoring and control requires industrial connectivity hardware that is reliable, secure and easy to use. RUT240 by Teltonika Networks encompasses all of these qualities and adds advanced Industrial & Networking Protocols, such as Modbus, SNMP, MQTT and support for various VPN services for additional data security. RUT240 is Teltonika RMS compatible, which means you can conveniently monitor and manage both the router and devices connected to the router from anywhere, even without Public IP.