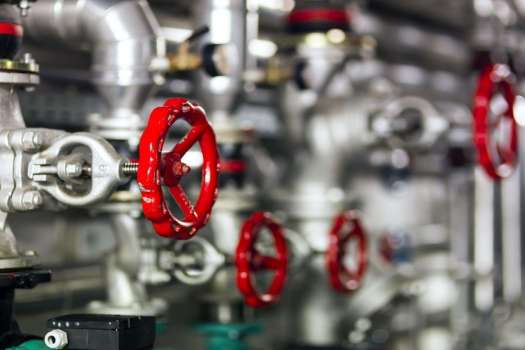 Real-Time Monitoring of Boiler Systems in Hospitals, Hotels, and School Campuses
In addition to being used in industrial settings, boiler rooms are also present in commercial and service settings such as hospitals, hotels, and school campuses. As owners expand and leverage their scale and capacity, they must not ignore the importance of maintaining the operational efficiency and environmental safety of their boiler room equipment.
Project Scope
In traditional boiler room settings, staff are responsible for examining each piece of boiler equipment manually, which can incur a considerable cost in terms of both time and human resources. To transform such practices into intelligent operations, management requires a network solution that facilitates data collection, automatic operational status reporting, alerts in the event of abnormal machine behavior, and remote management.
Challenges and Requirements
All network devices in boiler rooms need to be of industrial-grade because temperature can often be high. For flexibility, network systems need to support USB, Ethernet, and serial connections for data acquisition from sensors, and 3G/4G is also recommended for wireless data transmission.
Management need to be able to use a dashboard to visualize the status of the remote cellular routers.
The system must provide automatic alarm notifications to assist with monitoring and maintenance
Solution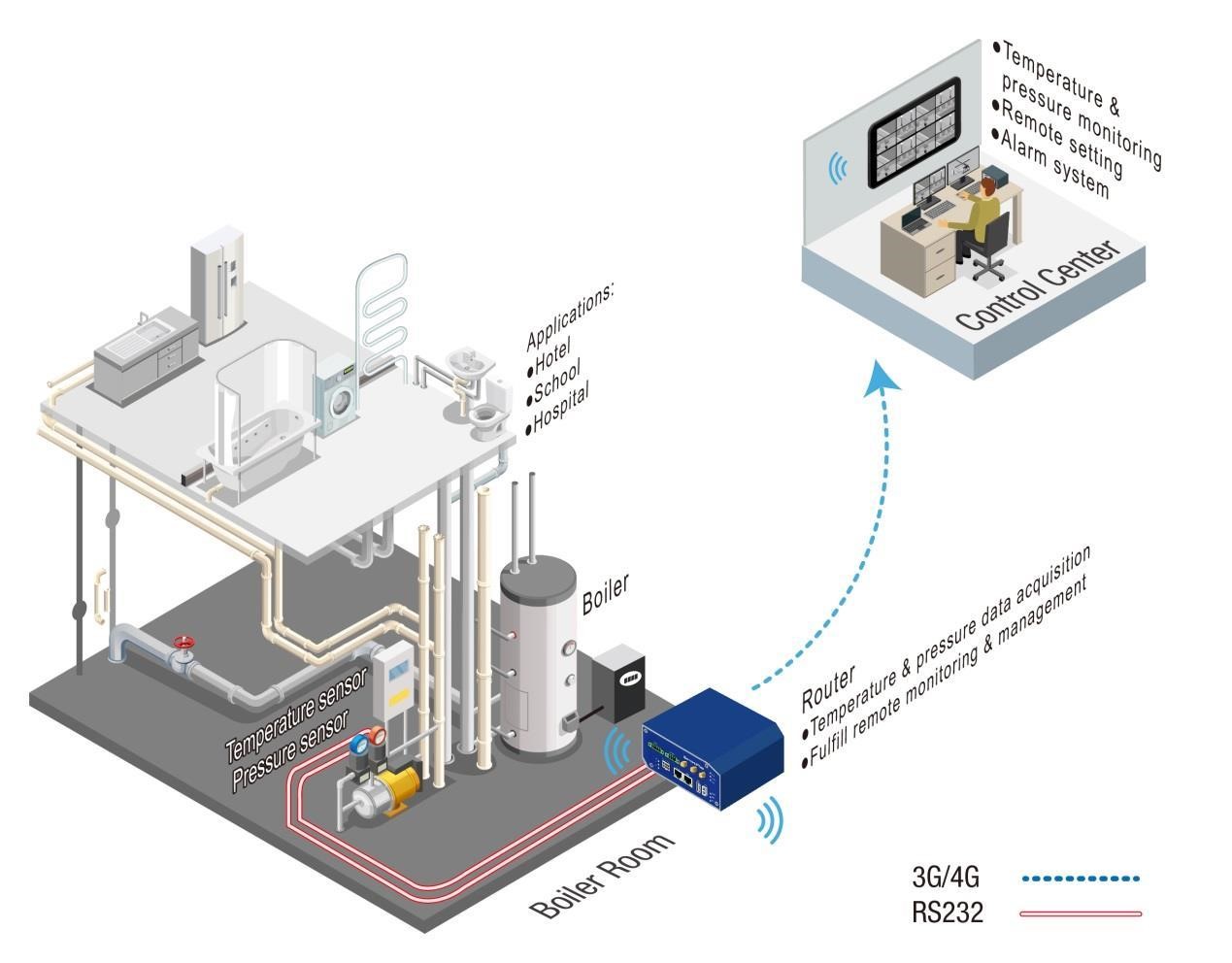 The procedure is outlined as follows:
Advantech's cellular routers can be placed in boiler rooms with a hard connection (serial) to temperature and pressure sensors.
The cellular routers can collect the data from sensors for forwarding over-the-air via a 3G/4G carrier service to the control center.
The data from multiple boiler sites are received by the control center, where the raw data are converted into useful operational information and visualized on a dashboard.
The system in the control room allows for remote monitoring, configuration, and alarm notification. When the temperature or pressure value exceeds a given threshold, staff are notified to take appropriate action.
Features, Advantages, and Benefits
Wireless Technology
Supports 3G/4G network
Secured software feature
Customized user module
Dashboard display for remote monitoring
Alarm notification
Flexible hardware design
Serial, USB and Ethernet connection
Flash Disk as extra storage
Wide operation temperature from -40 to 75oC
Why Advantech?
Expert Services
Strong reputation and commitment to Industry 4.0
Proper product recommendations matching customer requirements
Site survey services
Wireless topology consultancy
Advantech provides not only rugged and secure products, but also upgrade-ready integration solutions and high-quality services. With years of experience and commitment to Industry 4.0 practices, Advantech's iConnectivity Edge Intelligence and Wireless team focuses on every detail to provide customers with the optimal solution.
Conclusion
Advantech's cellular router solution makes management more efficient by utilizing equipment, sensors, and network devices to convey actionable information to users. This approach to wireless network design realizes the optimization of resource allocation via remote management and streamlines the control of boiler room workflow.
Product Information

SmartFlex SR309 series
Powerful CPU and enhanced memory to support high demand customer applications
Extended operational temperature range from -40 °C to +75 °C
10-60 VDC operated with transient and reverse polarity voltage protection
Flexible Port options( 3-port Switch, Ethernet and RS232/422/485 serial ports with isolation)
GPS, GLONASS ,BeiDou, Galileo and QZSS support
MicroSD card holder, In/Out, USB Host
Low power consumption mode for solar and battery power applications
Optional industrial grade WiFi
Optional PoE PSE or PoE PD on ETH0 and ETH1
Advanced security features