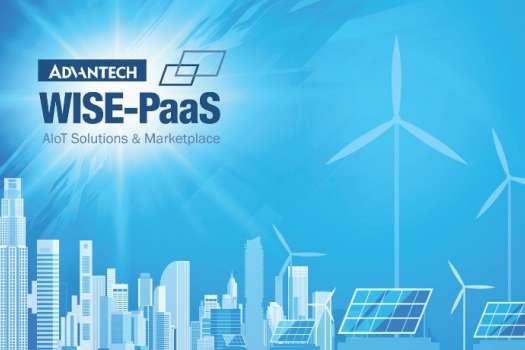 Energy & Environment
The Co-Creation Model and a Complete IoT Ecosystem

IoT applications in the energy and environment (E&E) sector suffer from fragmentation. Overcoming challenges of integration requires close collaboration between relevant stakeholders. Therefore, Advantech initiated the co-creation model, providing platform resources and making investments to form close partnerships with system integrators (SI) and together realize the mission of enabling an intelligent planet.
Looking at smartphones, Apple and Google built mobile internet ecosystems with the iOS and Android platforms, respectively, allowing developers to rapidly create applications, fostering tremendous innovation, and transforming smartphones into essential devices in our daily lives. With the popularization of the internet, Advantech took note of the fact that industrial IoT covered a wide range of sectors, with each sector featuring a deep knowledge base, making it extremely difficult to promote industrial IoT applications. Advantech realized that the only way to accomplish its mission of enabling an intelligent planet was building a complete industrial IoT ecosystem. Advantech thus launched the industrial IoT cloud platform WISE-PaaS to bring together SIs and developers to co-create such an ecosystem.

Advantech Launched a Three-Phase Co-Creation Process
Michael Huang, Project Associate Manager of Corporate Investment at Advantech, stated that "to develop smart applications, building networks is not enough; it is vital to fully grasp the business processes of each sector and analyze relevant data to create smart management mechanisms." SIs play an important role in creating such mechanisms, since they possess critical expertise and experience in specific sectors. If Advantech itself were to enter such sectors to develop smart applications and provide services for smart systems directly, it would run into conflicts of interest with SIs, some of which are also its customers. Furthermore, there was no way for Advantech to completely grasp necessary know-how in each individual sector. The co-creation model thus offered the best option.
Advantech's co-creation model is divided into three phases. The first phase involves the integration of network and sensor technologies under the IoT framework, enabling SIs to rapidly connect remote operational equipment and acquire relevant data. The second phase constitutes the consolidation of IT, OT, cloud, and AI technologies to build the industrial cloud platform WISE-PaaS, allowing SIs to upload data to the platform and rapidly build various industrial applications using the platform's tools. In the third phase, the global co-creation model is activated to assist SIs in transforming themselves into domain-focused solution integrators (DFSI).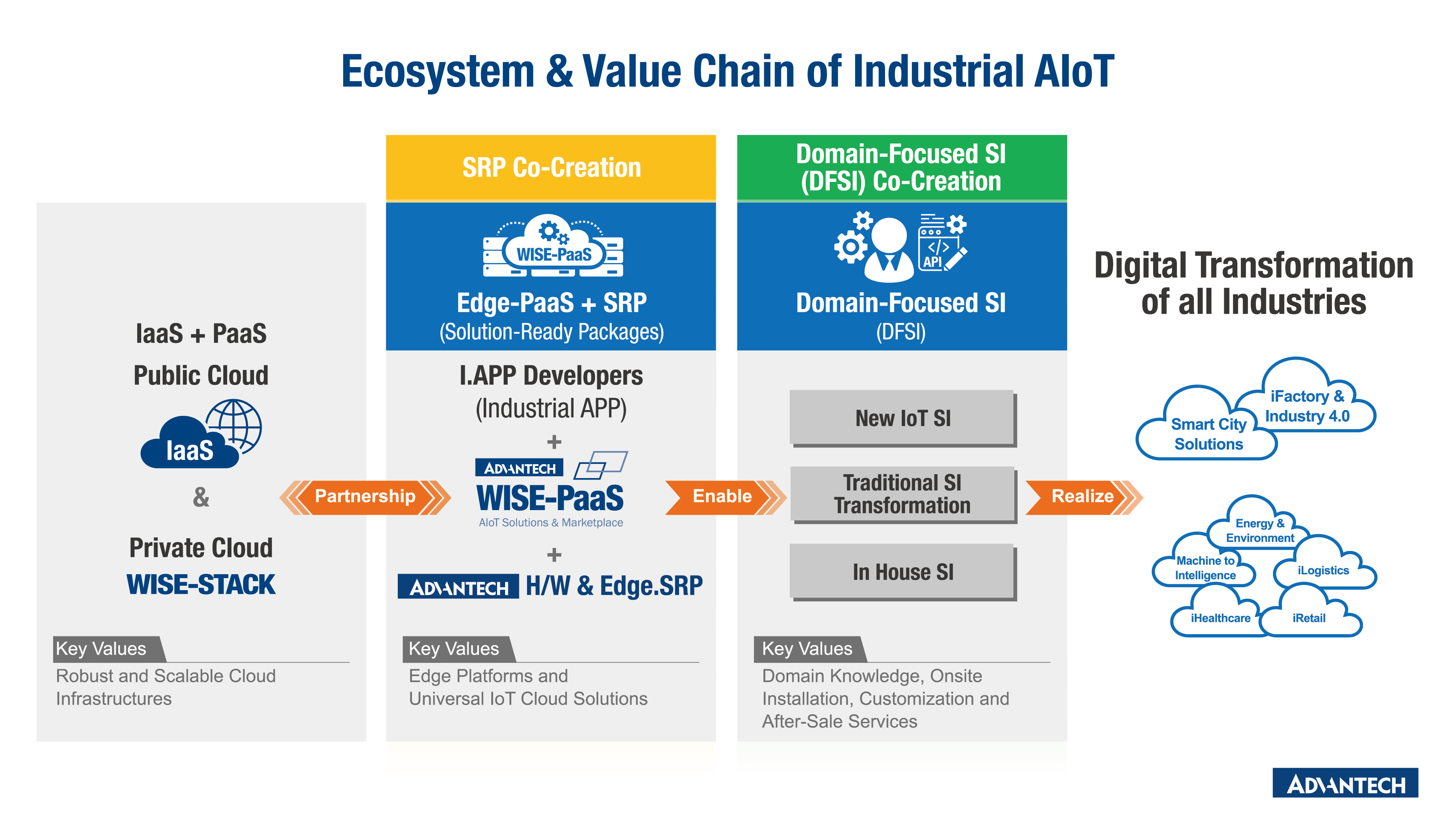 Using Co-Creation to Solve IoT Fragmentation

Especially in smart management in the E&E sector, there is great need for co-creation. "A high degree of fragmentation exists in E&E management," said Huang. The fragmentation consists of two layers: fragmentation of connectivity among equipment, and fragmentation in business processes. Both forms of fragmentation need to be overcome for the E&E sector to push forward.
Using the Chinese SI Anjie Services as an example, this company has long been focused on energy management of public facilities. Past collaboration between Anjie Services and Advantech mainly centered on equipment procurement, with Anjie Services building smart applications on its own platform. The company had to adjust the base technology and structure of its platform for each project's environment and needs, which required large amounts of time and manpower. After Advantech launched the WISE-PaaS platform, the two companies started collaborating even more closely. In addition to purchasing hardware equipment, Anjie Services also began using the sensor- and network-level services and tools provided by the WISE-PaaS platform to develop cloud management solutions. Instead of sending out engineers for on-site inspections, real-time remote monitoring is now used for all projects, enabling Anjie Services to focus its resources on the innovation and development of applications, building more industrial applications and offering more operation and maintenance management services for various sectors. If Anjie Services becomes Advantech's DFSI in the future, it could utilize Advantech's global marketing network to promote its smart applications in the vast markets of China and the rest of the world.
Innovative Model for Operation and Maintenance Services

For SIs, the benefits of the co-creation model are not limited to the ability to rapidly replicate E&E applications through the WISE-PaaS platform; the model also helps them realize the goal of digital transformation and make the transition from purely selling solutions to managing innovative models for E&E operation and maintenance services.
Using the smart management of electric substations as an example, Huang explained that traditional substations normally require four to five staff members. However, with the implementation of smart management, the SI can remotely monitor the status of the substation in real time and send out notifications and warnings to the administrator in the event of emergencies, greatly reducing manpower requirements. In addition, the SI can elevate itself from building projects to providing sustainable services for operation and maintenance management, increasing its added value and generating higher profits.
Investing in Co-Creation Partners to Form Closer Bonds

To form closer partnerships with SIs, Advantech will establish a Partner Success Engagement Team to empower SIs, to the extent of helping them expand markets and allowing co-creation partners to fully utilize Advantech's advantages in areas ranging from technology to marketing. Also, by taking stakes of less than 20% in co-creation partners, Advantech can assist them in upgrading to DFSI partners.
Huang emphasized that in the internet sector, companies like Alibaba and Tencent have created an industry ecosystem through capital investment to increase profit and obtain market opportunities. Advantech has adopted a similar strategy, taking small stakes in and providing funds to partners, while delivering comprehensive resources and support, e.g., early access to projects, sharing of global marketing networks, and participation in talent training and innovation events. In this way, Advantech helps SIs evolve into DFSIs.
In the E&E sector, Advantech has already invested in the SI HwaCom Systems, and is discussing the possibility of investing in Anjie Services. It has also set up a DFSI joint venture for water and wastewater treatment with GSD Industrial, a subsidiary of GSD Technologies and a leading brand in environmental equipment. In the future, this joint venture will focus on the development of smart applications for wastewater treatment, water purification, and public infrastructure projects.
Based on his professional experience, Huang firmly believes that it is impossible for a single company to popularize IoT globally. He therefore expressed strong support for the co-creation model, adding that this model was one of the reasons why he joined the company. He said he was very confident that the strategy of co-creation would allow Advantech to play a key role in driving the growth of the IoT industry and overcoming the challenges of digital transformation, and that Advantech and its co-creation partners would initiate a new wave of growth momentum in 2020.
Advantech's WISE-PaaS and WebAccess Platforms provide comprehensive IoT software ecosystems