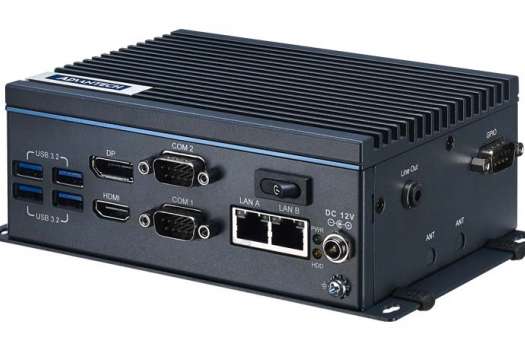 Advantech is pleased to announce its UNO-238 compact IoT edge computer
Powered by the latest 8th generation Intel® Core® i processor, UNO-238 provides a competitively priced computing solution in an optimized compact form factor. Designed for high-performance computing 8th gen applications, UNO-238 offers an up to 50% improvement in performance compared to the previous model. UNO-238 also features its 3.5" compact HD size with swappable RAM for increased flexibility and easy maintenance, while the built-in onboard 32GB eMMC storage with dual M.2 expansion enables rapid deployment for diverse IoT applications. Moreover, the power supply is equipped with a lockable threaded DC jack to ensure stable and reliable operation. Overall, UNO-238 provides a reliable edge computing solution that is ideal platform for IT-level applications that require semi-industrial yet cost-efficient computing solutions.
Upgraded Computing Performance with Compact Form Factor
UNO-238 is a competitively priced solution that delivers high-performance computing for heavy loading and multitasking operations. Compared to the UNO-2484G model featuring a 6th gen Intel® processor, UNO-238 is equipped with an 8th gen Intel® Core® i processor that offers an improved computing performance of up to 50%. Moreover, the system's compact design (150 x 106 x 60 mm/5.91 x 4.22 x 2.36 in) is 16% smaller than its predecessor, saving installation space.
Optimized I/O with Dual M.2 Expansion Slots for Wi-Fi and LTE
To satisfy most factory usage requirements, UNO-238 offers multiple I/O including two GbE, four USB 3.2, two RS-232/422/485, eight GPIO, one HDMI, and one DisplayPort. The provision of USB 3.2 Gen 2 enables twice as fast data transfer rates compared with USB Gen 1, delivering optimal efficiency for superior computing performance. Additionally, to facilitate IoT applications, UNO-238 can be integrated with additional LTE/Wi-Fi modules for enhanced connectivity and communication via the M.2 2230 (E-key) and M.2 3042/3052 (B-key) slots. The system's versatile I/O ensures UNO-238 can support diverse factory applications, such as factory automation, process automation, and manufacturing execution systems (MES) operations.
Swappable RAM for Flexible Configuration and Integration
To ensure available system resources for diverse usage scenarios, the mechanical design of the UNO-238 system has been optimized for easy RAM swapping. Equipped with a removable heatsink, UNO-238 enables convenient installation without disassembling the entire chassis. Customers can select the RAM capacity according to their usage requirements to achieve high applicability and integration potential. Overall, UNO-238 provides a competitively priced, reliable computing solution that can reduce downtime and enhance process efficiency.
Key Features
8th generation Intel® Core™ i processor
2 x GbE, 4 x USB 3.1, 2 x RS-232/422/485, 1 x HDMI, 1 x DP, 1 x GPIO (8 bit)
Compact, fanless design
Rubber stopper for stand mount and optional kit for DIN-rail mounting
Can be expanded to facilitate wireless communication
Threaded DC jack for reliable power supply
Optimized mechanical design for easy RAM swapping