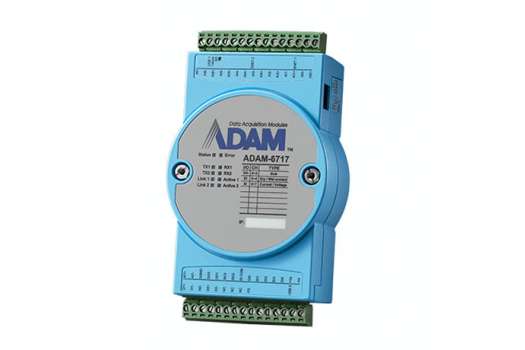 Presentation of a new product
The potential of 5G services and the expansion of edge computing are driving the pace of smart manufacturing. To help enterprises accelerate their digital transformation and taste the benefits of the latest smart applications, Advantech has launched a new generation of ADAM-6700 series intelligent I/O gateways.
The ADAM-6700 series are intelligent, I/O-integrated, gateway devices with a unique all-in-one design. They not only simplify your system architecture but also reduce the cost of systems and endpoint device integration. ADAM-6700 series help you painlessly upgrade existing equipment to a smart system with all the benefits of real-time analysis of data at the network edge. ADAM-6700 series can perform data collection, storage, processing, calculation, and analysis locally. Its 24/7 online equipment monitoring provides measurable advantages in predictive maintenance and minimal downtimes. ADAM-6700 encourages you to develop innovative applications by utilizing your valuable data to accelerate the implementation of an integrated smart manufacturing infrastructure.
Intelligentization - smart design, smart management
ADAM-6700 series intelligent I/O gateways have Linux OS installed and come with a built-in small footprint Node-RED graphical programming toolset. With this, you can intuitively perform drag-and-drop programming based on your application requirements. In addition, Node-RED has a built-in dashboard that can present visualized data and analysis results. ADAM-6700's intelligent features reduce project management costs, optimize performance, and help you respond to rapidly changing developments in IoT.
Multiple I/O - all-in-one Intelligent data acquisition and interface design
ADAM-6700 supports all the commonly used industrial IT/OT interface, and performs analog and digital data collection in one machine. ADAM-6700 has a built-in I/O interface, which collects analog and digital data from temperature, humidity, vibration, water levels, current, pressure sensors, and then executes digital and analog output instructions such as turning on/off lights or power switches. At the same time, it can also access many different types of wired and wireless equipment. Wired transmission can also be connected to ADAM-4000/6000 I/O modules, power meters, or PLCs with RS-485 and Ethernet interfaces. These use an external wireless transmission modules to gather data collected from wireless I/O modules.
Gateway - integrating edge computing functions
ADAM-6700 is as versatile as a small computer. It not only collects data, it also aggregates data collected from other I/O modules, and performs storage, processing, analysis and control. In addition, if an abnormality is detected, it can trigger an alert and send email notifications immediately. It supports Ethernet, Wi-Fi, 3G, 4G, and other network communication protocols. Once the data is processed and analyzed, it is transmitted directly via SCADA, database, or cloud service providers such as Azure, and AWS for AI deep learning and other advanced applications. ADAM-6700 is a high-performance data gateway that meets the needs of contemporary edge computing. It is a smart manufacturing solution with low entry barriers, easy-to-use features, and cost optimization advantages.
Target applications of ADAM-6700 series include factory management, environment monitoring and management, and energy management. Taking CNC equipment in an electronics factory production line as an example for factory management, ADAM-6700 detects all the operating data of the equipment and improves equipment utilization (OEE), as well as plans predictive maintenance. In environment monitoring and management, ADAM-6700 can be used to test water quality, read changes in water pressure, and manage wastewater and air pollution. In energy management applications, ADAM-6700 can be used monitor power consumption of residences, campuses, and factories to manage all power-consumption and distribution, as well as compare results and analyze behaviors.