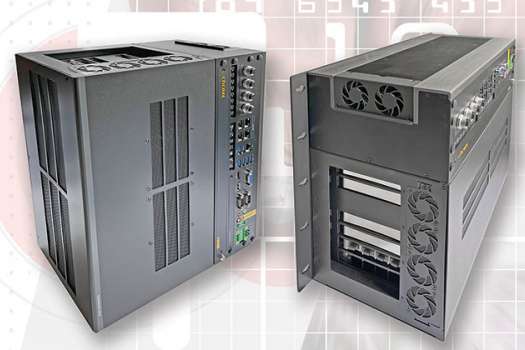 Cincoze GP-3000 In-Depth Review
Very high performance modular and expandable GPU computer that can handle, cool and power up to two 250 watt full-length, high-end graphic cards
(by Conrad H. Blickenstorfer)
In this report we're looking at a special type of computer, an industrial grade box PC with the room and cooling capabilities to accommodate very high-powered, high-end graphics cards. We're not talking the common "discrete" graphics cards and modules that are available to add more graphics processing power to desktops and laptops. This is about the highest-end GPU cards that can boost certain graphics processing tasks not just by 30 or 50% but by orders of magnitude. There is an increasing number of applications that require such specialized processing power, and Cincoze offers a modular platform that can handle all this with their new GP-3000.
Cincoze calls their GP-3000 an industrial AI and machine vision computer. In the excellent GP-3000 manual, the platform is referred to as their flagship GPU edge computing system. The GP-3000 is all that, and more. It's a flexible, expandable and highly configurable system that can be ordered with no fewer than 20 different Intel CPUs and has support for up to two of the most powerful full-size industry standard graphics cards money can buy. If the Cincoze GP-3000 were a car, it'd be a design that's ready on the showroom to have as much power under the hood and go as fast as you wanted, safely and reliably, without any other modifications.
Uses of a high-end GPU PC like the Cincoze GP-3000
Like any other general purpose computer, industrial Box PCs have almost limitless application potential. Like desktop PCs, their BIOS and system boards are very highly configurable. Unlike standard PCs, industrial computers are ruggedized to withstand wider temperature ranges, impact, vibration and industry-specific hazards. The Cincoze GP-3000 is all of the above, and it is more: it can support more graphics processing power than any desktop or laptop and also more than the vast majority of industrial PCs.
What are the target markets for such a machine?
Machine Vision — Machine vision refers to the use of high-speed cameras to monitor production processes, have machines analyze the captured data in real-time, and then use the results to flag items, initiate or change actions, or report results for further action. Application areas are vision-guided robotics, automated optical inspection, artificial intelligence and more.
In-vehicle Computing — High-end processing performance in conjunction with high-end graphics processing are required for autonomous driving applications, predictive maintenance monitoring, driver fatigue detection, etc.
Intelligent Transportation — This refers to advancing transportation safety and mobility and enhance productivity by integrating advanced technologies into transportation infrastructures and vehicles. Intelligent transportation also includes monitoring traffic patterns, environmental conditions as well as object screening, all to optimize the flow of traffic and make it safer.
Security and Surveillance — This includes monitoring and recognition technologies far exceeding simple static recording. Object detection and tracking, real-time position determination and advanced video analytics bring security and surveillance to a new level.
First look at the Cincoze GP-3000
The image below shows the Cincoze GP-3000 from the top and all four sides. The device actually consists of a system unit and then one of the two currently available expansion units that contains the GPU card(s) and additional expansion. The system unit is steel painted black with cutouts for the various ports, and a large, finned aluminum heat sink/spreader with active cooling (that's why you don't see the finning).
Unlike other many industrial PCs that get away with passive cooling, the GP-3000 is designed to accommodate the thermal load of very high performance CPUs and GPUs, and so there are plenty of fans. Our review came with the highest performance processor option as well as a massive Nvidia RTX 3090 GPU card, and the unit had no problems keeping things amazingly cool. As is often the case, there's more to thermal management than meets the eye with this industrial PC, and we'll get into that a bit later.
The Cincoze GP-3000, like most industrial PCs, is a fairly simple and straight-forward design, a precision-engineered piece of computing machinery of very high quality. The design is rational and intelligent down to the smallest detail. Created to be able to accommodate dual full-length (up to 328mm) Nvidia or AMD graphics cards, the GP-3000 can supply as much as 720 watts of total system power, supports a wide range of DC power input from 9 to 48 Volt, and can make available up to 500 watts for two graphics cards.
The picture below shows the system from the front:
As is the case with many industrial and panel PCs, almost all of the Cincoze GP-3000's I/O is concentrated in one face. This way, I/O is easily accessible no matter what way the system is mounted — face-up on a desk, face-out on a wall or integrated into a 19-inch rack system. Our review Cincoze GP-3000 provided the following external ports on the front:
1 x HDMI (4096 x 2160 @30Hz)
1 x DisplayPort (4096 x 2340 @60Hz)
1 x VGA (1920 x 1200 @30Hz )
5 x RJ45 GbE LAN (GbE 1: Intel I219-LM; GbE 2-4: Intel I210-IT)
2 x DB9 RS-232/422/485 with Auto Flow Control (supports 5V/12V)
2 x 10Gbps USB 3.2 Gen2 Type A
4 x 5Gbps USB 3.2 Gen1 Type A
1 x Audio Line-out 3.5mm
1 x Audio Mic-in 3.5mm
1 x ATX power on/off button
2 x 2.5-inch hot-swap HDD/SSD bays
1 x reset button
1 x ignition setting switch
1 x power mode switch (AT/ATX)
The Cincoze GP-3000 Series can be used as a high-performance standalone computer, configured with customer's choice of about 20 different CPUs as well as numerous CMI and CFM modules.
CMI modules — CMI stands for Combined Multiple I/O and is a proprietary Cincoze interface. The GP-3000 offers one high-speed CMI that can be used for multiple high-speed I/O ports such as LAN, and one low-speed CMI that can be used for multiple low-speed I/O ports such as serial or DIO). This allows Cincoze to combine multiple I/O threads in a single port, using M12 connectors. Available CMI modules provide:
4 GbE LAN, RJ45
4 GbE LAN, M12 A-Coded
2 10GbE LAN, RJ45
2 RS-232/422/485 with Auto Flow Control (Supports 5V/12V), DB9
16x Optical Isolated DIO(8DI, 8DO), 2x 10 Pin Terminal Block
CFM modules — CFM stands for Control Function Module and is also a proprietary Cincoze technology that adds functionality via specific CFM boards. CFM Technology allows the support of PoE and IGN function for various applications. The GP-3000 offers one high-speed CFM with an ignition interface and a second one with a PoE (Power over Ethernet) interface.
Available CFM modules provide:
A power ignition sensing module with delay time management and selectable 12V/24V voltage
A PoE function module that supports up to 4 PoE+ 25.5 watt ports.
MEC technology — MEC stands for mPCIe Card. This is a non-proprietary design. Here, currently available modules are:
Dual 5Gbps USB 3.2 Gen1, Type A
Dual GbE LAN, RJ45
The term "proprietary" can conjure up fears in customers of being locked in or not being compatible with industry standards. That's not an issue with the various Cincoze technologies; they are simply efficient conduits for industry-standard connectivity.
As we've come to expect from Cincoze, while their products may largely be geared towards industrial customers, that never comes at the cost of good, attractive design and a well thought-out user interface. Below, as an example, is a closer look at the GP-3000's LED indicator light strip that shows from left to right GPIO 1 to 8 activity, and then activity of the NVMe HDD or SSD, Ignition power and Ignition thermal (the latter with various colors for system temp levels), GPIO overall, PoE, the SATA HDD or SSD, and system power status,
Concept and insides of the GP-3000
The Cincoze GP-3000 is a system, or one might say product line, that can be used in various configurations. The actual GP-3000 alone is a formidable industrial Box PC ready to tackle numerous applications that demand high-end performance and maximum connectivity and customization potential. The GP-3000 system, however, comes truly into its own when used in conjunction with one of its two available GEBs (GPU Expansion Boxes). The smaller of the two, the GEB-3301, has a PCIe x16 and a PCIe x4 slot, the larger GEB-3601 adds to that a second PCIe x16 slot as well as a PCIe x1 slot.
The image below shows our review GP-3000 with unit with the large GEB-3601 installed on the left, and a diagram that shows how either of the GEBs combines the GP-3000 via its interface card.
The Cincoze GP-3000 system unit uses an elaborate patent-pending heat dissipation design that isolates fans from the electronics and thus prevents dust intake from settling on the system board and components. Anyone who has ever opened a standard PC knows how dust can accumulate and bake onto circuits inside fan-cooled systems, potentially causing overheating or failure. The Cincoze system prevents that, contributing to system reliability and longevity.
Below you can see the Cincoze GP-3000 system unit opened up. That's a simple matter of undoing ten screws and then carefully lifting the top cover off. There are no wires or cables between the two. The dual fans on each side of the cover are powered via touch pins. The copper square that sits on top of the CPU conducts heat away from the processor and into the cover, which is really just a massive heat sink and dissipator. The light blue square is the CPU thermal conductive silicone rubber pad that is reusable as long as it remains in good condition upon removal of the heat sink.
Note that this is not just your average basic heat sink. It actually reveals one of the secrets of the Cincoze GP-3000: the heat sink is more than the common extruded aluminum affair; it has a copper plate and copper heat piping integrated in it, and on the other, heavily finned, side there are four fans pulling air through those fins, making this a powerful active/passive thermal cooling solution.
Looking onto the motherboard of the GP-3000, to the right of the CPU are the two SO-DIMM RAM module sockets. Also visible are two Mini PCIe sockets that can be used to add Wi-Fi or mobile broadband radio connectivity, and an M.2 E Key socket that supports PCIe x2 and USB. Right above the copper CPU heatsink in the picture is a second M.2 slot. This one is M Key, which means it can handle either SATA or PCIe.
In our review unit, this was used for a Cervoz Technology solid state disk.
On the upper right corner you can see the CMI module board installed in our review unit. A number of such CMI expansion boards are available; ours added four M12 A-coded gigabit LAN connectors.
Below is an opened-up look at the GEB-3601 GPU expansion box our review unit came with. The Cincoze GEBs are, in essence, steel standard steel boxes designed to accommodate one of Cincoze's expansion cards that plugs, though a slot in the housing, into the GP-3000 mother board as well as provide the considerable the power and cooling to handle one ot two high-end graphics cards.
While fans are simple, mature technology that's necessary to handle dissipating the heatload generated by high-end GPUs, they are still rotating mechanical devices that can fail. When and if that happens, replacement of fans isn't difficult, but it usually means disassembling the computer. Not so with the Cincoze GEBs.
That's because both the big 8 centimeter (shown to the right) and the small 4 centimeter ones are replaceable within seconds from the outside. Just open a screw or two, lift the fan (or fan assembly; the 4cm fan come in a strip of four) out and replace it. No cables needed. A thoughtful touch and one much appreciated should one of the fans fail. Looking onto the surface of the expansion board, note the two additional PCIe slots, one for a x1 module and the other for an x4 one.
Anyone unfamiliar with GPU computers and the performance requirements of advanced graphics application may wonder why anyone may go to such lengths and expense just for graphics. After all, aren't graphics built into Intel chips and don't most PCs come with all the various graphics ports one needs? The answer is that while web browsing, business graphics, watching videos and even, to some extent, gaming can easily be handled by the graphics built into modern processors, there are many graphics applications that need much more punch.
Our review GP-3000 came with an Nvidia GeForce RTX 3090 installed. The RTX 3090 is a monster. Based on Nvidia's Ampere microarchitecture, packing 24GB GDDR6X video RAM, and having a Thermal Design Point of 350 watts, tomshardware.com declared it the fastest gaming card available and also the best for content creators. Nvidia Ampere-based cards are also available in various forms for workstations or data centers, many of which got for multiples of the RTX 3900's already considerable US$1,500 price. It all depends on the application requirements, and the Cincoze GP-3000 can handle it.
In the image above, note how Cincoze added an adjustable GPU card retainer that grips and secures GPU cards of any size. Why? Because the original designers of PCIe card slots probably didn't anticipate GPU cards as large and heavy as today's highest-performance models. Fully securing such heavy cards keeps them from potentially shaking loose in high-vibration installations such as vehicles or other rolling stock.
Below a look at the strip of 4-centimeter fans mentioned before. It's installed at the upper left of the picture with the RTX 3090 card above.
The question then becomes just how much heat can be safely dissipated in high-end machines such as the Cincoze GP-3000. The answer is "a lot," as long as one follows thermal engineering principles. Cincoze pulled out all the stops, employing multiple technologies, both active and passive ones.
According to the second law of thermodynamics, heat flows from warmer places to colder ones in an attempt to equalize the temperature difference, similar to higher water levels flowing to lower ones in an effort to have a qual surface elevation.
Almost all materials conduct heat, albeit to greatly varying degrees. Thermal conductivity is measured in watts per square meter of surface area for a temperature gradient of one degree Kelvin through a distance one meter.
When it comes to heat sinks and heat pipes in computers, the materials used are generally aluminum and copper. Copper offers about 70% higher thermal conductivity than aluminum, but costs about three times as much as aluminum, and coppers weighs more than three times as much.
As a result, copper is primarily used for heat pipes guiding heat away from CPUs and other heat generating electronics. Copper is also used for small thermal conducting plates and such. Aluminum, on the other hand, is frequently used to dissipate heat on the outside of industrial computers, with heavily finned surfaces creating as much heat-dissipating surface as possible.
So both materials have their place, but by and large, systems designers use either one or the other. Cincoze, however, decided to use both, taking advantage of the special properties of each metal.
In the GP-3000 Cincoze used in its system unit heat sink a hybrid copper aluminum design where the copper heat plate on the CPU makes contact with a corresponding copper heat plate in the main heat sink via a conductive pad. The copper heat plate in the actively air-cooled aluminum finned heat sink then has four copper heat pipes attached to it. Those copper pipes are then secured into grooves in the aluminum heat sink/spreader. This way, more heat gets removed faster. And just to make sure, Cincoze provided heat isolation between the CPU and the GPU.
This is quite elaborate, ingenious, and excellently executed. It'd be overkill if a GP-3000 is used as just a industrial PC without any of the expansion units and hot-running graphics cards, and especially so if a GP-3000 were equipped with one of the lesser available CPUs with TDPs as low as 35 watts. But too much cooling is better than not enough, and so the GP-3000 was designed to stay cool no matter what, even with the thundering 80 watt TDP Xeon 8-core/16-thread E-2278GE installed in our review unit. That is very impressive.
The thermal images below were taken with our FLIR One Pro camera. It shows the GP-300 in the midst of running one of the many benchmarks we subjected it to. Even with the big Nvidia RTX 3090 card in its expansion housing, exhaust and surface temperatures barely exceeded 80F. The sole exception on the thermal pictures is at the systems external power supply that we sat on top of the computer.
Massive performance
When Cincoze approached RuggedPCReview about hands-on with their upcoming GP-3000 they inquired as to what configuration we'd like to test. We asked them to send us the fastest, meanest, no-holds barred configuration possible. Cincoze came through, and our review GP-3000 arrived with an Intel Xeon E-2278GE octa-core beast with a base clock speed of 3.30GHz, a maximum turbo speed of 4.70GHz and a desktop/workstation-class Thermal Design Power of 80 watts. And while we didn't specify a particular graphic card, Cincoze equipped our tester with that top-of-the-line Nvidia GeForce RTX 3090 monster card.
To provide an idea of the relative performance of the so-equipped Cincoze GP-3000, we ran not only our traditional standard benchmark suites — PassMark (both versions 6.1 and 9.0) and CrystalMark — but also PC Mark 10, GeekBench 5 and 3DMark, and listed not just the overall results but also some specific graphics benchmarks. For comparison, we added benchmark data of the Cincoze GM-1000, also a GPU industrial box that we tested last year.
We also wanted to show where the Cincoze GP-3000 stood compared to the absolutely highest performance you can get these days from rugged laptops equipped with high-end Intel 10th and 11th generation Core processors. We're not naming those reference systems as they are not directly in competition with industrial GPU computers; they are just here for reference.
Cincoze GP-3000 Benchmarks and Comparisons
| | | | | |
| --- | --- | --- | --- | --- |
| PERFORMANCE COMPARISON | Cincoze | Cincoze | Comparison A | Comparison B |
| Model | GP-3000 | GM-1000 | High-end 10th gen | High-end 11th gen |
| Model | | | | |
| Year tested | 2021 | 2020 | 2021 | 2021 |
| Intel processor | Xeon E-2278GEL | Core i7-9700TE | Core i7-10710U | Core i7-1185G7 |
| Cores/threads | 8/16 | 8/8 | 6/12 | 4/8 |
| CPU base speed | 3.30GHz | 1.80GHz | 1.10GHz | NA |
| CPU turbo speed | 4.70GHz | 3.80GHz | 4.70GHz | 4.8GHz |
| Thermal Design Power (TDP) | 80.0 watts | 35.0 watts | 15.0 watts | 12/28.0 watts |
| GPU | GeForce RTX 3090 | Intel UHD Graphics 630 | GeForce GTX 1050 | Intel Iris Xe Graphics |
| Overall PassMark 6.1 | 9,197.0 | 6,601.1 | 6,430.2 | 8,292.7 |
| Overall PassMark 9.0 | 6,856.2 | 4,096.0 | 4,531.8 | 5,637.2 |
| PassMark 9.0 3D | 15,590.5 | 1,163.2 | 3,026.3 | 3,669.6 |
| Overall CrystalMark | 476,982 | 362,403 | 333,057 | 488,622 |
| CrystalMark OGL | 43,308 | 12,503 | 35,296 | 15,320 |
| Overall PC Mark 10 | 6,519 | NA | 4,265 | 4,876 |
| GeekBench 5 Single Core | 1,155 | NA | 1,238 | 1,545 |
| GeekBench 5 Multi Core | 6,154 | NA | 4,187 | 5,225 |
| GeekBench 5 Open CL | 188,649 | NA | NA | 16,653 |
| 3D Mark TimeSpy | 15,563 | NA | 1,520 | 1,579 |
The results show four things:
First, equipped with an Intel Xeon E-2278GE octa-core processor and a high end graphics card such as the Nvidia RTX 3090, the Cincoze GP-3000 performs at an overall higher level than even the highest-end mobile laptop or tablet systems.
Second, equipped with a high-end graphics card such as the Nvidia GTX 3090 in our test system, graphics performance can be massively higher than even with discrete GPUs commonly used in mobile systems. Depending on the benchmark tests, performance can be an order of magnitude higher.
Third, given the large number of CPU options Cincoze offers for the GP-3000 GPU computer platform, customers should test for themselves how various CPU/GPU combinations perform.
And forth, don't forget that overall system performance depends on the performance of all components. Even with the highest-end graphics cards will benefit from also having the fastest available PCIe NVMe storage.
The graph below shows the GP-3000's CPU and GPU clock frequencies as the system powered through the demanding 3DMark Fire Strike benchmark. And it shows one of the secrets of the GP-3000's stellar performance: Thanks to the highly effective cooling the GP-3000 provides, the system isn't reducing clock speeds through the benchmark. It just powers right through at full speed. High-performance processors are very sensitive to overheating and therefore use a battery of sensors throughout the system. If things get too hot, as they will at high load, the processor throttles down. Only effective thermal management can keep clock frequencies high, and the GP-3000 can do that.
To help with the CPU decision, peruse the table below. It shows all the different 9th generation processors available for the Cincoze GP-3000 (for full Intel spec table, click here).
Cincoze GP-3000 Intel 9th Gen Coffee Lake-R processor options
| | | | | | | | | |
| --- | --- | --- | --- | --- | --- | --- | --- | --- |
| PROCESSOR OPTIONS | Xeon | Xeon | Core i7 | Core i5 | Core i3 | Core i7 | Core i5 | Core i3 |
| Model | E-2278GE | E-2278GEL | 9700E | 9500E | 9100E | 9700TE | 9500TE | 9100TE |
| Cores/Threads | 8/16 | 8/16 | 8/8 | 6/6 | 4/4 | 8/8 | 6/6 | 4/4 |
| Base Clock Speed | 3.30 GHz | 2.00 GHz | 2.60 GHz | 3.00 GHz | 3.10 GHz | 1.80 GHz | 2.20 GHz | 2.20 GHz |
| Turbo Speed | 4.70 GHz | 3.90 GHz | 4.40 GHz | 4.30 GHz | 3.70 GHz | 3.80 GHz | 3.60 GHz | 3.20 GHz |
| Cache | 16MB SmartCache | 16MB SmartCache | 12MB SmartCache | 9MB SmartCache | 6MB SmartCache | 12MB SmartCache | 9MB SmartCache | 6MB SmartCache |
| Thermal Design Power (TDP) | 80 watts | 35 watts | 65 watts | 65 watts | 65 watts | 35 watts | 35 watts | 35 watts |
| Graphics base speed | 350 MHz | 350 MHz | 350 MHz | 350 MHz | 350 MHz | 350 MHz | 350 MHz | 350 MHz |
| Graphics max speed | 1.20 GHz | 1.20 GHz | 1.15 GHz | 1.10 GHz | 1.05 GHz | 1.15 GHz | 1.10 GHz | 1.05 GHz |
| Intel vPro | Yes | Yes | Yes | Yes | No | Yes | Yes | No |
| Intel TSX | Yes | Yes | Yes | Yes | No | Yes | Yes | No |
| Intel SIPP | NA | NA | Yes | Yes | No | Yes | Yes | No |
| Intel Trusted Execution | Yes | Yes | Yes | Yes | No | Yes | Yes | No |
What may make a difference in certain applications is the availability of four special Intel technologies (vPro, TSX-NI, SIPP, and Trusted Execution) included in some of the available processors but not in others.
Here's what that means:
The extra security and manageability capabilities of vPro, especially, are required in many enterprise deployments.
TSX-NI (Transactional Synchronization Extensions New Instructions) helps make parallel operations more efficient via improved control of locks in software,
SIPP (Stable Image Platform Program) allows deployment of standardized, stable image PC platforms for at least 15 months, and
Trusted Execution technology provides security capabilities such as measured launch and protected execution, and may thus also be an enterprise requirement.
Note that in our table above we only listed the GP-3000's available 9th generation Intel "Coffee Lake-R" processor options. Also available are a full dozen 8th generation CPUs, ranging all the way from high-powered Xeon workstation class processors all the way down to economical Pentium and Celeron G-Series versions.
Below a look at the massive power supply our review unit came with:
Ruggedness
From a ruggedness standpoint, industrial Box PCs such as the Cincoze GP-3000 may encounter temperatures extremes, shock/vibration, and airborne particulates. Since they are not carried around, the drop spec and IP rating (sealing against solids and liquids) that in part define the durability of mobile devices are essentially irrelevant. Shock and vibration resistance, however, are not, and those have been tested to IEC 60068- 2-27 and IEC 60068-2-64 procedures, respectively. The operating temperature range can be as wide as -40°F to 158°F with a low-end 35 watt TDP CPU, and varies depending on processor and GPU options. The upper operating temperature limit drops to 140°F with a 45 watt TDP processor and 122°F. The upper operating temperature limit may drop to 952°F when running a configuration with dual 250 watt GPUs.
The Cincoze GP-3000 also passed the stringent MIL-STD-810G military standard shock and vibration resistance tests that the US Department of Defense uses to qualify military equipment.
Overall, Cincoze observed proper rugged design principles for this type and class of machine, including the unibody chassis, cable- and jumper-less design as well as integrated anti-vibration measures. They also sought to comply with all pertaining EN 50121-3-2 (EN 50155) rolling stock,
E-Mark, and EN62368-1 safety rolling stock standards to ensure stable and reliable performance of the unit. That also includes medical-grade ESD and interference protection, solid-state components as well as wide 9-48VDC input voltage support.
Ruggedness also requires secure mounting methods. Here, the Cincoze GP-3000 offers a desktop-mount bracket for use with the GP-3000 system unit only, a face-up mount or wall-mount via wall bracket for the system unit alone or system unit with expansion modules, and there's also a mounting kit for use with 19-inch racks.
There's a remote power on/off and remote reset function, optional power ignition sensing with delay time management, reverse power input protection, ESD and surge protection, over-current and over-voltage protection, and a super capacitor so that there won't ever be issue with a dying CMOS battery.
Faster storage
On the mass storage side, the Cincoze GP-3000 is ahead of much of the competition. That's because it makes available PCIe NVMe instead of, or in addition to, older, slower SATA-based storage technology. To explain the advantage of that we must backtrack a little. For decades, hard disks served as mass storage almost exclusively. Hard disks are complex mechanical devices with rotating platters and fragile read heads. Wear and tear is an issue with hard disks, as are disk crashes due to vibration or impact. For that reason, hard disks were increasingly replaced by faster and less vulnerable SSDs — solid state drives — in many (and now most) applications.
However, even SSDs have their bottlenecks. In terms of performance, for some time now that bottleneck has been the SATA interface between the storage module and the computer. SATA's been around for a decade and a half and data transmission speed has pretty much maxed out.
The PCIe standard, on the other hand, can reach throughput speeds up to several times higher, depending on which PCIe standard is used and how many "lanes" are available. And PCIe doesn't even require major changes. The standard M.2 connector supports both SATA and PCIe, and PCIe storage modules are the same "gumstick" size as SATA storage modules.
The Cincoze GP-3000
With the GP-3000, Cincoze offers a highly scalable and versatile industrial GPU computer platform that consists of a system unit and configurable expansion modules that can support up to two 250 watt high-end graphics cards. Designed for applications in AI, machine learning, machine vision, and big data analysis, the GP-3000 can be configured with your choice of no fewer than 20 Intel 8th and 9th generation Xeon, Core, Pentium and Celeron processors as well as SATA and PCIe storage, modules and accessories.
The Cincoze GP-3000 offers plenty of onboard wired communication to fit just about any application, augmented by Combined Multiple I/O interface options as well as ignition sensing for vehicular applications. There is room for plenty of storage, ranging from four 2.5-inch SATA HDDs or SDDs with RAID 0/1/5/10 support, as well as multiple mSATA and NVME SSD sockets. Thanks to its support for high-power full-size GPU cards, the GP-3000 is suitable for any number of high-end graphics recognition and processing applications. Also impressive is the superb product documentation and manual. -- Conrad H. Blickenstorfer, June 2021
Cincoze GP-3000 Specs:
Status
Added and reviewed 06/2021
Type
High-performance industrial AI and Machine Vision GPU computer
CPU Type
Intel Xeon E-2278GE 8 cores/16 threads; 3.30 default/4.70GHz max turbo frequency, TDP 80W
Intel Xeon E-2278GEL 8 Cores Up to 3.9 GHz, TDP 35W
Intel Core i7-9700E 8 Cores Up to 4.4 GHz, TDP 65W
Intel Core i5-9500E 6 Cores Up to 4.2 GHz, TDP 65W
Intel Core i3-9100E 4 Cores Up to 3.7 GHz, TDP 65W
Intel Core i7-9700TE 8 Cores Up to 3.8 GHz, TDP 35W
Intel Core i5-9500TE 6 Cores Up to 3.6 GHz, TDP 35W
Intel Core i3-9100TE 4 Cores Up to 3.2 GHz, TDP 35W

Intel Xeon E-2176G 6 Cores up to 4.7 GHz, TDP 80W
Intel Xeon E-2124G 4 Cores up to 4.5 GHz, TDP 71W
Intel Core i7-8700 6 Cores up to 4.6 GHz, TDP 65W
Intel Core i5-8500 6 Cores, up to 4.1 GHz, TDP 65W
Intel Core i3-8100 4 Cores 3.6 GHz, TDP 65W
Intel Core i7-8700T 6 Cores up to 4.0 GHz, TDP 35W
Intel Core i5-8500T 6 Cores up to 3.5 GHz, TDP 35W
Intel Core i3-8100T 4 Cores 3.1 GHz, TDP 35W
Intel Pentium G5400 2 Cores 3.7 GHz, TDP 58W
Intel Pentium G5400T 2 Cores 3.1 GHz, TDP 35W
Intel Celeron G4900 2 Cores 3.1 GHz, TDP 54W
Intel Celeron G4900T 2 Cores 2.9 GHz, TDP 35W

Graphics
Integrated Intel UHD Graphics (Xeon/i7/i5/i3: UHD 630; Pentium/Celeron: UHD 610)
OS
Windows 10, Linux
Memory
Up to 64GB DDR4-2666/2400 MHz in two SO-DIMM sockets; supports ECC / non-ECC
Watchdog Timer
Software programmable supports 256 levels, system reset
Graphics Interface
Supports triple independent display (VGA/DisplayPort/HDMI); exact configuration depends on options
LAN
4 x RJ45 GbE LAN (Intel I210-IT), 1 x RJ45 GbE LAN (Intel I219-LM); optional CMI modules with 4 x RJ45 GbE LAN OR 4 x M12 A-coded GbE LAN OR 2 x RJ45 10GbE LAN
Expansion
2 x full-size Mini-PCIe, 1 x M.2 Key E 2230 (supports Intel CNVi Module), 1 x M.2 Key M 2280 socket (supports NVMe/SATA SSD), 1 x universal bracket, 2 x SIM socket, 7 x antenna holes; optional GPU expansions boxes (1 x PCIe x4 + 1 x PCIe x16 OR 2 x PCIe x16 (8 Lanes) + 1 x PCIe x1 + 1 x PCIe x4)
Primary Storage
4 x 2.5-inch SATA III (6Gbps) front-accessible 2.5" HDD/SSD trays (up to 15mm in height)
1 x M.2 Key M 2280 socket, supports NVMe SSD
System supports RAID 0 / 1 / 5 / 10
Housing
Steel case with finned and actively cooled aluminum heatsinks, copper heat piping; mounting options for wall mount, desktop mount, face-up mount, and 19-inch rack mount
Vibration
Tested according to MIL-STD-810G
Shock
Tested according to MIL-STD-810G
Humidity
up to 95% relative humidity non-condensing
Operating temperature
GP-3000 system unit with 35 watt CPU: -40°F to 104 to 158°F (-40°C to 40 to 70°C), depending on processor TDP; lower range for higher TDP CPUs and systems with single or dual GPUs
USB
4 x USB 3.2 gen1 (5Gbps) Type-A, 2 x USB 3.2 gen2 (10Gbps)
Serial
Optional dual DB9 RS-232/422/485 with auto flow control and 5V/12V support CMI module
Digital I/O
Optional 16x optical isolated DIO (8DI, 8DO) CMI module
CAN Bus
NA
Audio
Realtek ALC888 HD audio, 1 x Line-out, 1 x Mic-in
Size
GP-3000 system unit: 14.6 x 7.7 x 4.1 inches (370 x 195 x 105 mm)
GEB-3301 expansion unit: 104 x 195 x 360 mm
GEB-3601 expansion unit: 200 x 195 x 360 mm
Weight
GP-3000 system unit: 17.6 lbs (8.0 kg)
Power
Wide-input 9 to 48 VDC, dual 3-pin Terminal Block connectors with 220 watt total power budget; optional AC/DC or DC/DC 24V 480W or 1000W power supplies
Certifications
EMC: CE/FCC Class A, EN 50121-3-2, E-mark; Safety: LVD (EN62368-1)
Price
Inquire