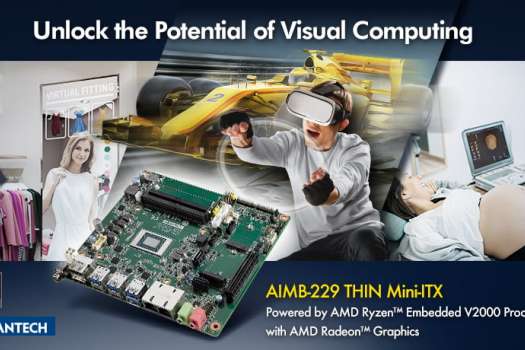 Advantech has released the AIMB-229 thin Mini-ITX motherboard with AMD Ryzen™ Embedded V2000 processors
Powerful Computing Empowers Graphics-Driven Embedded Devices
Advantech's AIMB-229 increases graphic processing capabilities by 40% using a powerful embedded Radeon™ GPU. Indeed, results from a PASSMARK PerformanceTest V10 demonstrate superior CPU performance that is better than 87% of comparable solutions. Analogously, AIMB-229 supports 4 x independent displays with up to 4K60 UHD resolution via 2 x HDMI and 2 x DP++ via USB-c. This motherboard also improves image processing and analysis as well as computing acceleration performance in multi-headed medical imaging and machine vision systems. AIMB-229 supports 6 x USB 3.2 and 1 x PCIe x8 — facilitating high-speed modular add-on cards and diverse peripherals. These include high-speed cameras, VR glasses, and other object capturing solutions. In sum, this combination of advanced adaptability and innovative features yields a highly responsive, accurate solution capable of supporting immersive 3D experiences in gaming and retail applications.
Slim, Powerful, and Efficient Solution for Mobile Imaging Equipment
AIMB-229 is powered by AMD Ryzen™ Embedded V2000 processors. These processors feature integrated Radeon™ graphics with an octa-core (8-core) embedded SoC, up to 16 threads, and an impressive 4.2 GHz turbo boost — enabling AIMB-229 to deliver a 140% (V2748) increase in performance when compared to the previous generation solutions. Leveraging AMD's Zen 2 x86 core architecture with innovative 7nm process technology, AIMB-229 empowers edge computing by doubling the performance-per-watt efficiency with a TDP range between 10 ~ 54W. The solution also boasts a diminutive I/O height (20 mm/.78 in) that increases battery life and fit into compact medical imaging devices. Congruously, AIMB-229 supports multiple expansion interfaces — including an M.2 M key for high-speed NVME storage and M.2 E key for Wi-Fi connectivity. In addition, AIMB-229 integrates BIOS secure boot and TPM2.0 onboard support, ensuring hardware-based security and protection from cyber security threats.
Enables Remote Control and Management at the Edge
AIMB-229 avoids system failures using Advantech WISE-DeviceOn. WISE-DeviceOn provides real-time hardware, software, and peripheral monitoring solution that delivers real-time alert notifications. It further provides an over-the-air (OTA) BIOS system that facilitates remote BIOS updates, and provides backup recovery mechanisms that prevent unexpected interruptions and boot up failures. This solution also uses USB power on/off functions that prevent unauthorized access, and re-boot the USB device without turning the power off. In sum, these features reduce maintenance costs and improve IoT efficiency by identifying and resolving issues preemptively.
Thin Mini-ITX motherboard with AMD 7nm Ryzen™ Embedded V2000 SoC
4 x independent 4K displays (2 x via HDMI, 2 x via DP++ via USB-C, 1 x optional eDP)
Supports 2 x DDR4-3200 SODIMM dual channel with up to 64GB ECC/non-ECC memory
3 x USB 3.2 Gen 2, 3 x USB 3.2 Gen 1, 2 x USB 2.0, 6 x COM, 2 x SATA III, 16-bit GPIO, and 2 x GbE
1 x M.2 M key, 1 x M.2 E key, and 1x PCIe x8 Gen 3
Optional support CCTalk protocol, 10W AMP, and TPM 2.0
Featuring Software APIs and Advantech WISE-DeviceOn