ARK-3532: A High-performance, Multi-functional Edge Computer for Diverse Industrial Applications
Advantech, a leading provider AIoT platforms and services, is pleased to release the ARK-3532 edge computer. This high-performance, multi-functional solution leverages powerful 10th Gen. Intel® Xeon® W and Core™ i processors, and provides diverse I/O for up to twenty-three devices. In addition, ARK-3532 features four PCIe/PCI slots that support GPU, data acquisition, and communication cards. This hardware/software integrated solution enables remote management and improves overall equipment effectiveness via Advantech's DeviceOn/iEdge industrial app. ARK-3532 satisfies diverse automation requirements, and is aimed at machine vision, factory automation, and traffic surveillance applications.
Powerful Computing with Twenty-three I/O
Powered by 10th Gen. Intel® Xeon® W and Core™ i3/i5/i7/i9 65W processors, ARK-3532 delivers powerful computing and high-speed analytics to advanced AIoT applications. Advantech's ARK-3532 supports simultaneous connection to twenty-three devices and peripherals using 4 x USB 3.2, 4 x USB 3.0, 6 x COM, 4 x GbE, VGA, audio, 16bits GPIO, 4K HDMI 1.4 display, and optional DVI/HDMI/DP modules. This innovative edge PC improves performance and protection by accommodating 4 x 2.5" SATA III hard drive bays using Intel® RAID 0/1/5/10 software.
Rugged Multi-Functional Design
Advantech's ARK-3532 provides 4 x PCIe x16, PCIe x4 and PCI that accept GPU, data acquisition, communication, and serial communication cards. These enable users to perform image processing, motion control, and AOI/vision inspection functions simultaneously. This high-performance edge computer further provides 1 x mini PCIe and M.2 2230 E key for advanced Wi-Fi connectivity. ARK-3532 supports wide operating temperatures (-20 ~ 60 °C / -4 ~ 140 °F), is vibration and shock-resistant, and accepts 9 ~ 36 VDC power input, meeting the demands of harsh industrial environments.
Built-in Centralized Equipment Management
Advantech's ARK-3532 meets remote management challenges using an integrated DeviceOn/iEdge app that delivers centralized equipment management with communication protocols, data integration, real-time computing/edge analytics, and remote monitoring via a pre-installed dashboard UI. The DeviceOn/iEdge management dashboard empowers 24/7 remote, real-time device tracking using edge devices and overall capacity monitoring. In sum, Advantech's ARK-3532 edge computer provides a hardware and software bundle that saves time and development costs.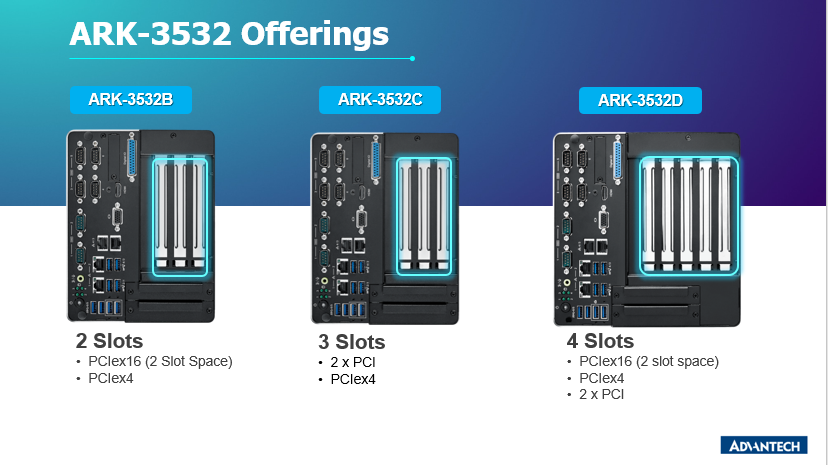 You can order this product at the links ARK-3532B/С, ARK-3532D