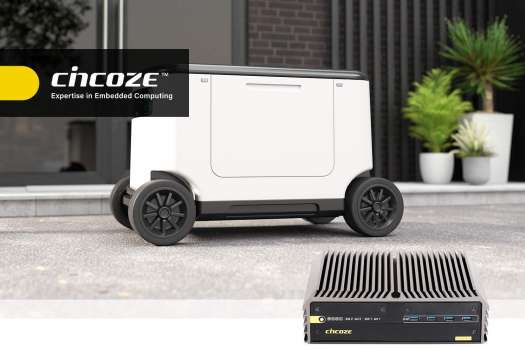 Introduction
Autonomous delivery robots ride on sidewalks, go up and down slopes, dodge crowds of people, and even open boxes for customers to remove items upon delivery. Passers-by can't help but look twice at these cutting-edge delivery boxes on wheels. The recent Covid-19 pandemic has led to a massive increase in e-commerce and the development of no-contact delivery methods designed to tackle the global labor shortage. Major logistics companies continue to invest heavily in the research and development of autonomous delivery robots, accelerating the establishment of smart last-mile distribution. The underlying technology of autonomous delivery robots is based on self-driving cars, operating according to the real-time information collected by sensors and intelligent artificial intelligence (AI) algorithms. Moreover, machine learning technology enables these smart systems to accurately plan and stick to precise driving routes. At the moment, autonomous delivery robots are mostly found making deliveries on behalf of food and drinks chains around college campuses in the UK and USA.
A combination of Cincoze's embedded computer system and AI has enabled a well-known e-commerce company in China to develop its own autonomous delivery robot, designed to improve the efficiency of door-to-door deliveries. The compact GM-1000 system includes ample I/O and expansion options, and integrates perfectly into the limited space inside the robots. The system can also handle complex calculations and reach the L4 driving level thanks to the NVIDIA® Quadro® P2000 MXM GPU. In the future, autonomous delivery robots are expected to operate independently around college campuses, communities, and parks.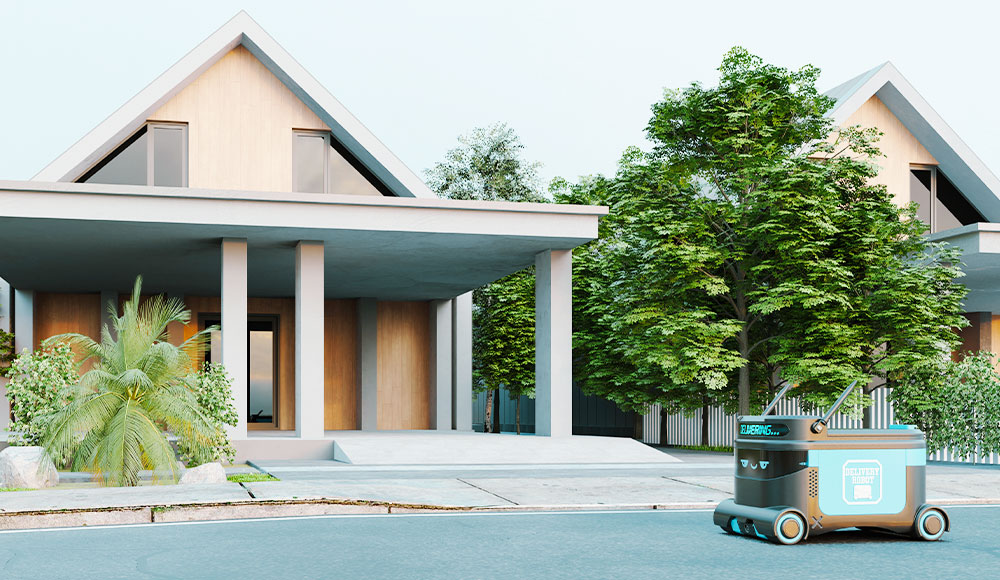 Customer Requirement
High-Performance CPU and GPU
Using a combination of advanced technologies such as machine vision, AI, Internet of Things (IoT), cloud computing, and big data, automated delivery robots can achieve environmental perception, dynamic decision-making, and autonomous motion control. To cope with such a complex array of calculations, the robots must be equipped with a sophisticated computer right at the heart. In addition to high-performance CPU requirements, AI algorithms require GPU power for deep learning optimization, allowing the robots to accurately navigate roads and pedestrians, and improving overall operational efficiency. High-performance computing units must be able to maintain low power consumption and a long battery life to achieve the goal of large-scale commercial use.
Sensor and Component Connections
Autonomous delivery robots use various sensors and components that connect to the central computer system. Such machine control components include front and rear LiDAR, a multi-lens surround camera, movement control, box-opening ability, and a signal display. It's vital that the computer module can connect and integrate with these components for maximum operation efficiency.
Anti-Shock, Temperature Resistant System
Autonomous delivery robots spend long hours performing tasks in challenging outdoor conditions, a far cry from a comfortable indoor environment. They must withstand the vibration caused by bumpy, uneven roads, and endure hours of sun exposure or cold temperatures. A robust and stable computer system is, therefore, a basic requirement.
Why Cincoze?


Intel® Xeon®/Core™ CPU + MXM GPU
The embedded MXM GPU computing solution GM-1000 supports an 8/9th gen Intel® Xeon®/Core™ processor, up to 64 GB DDR4 internal memory, and MXM 3.1 Type A/B GPU modules to meet the advanced computing requirements of machine learning, AI, high-end image processing, and automated inspection. The industrial-grade MXM GPU solution boasts high performance and low power consumption compared with other systems with similar GPU power. At the same time, the CPU and GPU are fitted with specially designed independent cooling systems to provide the stability required for harsh environments, achieving effective heat dissipation through copper ducts and extruded aluminum casing. The system can also be used with an optional ultra-slim external fan kit.
Rich I/O and Flexible Expansion Options
Cameras and sensors require rapid connections to achieve ultra-fast data transfer, for image processing and analysis. To fulfill these requirements, the GM-1000 is equipped with high-speed I/O interfaces, including 2× GbE LAN and 8× USB connections. It also features a general industrial I/O and display connectors, including 4× COM, 1× HDMI, 1× DisplayPort, and 1× DVI-I. There are also 3× full-size Mini-PCIe slots for wireless connection to the cloud. In addition, a range of flexible expansion options are available through Cincoze's exclusive CMI and CFM modules, including 2× 10GbE LAN, 4× GbE LAN, M12 connectors, 16× optical isolated DIO (8 in/8 out), PoE, and an ignition sensing function. Rich I/O ports connect to various sensors, controllers, and machine components, supporting IoT connectivity for edge computing.
Rugged Design
The GM-1000 offers rugged design advantages, such as a wide operating temperature (-40°C to 70°C), shock and vibration resistance (50G/5G), wide-range voltage input from 9 to 48 VDC, and overvoltage, overcurrent, and ESP protection. It is also certified to the following standards: EN62368-1 for safety, EN 50121-3-2 for rail, and E-Mark for motor vehicles. This all helps to provide a powerful and stable GPU edge computing solution.