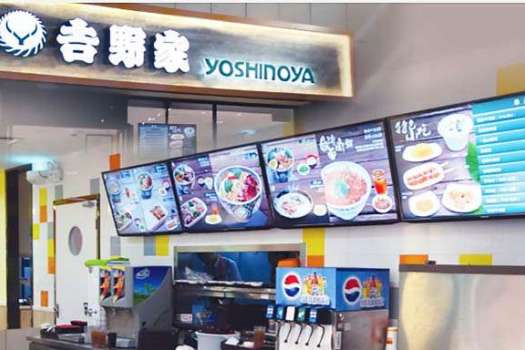 Dynamic digital menu for restaurant customers
Restaurant chains operate in a fast-growing, customer-focused industry. Waiting time is a thing of the past, as customers can use screens in advance to view seasonal or scheduled offers, as well as special promotions. It has been proven that digital special menus increase sales by more than 5 percent, without requiring annual maintenance costs.
Task
In China, Yoshinoya is a global fast-food chain of Japanese restaurants with more than 1,800 outlets worldwide. A new branch of the restaurant has a new, more varied menu, a simpler ordering procedure and a completely new look. Attractive digital signs are installed both on shop windows and on walls to attract customers. Digital menus consist of four displays, reproducing in real-time video and images of the latest dishes and the freshest ingredients of the season.
The customer was looking for a flexible solution that allows the remote IT or customer service team to update the menu boards with the latest information.
Solution
Advantech offers not only hardware, but also a content management and maintenance solution. As a result, our client gets faster entry into the market with a lower total cost of ownership.
Robust, reliable and continuous work
Considering the interior design of Yoshinoya, Advantech proposed the DS-570 solution, which is distinguished by its compact and fanless design, with the possibility of easy installation behind the displays both in storefronts and on the walls. The DS-570 supports four 1080 FHD monitors simultaneously, based on the Intel Celeron J1900 processor and the NVIDIA GeForce GT730M graphics chip. The DS-570 with a fanless design reduces maintenance costs and ensures 24/7 operation. In addition, DS-570 is integrated with Web Access / IMM, a web content management software, so Yoshinoya can quickly change and edit its latest menu with seasonal offers and more quickly present its promotions or calculate discounts to the customer.
Real-time information allows you to attract customers to work.
Advantech's integrated digital menu solution with WebAccess / IMM content management software provides an intuitive interface that allows the client to create dynamic, visually appealing menus for each seat, plan promotions and change prices or promote a limited time special offer in drag-and- drop. In addition, WebAccess / IMM allows our clients to manage 500 client menu displays remotely from a central office through a web browser. Advantech also provides 24/7 and 5/8 customer support services for any questions regarding the service, any difficulties in use, connectivity issues or display problems. The entire solution met Yoshinoya's expectations. As a result, thanks to our development, Yoshinoya received a shorter time to market with lower total operating costs, providing its customers with an even more efficient ordering environment.
Advantech Solutions
DS-570
Quad-Core SoC Platform Intel® Celeron® J1900
NVIDIA GeForce GT 730M graphics chip for UHD / FHD playback
Supports simultaneous connection of several displays (up to 4 displays)
Compact fanless design for easy installations
Embedded management software content
WebAccess / IMM
Web management of up to 500+ players / clients
Editing and sending programs within 3 steps
Supports 30+ media content
Convenient interface
Backup and restore system