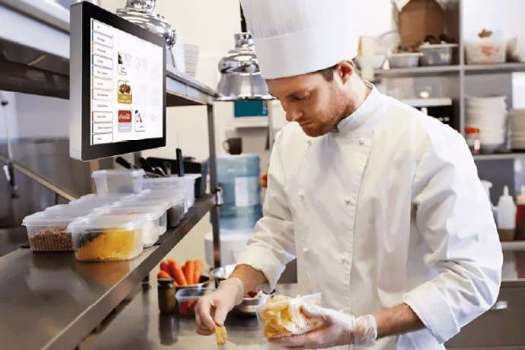 Fast-Food Chain Improves Operational Efficiency with Advantech's Kitchen Display System
Introduction
Advantech collaborated with Information Technology Total Services (ITTS) to build a kitchen display system (KDS) for a renowned fast-food chain in Taiwan, creating comprehensive software and hardware systems and providing customized services to improve the chain's efficiency and dining environment.
With the help of modern technology, the food and beverage sector has greatly enhanced operational efficiency and service quality. In the fast-food industry, the process from ordering to cooking has been completely digitalized to deliver even faster service. After orders and payments are made on self-service kiosks, the orders are sent to the KDS, prompting staff to start preparing the ordered meals. When the meals are ready, customers are notified to pick them up at the counter. This digitalized process has eliminated human errors, simplified ordering, and improved operational efficiency.
Service models like this one are becoming more frequent in fast-food restaurants around the world. A renowned fast-food chain in Taiwan is actively implementing various smart applications in-store to provide customers with higher service quality and a better dining environment. Advantech, a global leader in the fields of IoT intelligent systems and embedded platforms, together with ITTS, has helped the chain build a KDS featuring seamless hardware and software integration to improve efficiency in kitchen operations and elevate sanitation standards.
Impeccable hardware complemented by well-designed software
In the competitive world of fast-food, speed is everything. However, this particular chain is very different from most. The staff is trained in Japanese style service and with food made to order, which means efficiency in the kitchen is paramount. The internal operation process is highly optimized, and every station in the kitchen has a specific task. Nevertheless, like in all kitchens, one sanitary issue remains problematic—oil stains.
The material of the chain's old kitchen hardware system was plastic, which is not ideal because plastic is more susceptible to oil stains than other materials. Also, the hardware system was not in an airtight enclosure; greasy air particles and dust could get inside the hardware, causing malfunctions and shortening the equipment's life span. Hard-to-clean hardware will, in the end, affect the whole environment of the kitchen, resulting in sanitation issues.
To solve this, ITTS collaborated with Advantech and employed the UTC-515 for the KDS. Advantech's UTC- 515 is an all-in-one, low-power-consumption and fan less computing system. Featuring a 15.6" monitor with 16:9 widescreen display and a patented all-aluminum extrusion design with IP65-rated water and dust resistance. It offers easy integration with key peripherals and display systems for diversified self-service, as well as interactive signage. The UTC-515 was paired with a module barcode reader, RFID reader, smart card reader, magnet strip reader, and a fingerprint reader to support various types of cashless payment.
Furthermore, in accordance with the chain's request, Advantech provided four specific customizations to help resolve the issue of oil stains. The projected capacitive (PCAP) touch panel was coated with an extra layer of AS coating for oil resistance and prolonged life cycle. At the rear of the UTC-515, a special opening was put in place for easy access to the hard drive for replacement or repair. A non-grooving aluminum frame design was added to seal off the front panel, rear cover, and I/O cover to prevent oil stains from entering. Lastly, a customized cable management box allowed for the proper storage of cables. More importantly, Advantech sent experts for on-site assistance with the initial installation and provided additional training to the chain's staff for future installation procedures.
Advantech provides complete and comprehensive solutions
The implementation of the KDS is merely the beginning of potentially long-term collaboration between Advantech and the fast-food chain. There are many other smart applications that the chain could implement because of Advantech's many partnerships with system integrators in the food service industry. Indeed, Advantech provides complete intelligent solutions and services for this industry. Including intelligent POS, interactive multimedia broadcast, e-menu and self-ordering, intelligent KDS, customer survey, and intelligent queue management systems. Many of these solutions have been successfully adopted by food service companies around the world.
Advantech leverages these complete solutions to assist fast-food chains in realizing intelligent services, ranging from self-ordering to kitchen operation optimization, so as to make these chains more competitive in the market and boost their business performance.