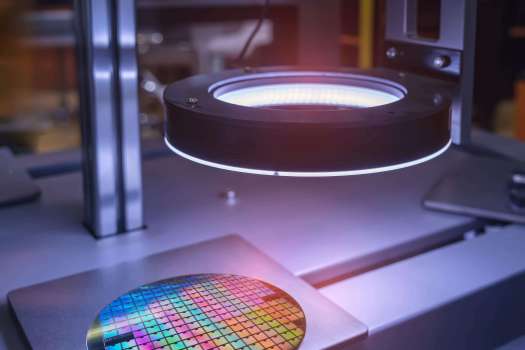 Upgrade of Automated Optical Inspection in Legacy AI Machines
Introduction
To keep their competitive edge, a multinational company needed to upgrade their production efficiency. To do this, they were looking for a high-performance automatic inspection system with multiple backplane slots for their SOM boards that could execute inspection effectively and efficiently. For this application, it was necessary to have an optimized thermal solution to ensure the whole application would work reliably without any issues.
Requirements
The company had a legacy system they used to control, collect, and manage production line data. They were looking to upgrade their existing AI system without too much disruption to production. To do this, they decided they needed to integrate an Advantech IPC with multiple SOM boards into their own system. This would provide the extra capacity they needed and would not interfere with their existing infrastructure. For this upgrade, the customer wanted to increase the accuracy and efficiency of the system and add frame-grabber and graphics cards with higher data-transfer speeds. However, the combined heat from all the cards, especially the FPGA card modules, could overwhelm the system, so an optimized thermal solution was also required.
Overcoming the difficulty of upgrading and integrating with a legacy system.
Overcoming poor quality-inspection performance of existing AI systems.
Avoidance of thermal shutdowns.
Advantech Offerings
For this specific application, Advantech customized the chassis with a specially designed fan duct that matched the shape of the customer's SOM boards. This concentrated the airflow from the system fan across the boards to efficiently expel heat from the system. To upgrade, the customer needed to have an industrial-grade PCIe backplane with sufficient slots for the cards needed. And of course, a high-watt power supply was needed to power everything. In addition, special cabling was required to direct the air ducts for thermal emission.
Backplane and Chassis Customization: 6U Chassis Design with a customized 11 x PCIe slot backplane, 20 slots wide, compatible with FPGA cards and GbE cards for image processing and media capture
Expert Thermal Design: Customized fan duct to concentrate airflow for efficient heat convection
Comprehensive Design Criteria: Extractable disc tray design for easy maintenance
Project Implementation
The final system design incorporated a 6U chassis with 12 customized slots on a Gen 3 backplane and a PCE-7132 SBC with a 10th Gen Intel® CPU. This provided a perfectly stable and reliable environment for the customer's application. And, with a customized thermal solution in place, there was no need to add additional fans to the system that would generate unwanted noise and create maintenance difficulties.
Customized Rackmount Chassis: Customized 6U chassis with customized power supply.
PCE-5B12: Customized Gen 3 PICMG 1.3 backplane with 12-slot.
PCE-7132: Single board computer with LGA1200 10th generation Intel® Xeon® W/Core™ i9/i7/i5/i3/Pentium® system host board with DDR4, SATA 3.0, USB 3.2, M.2, Dual GbE, and triple displays.
PCIE-1674: 4-port PCI express GigE vision frame grabber.
High-Watt Power Supply: 1200 W power supply with customized power cables.
System Diargram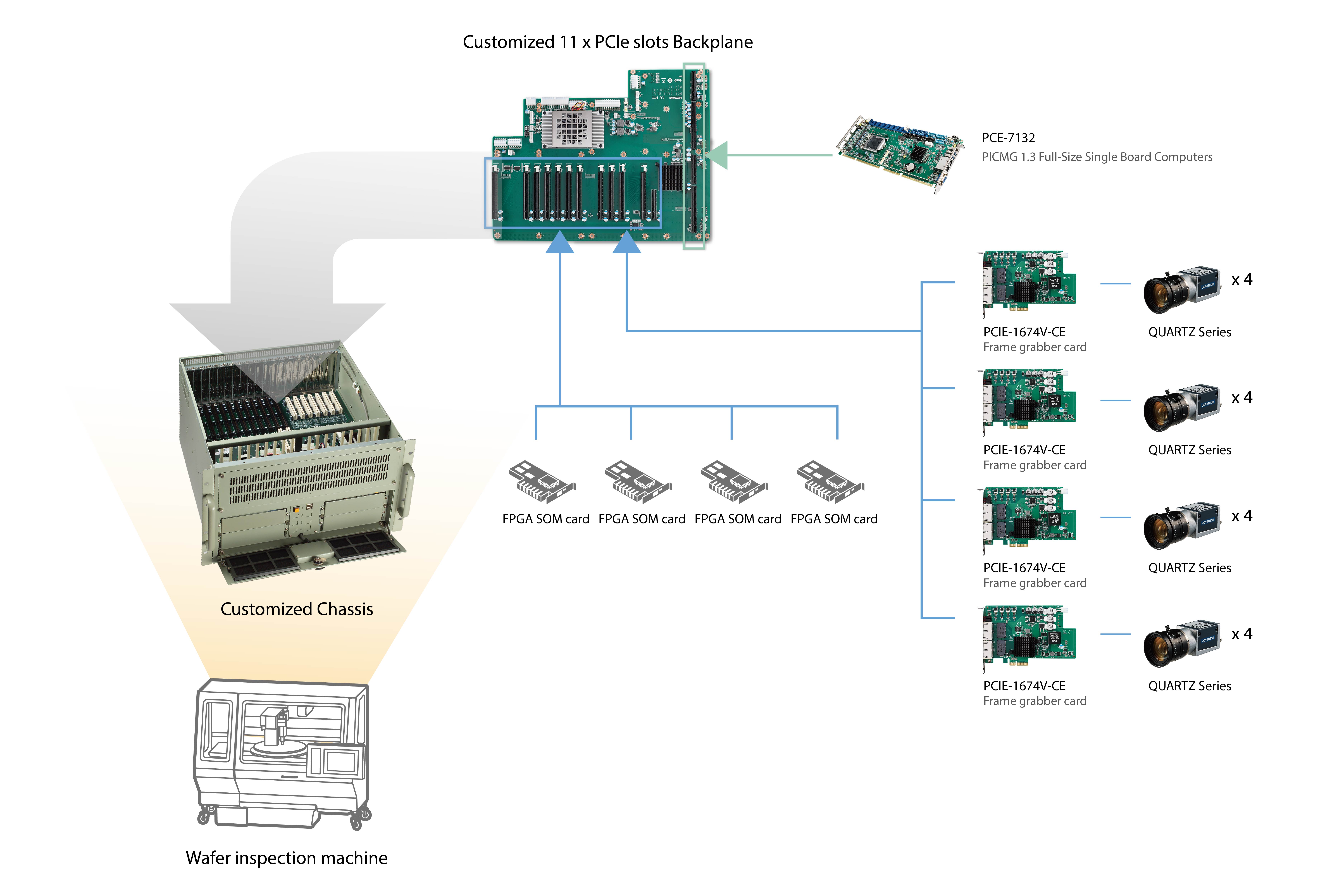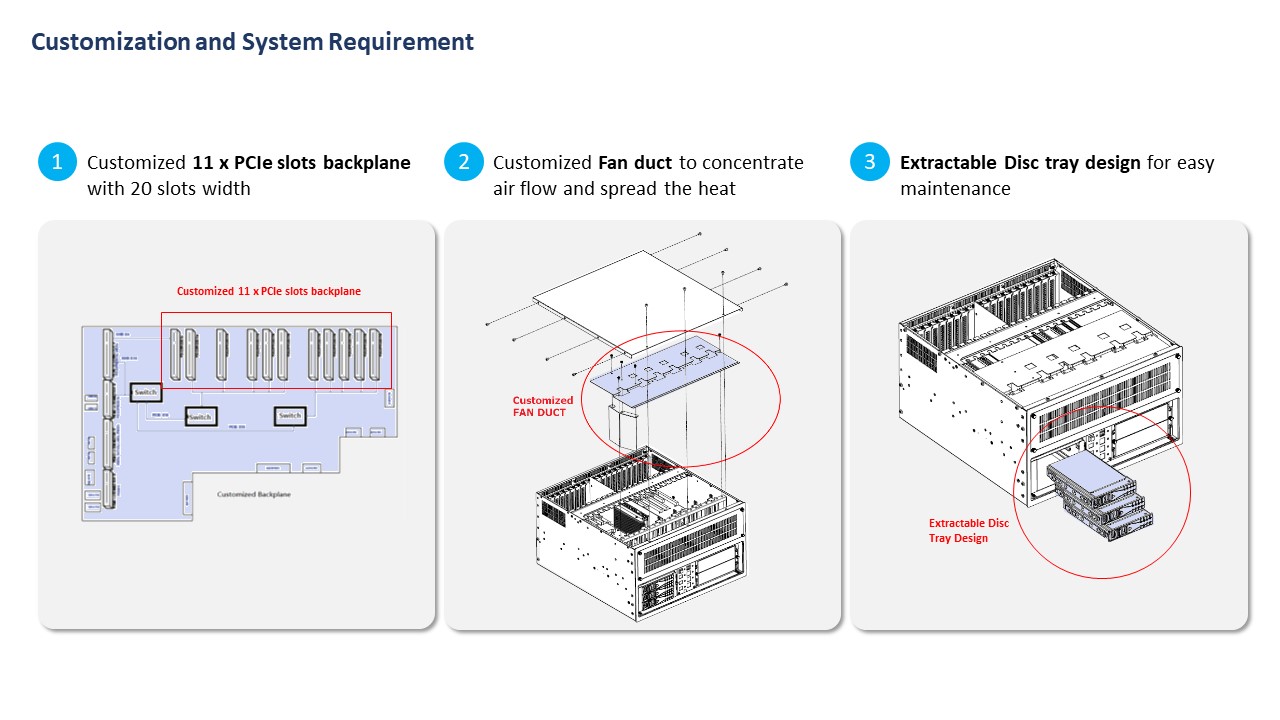 Conclusion
Advantech's flexibility and customization helped the customer meet their goal of having an effective, accurate, and high-performance automatic inspection machine upgrade. The system allowed the customer to add additional extension cards to further boost performance in the future. Advantech customized the solution for them, and their engineering team considered all of the various design criteria and provided helpful suggestions. Advantech IPCs already meet global certification levels, so when a customer applies for global certification, the whole process can be completed within a short time.
Highlights of Advantech's solution:
Highly expandable system design for future upgrades.
Solid industrial-grade components.
Knowledgeable technical support.
Ongoing support for boards and components
One-stop service from design to certification