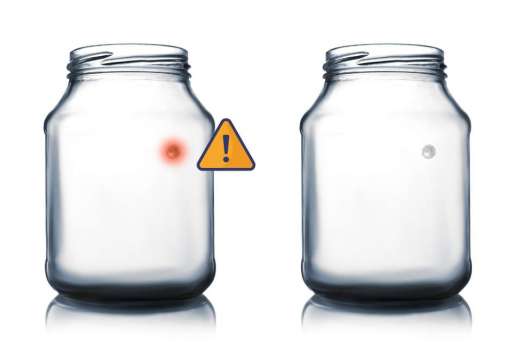 Artificial Intelligence-Based Defect Inspection for Glass Manufacturing
Improving product quality, reducing labor, and decreasing operational costs are top-of-mind goals for manufacturers. Quality control departments focus on yield, traceability, inspection costs, turnover rate, and business margins. To alleviate concerns in these areas, emphasis is shifting to modernizing and automating quality inspection processes. In the past, quality control relied on human visual inspection to improve production, but relying solely on personnel for inspection is time consuming, costly, and prone to human error.
With a reliable, automated visual system, manufacturers and quality control can review product assembly at each stage of the process, which streamlines and improves inspection. Artificial intelligence (AI) and automation have removed complexities from defect inspection.
AI-Based Inspection for Glass and Aluminum Manufacturing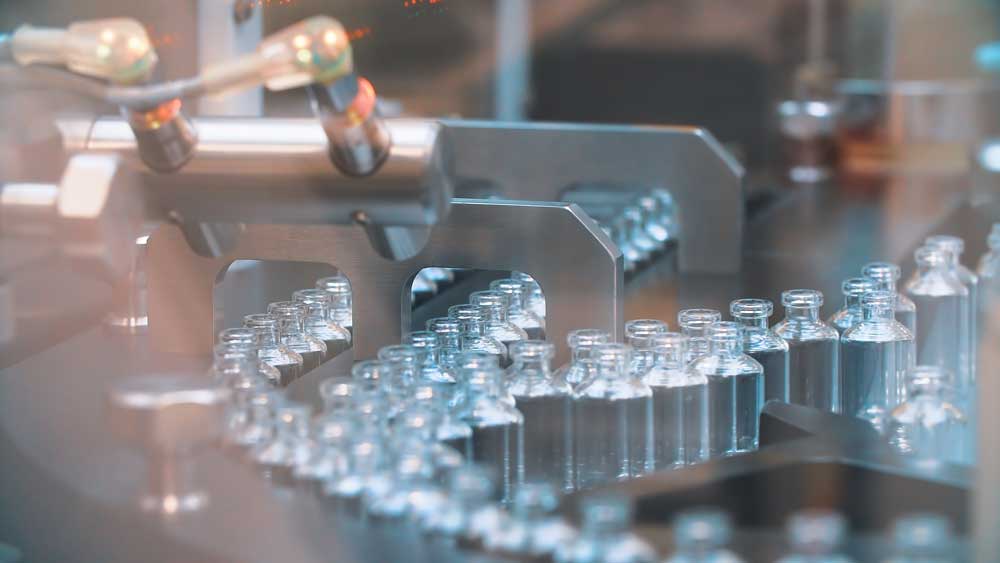 A glass and aluminum manufacturer recently needed help streamlining defect inspection for glass bottle production lines. As bottles go through the manufacturing process, it can be challenging to identify product defects if relying on human intervention. Due to the high volume of glass and aluminum, human eye inspection is challenging. Most glass manufacturers implement GPU servers and inference systems for high-volume inspection.
The manufacturer was looking for an Internet of Things (IoT) solution that would provide accurate inspection and be more cost effective than deploying an operator. The data from the monitoring process also had to be simple to save, search, and analyze for plant managers. The end goal was to enable real-time performance monitoring with a comprehensive record-keeping system.
Artificial Intelligence Interface
To find an ideal solution that accomplished all needs, the manufacturer turned to Overview for compute upgrade assistance and deployment of Overview's artificial intelligence user interface, the Snap Platform.
Overview's platform is an adaptable machine vision solution that handles everything from device management, algorithm development, product quality support, and traceability. To accomplish these tasks, the Snap Platform runs deep-learning computer vision algorithms to guide the inspection process, checking for defects and notifying operators if parts are acceptable. Unlike typical vision systems, the Snap Platform saves relevant process data and creates a traceable visual record of every unit. Images and saved data then lives in a visual-based, searchable library, ready for analysis and record keeping. This not only helps with traceability, but also allows for the discovery of yield loss sources. End users can determine and verify root causes of losses with data post-processing.
Top Features of the Snap Platform
Easy to build stations that support quality and traceability goals
Simple-to-maintain and create algorithms
All data is saved, searchable, and analyzed for identifying root problems and how to fix them
Deployment is possible in as little as a week, with zero machine vision experience necessary
Integrates with existing systems and communicates across networks
Best-in-class instant system support leads to more availability and less downtime
AI Cameras for Vision Inspection
When integrated with AI-based cameras, such as the Advantech ICAM-500, the Overview Snap Platform automatically inspects from a PLC trigger, interval, or—in the case of video events— continuous capture. Embedded with NVIDIA® Jetson Nano™ modules, the ICAM-500 AI camera combines an industrial-grade image sensor, advanced LED lighting, and a variable focus lens with acquisition and AI computing capabilities. The Advantech Jetson-based AI camera provides a significantly higher tier of inspection compared to non-AI cameras.
ICAM-500 features enable systems integrators and software vendors to integrate AI and machine vision into applications, while also efficiently performing AI automated optical inspection (AOI), AI optical character recognition (OCR), and object recognition at the edge. When combining the ICAM-500 with the Snap Platform, end users can deploy and manage a full solution without high-level technical expertise. Overview experts support the Snap Platform remotely, so customers do not need on-site machine learning experience. It also integrates with existing factory systems and communicates across networks to accomplish more efficient, lean, and profitable operations.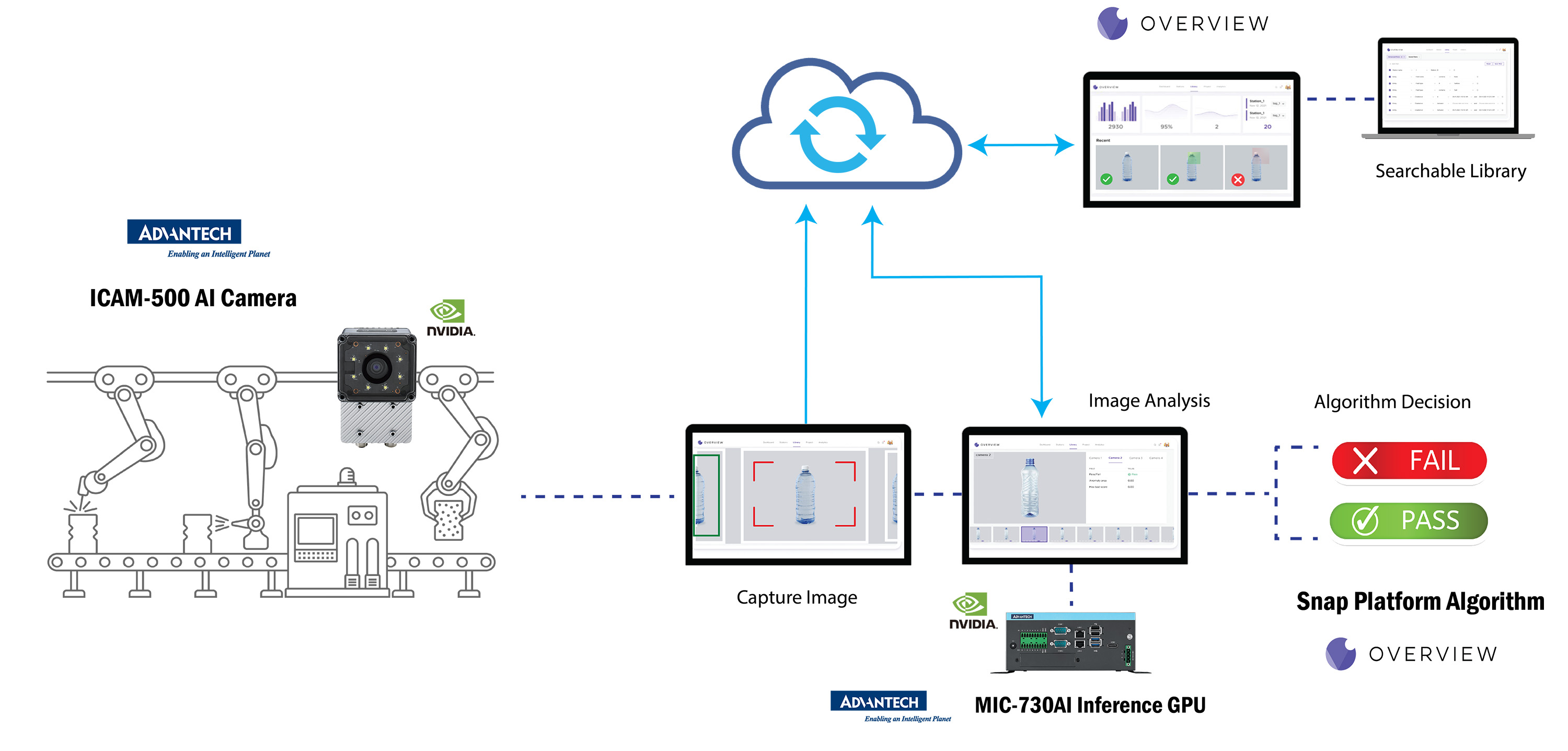 The ICAM-500 stands out in the market with its combination of NVIDIA computing modules and camera system—image acquisition and AI inference functionality is available within the same system. Integrating the ICAM-500 with the Overview Snap platform creates a state-of-the-art solution for automated, visual inspection.
The built-in camera helps reduce latency challenges that can occur when long distances exist between IP cameras, the cloud, and AI inference systems. When combined with Advantech Jetson-based inference gateways, such as the MIC-730AI Inference GPU, end users gain application focus and high productivity. Low latency improves efficiency of on-site AI inference, creating an ideal solution for edge AI applications on the production line.
ICAM-500 Industrial AI Camera
NVIDIA Jetson AI system on module
1.6MP 60 FPS, SONY industrial-grade sensor
Multiple core ARM processors
Programmable variable focus lens
Advanced LEDs illumination
HW ISP no GPU/CPU workload
Industrial GPU Solutions
Advantech Artificial Intelligence platforms are compact industrial-grade solutions aimed at edge AI applications and powered by NVIDIA® Jetson™ for high GPU performance. Implementing artificial intelligence, machine learning, and other tools at the edge delivers results quickly to operations personnel by analyzing data at its source.