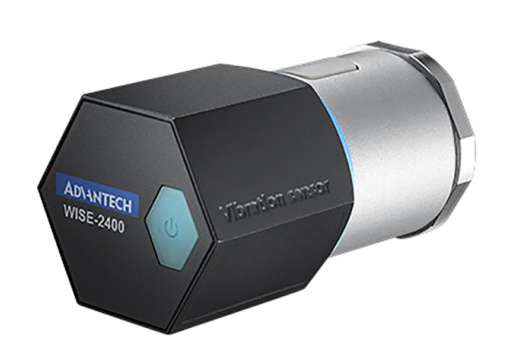 Industrial Equipment Manufacturers, Energy & Environment, iFactory
The development of smart manufacturing relies on sensors, which acquire data, which automate the manufacturing process and thereby enable predictive maintenance. To meet the future needs of the industrial automation market in North America, Europe, Japan, and Southeast Asia, Advantech has collaborated with global semiconductor solutions provider Semtech to launch a LoRaWAN smart vibration sensor. WISE-2410 monitors surface temperatures of machines and autonomously calculates their vibration characteristics. This helps factory owners and admins to analyze data and plan for proactive maintenance or take preventative measures that predict events before they happen.
More accurate machine status awareness by cross-matching eigenvalues and ISO 10816-3

WISE-2410 is equipped with the latest ARM Cortex-M4 processor, which is used to transform original vibration data into spectral information via fourier transformation functions to calculate vibration values. Users can estimate the operational status of any motor-powered mechanical equipment such as pumps, air compressors, and fans by cross-comparison of RMS speeds and eigenvalues against ISO 10816-3 standards. Advantech also provides their WISE Studio utility whereby users can set operation parameters through a user friendly GUI, whether it's reading reports, getting temperature values, vibration info, setting alarms etc., all can be done using the WISE Studio utility.
Predicting trends and proactive maintenance using data analytic tools

Traditional factories rely heavily on manual inspections which consume human resources. This also means atypical real-time events are hard to detect and could lead to increased production costs and subsequent loss of competitiveness. Smart manufacturing employs IoT technologies by connecting machines and automating processes to improve manufacturing performance. Among them, predictive maintenance is a powerful feature that gives manufacturers an advantage in efficiency and trouble-free operations. According to Deloitte's research, predictive maintenance adds up to 20% of machine uptime in a plant. WISE-2410 LoRaWAN Smart Vibration Sensor can be used to monitor fixed or mobile devices and collect data 24/7. Operators can quickly view and understand the utilization rates of all devices to maximize their capacity. What's more, through RMS, Peak, Kurtosis, and other vibration characteristic values, operating trends can be analyzed and equipment can be proactively tracked to discover the health and status of production lines and machines, preventing unwarned downtimes and learning root causes of problems in order to plan better preventive maintenance.
Low power consumption and sustainability built in

WISE-2410 is easy to set up and supports plug and play. The product can withstand wide-temperature ranges from -20 °C to 85 °C and has an IP-66 rating for dust and water ingress resistance. Even in harsh environments, collecting, calculating, and transmitting data is still unhindered. In terms of the power supply design, WISE-2410 uses a low-power consumption IC solution and is driven by two 3.6V AA lithium batteries. Under regular operating conditions (returning a packet of data every 15 minutes), the battery life can be as long as two years. Even under low power warning conditions, the power supply can still operate for up to three months.
These days, data is an essential asset of any enterprise but also one of the keys to incorporating smart manufacturing. As the pace of Industrial IoT deployment accelerates and market competition becomes more intense, Advantech leverages its strong R&D capabilities and deep industry experience to assist industrial customers wanting to reap the benefits of smart manufacturing by digitally transforming their industry.
This product can be ordered from the link Smart Vibration Sensor Advantech WISE-2410