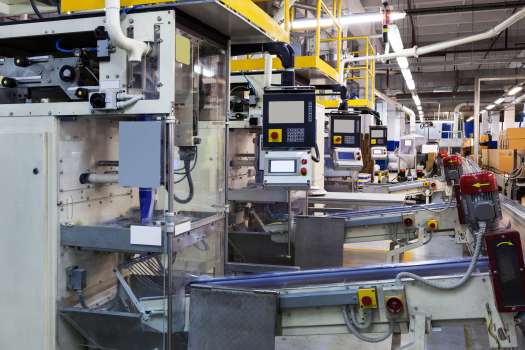 Advantech Provides an Economical and Practical Automatic Spindle Calibration and Chatter Measurement Solution
Introduction
In the manufacturing sector, increased productivity and product quality are constant goals. Additionally, Industry 4.0 is driving the vision and realization of intelligent manufacturing. In response to this trend, CNC machines, which are key production equipment for the manufacturing industry, are undergoing continual improvement. With equipment manufacturers actively improving machine performance and precision to better satisfy customer needs, the precision of machine calibration is a significant factor that influences processing accuracy. In traditional factories, all equipment must be checked and calibrated by an experienced mechanic before operation. However, for factories that produce multiple products, all manufacturing equipment must be recalibrated for each product type. This practice is not only unreliable, but also highly labor-intensive and time-consuming. Additionally, any errors during the checking process could potentially reduce the machining accuracy.
Another factor that affects machining quality is chatter, which typically occurs during deep or fast cuts. Because vibrations between the tool and work piece are relatively high frequency, they can be difficult to perceive. However, failure to identify and resolve chatter results in damage to the tool, spindle, bearings, and other important components, creating a vicious circle. Therefore, for equipment manufacturers, identifying chatter early to prevent escalation is a challenge that must be addressed.
To reduce calibration time and increase machining accuracy, equipment manufacturers can integrate sensing technology for conducting automatic calibration and real-time monitoring tasks. However, to equip existing CNC machine tools with new features without significantly altering the original design, chassis space limitations and noise interference must be overcome. Additionally, development costs must be managed to ensure that the inclusion of new features does not reduce the company's profits and market competitiveness. By offering a compact size, ease of installation, and rapid development and verification, and no longer requiring a plug-in interface card, Advantech's spindle calibration and chatter measurement solution resolves the aforementioned issues, allowing equipment manufacturers to easily and economically update their CNC machine tools with new functions.
System Requirements
A Taiwanese CNC machine tool manufacturer with more than 50 years of experience in machine tool development and manufacturing has used outstanding manufacturing technology to deliver high-quality products and gain recognition from internationally renowned enterprises. As a leading global brand, this machine tool manufacturer not only continues to develop new innovative products but also optimizes the functionality of old models according to customer requirements. Recently, to resolve calibration issues caused by human error and prevent machine chatter from affecting machining accuracy, the company implemented spindle calibration and chatter measurement functions at their existing machining centers in order to increase efficiency through consistent calibration and automated monitoring.
Because this project involved adding new functions to existing CNC machine tools rather than designing a new model, the machine manufacturer required a solution that could be easily integrated. Moreover, the solution need to feature compact hardware and mount support for installations with limited chassis space, an industrial-grade tablet PC to serve as a human machine interface (HMI), an external USB module for data collection, a data acquisition module with a noise filter and high resolution and sampling rates to prevent interference and ensure accuracy, as well as a module for connecting IEPE sensors. The company also requested software development tools and customized services to accelerate the project implementation and time-to-market.
System Description
Advantech's automatic monitoring solution (which includes Advantech's PPC-3100 10.4" fanless panel computer, USB-4716 data acquisition module, ADAM-3017 IEPE signal conditioning module, and DAQNavi software development kit) satisfies the machine tool manufacturer's various requirements. PPC-3100 serves as a control platform for collecting vibration data through USB-4716 equipped with ADAM-3017 in order to facilitate spindle calibration and chatter measurement.
USB-4716 is a palm-sized, DIN rail-mounted data acquisition module with plug-and-play functionality, a sampling rate of up to 200 kS/s, and 16-bit resolution for conducting direct data transfers via USB. The USB-4716 module can be powered via USB connection, eliminating the need for an additional power cord. Additionally, because the PC platform does not support internal interface cards, USB-4716 offers the ideal solution for data collection. Advantech also customized the module with an R-C filter for capturing signals in a specific frequency range. This can eliminate unnecessary noise and ensure accurate data transmissions for system analysis. ADAM-3017 is an IEPE signal conditioning module with 4 ~ 10 mA voltage support for connecting IEPE sensors. The provision of signal amplification and an anti-aliasing filter prevent noise interference.
DAQNavi/SDK is a software development package designed for Advantech's DAQ products to facilitate the rapid creation of data acquisition and control systems with an easy-to-use interface. Moreover, DAQNavi offers many useful features, such as an especially designed intuitive wizard, example ready-to-use applications and source codes, configuration settings and functions testing without programming, as well as multiple libraries and utilities, that enable system engineers to rapidly develop applications.
Project Implementation
PPC-3100:10.4" industrial panel PC with Intel? Atom? D2550 processor
USB-4716: 200 kS/s, 16-bit, 16-ch multifunctional DAQ USB module
ADAM-3017: IEPE signal conditioning module
DAQNavi/SDK: Software development package for Advantech DAQ products
System Diagram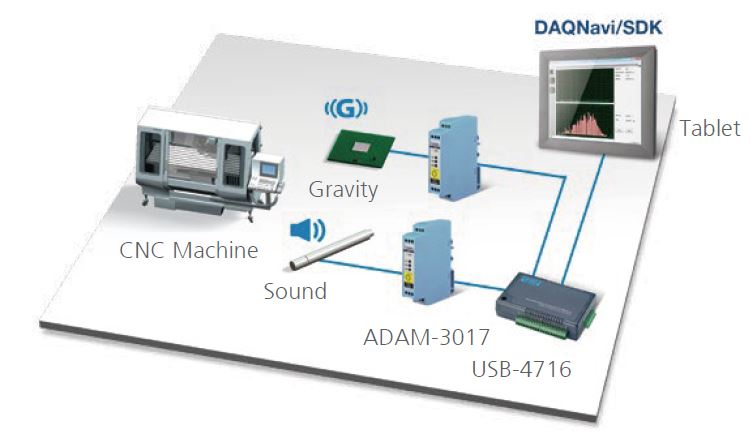 Conclusion
With its diverse product portfolio, Advantech is capable of providing diverse customers with the ideal automatic monitoring solutions for either designing new machine tools or improving existing machines. For many years, the CNC machine manufacturer has adopted a wide range of Advantech products for developing intelligent applications and improving machine performance. For this project, the company aimed to update its machining centers by integrating spindle calibration and chatter measurement. However, this improvement can not only increase development costs, but also extend the time-to-market for new machines.
After a professional evaluation was conducted by an experienced project manager, Advantech recommended that the company implement its plug-and-play data acquisition module and IEPE signal conditioning module, and slightly modify the USB-4716 circuits. This allows the CNC machine tool manufacturer to add the required functions in a cost-effective manner without redesigning the machine. Furthermore, the collected data can be used as a reference for implementing preventive maintenance and intelligent management applications in the future. This not only increases the accuracy of machines, but also enhances business intelligence to ultimately increase production efficiency.