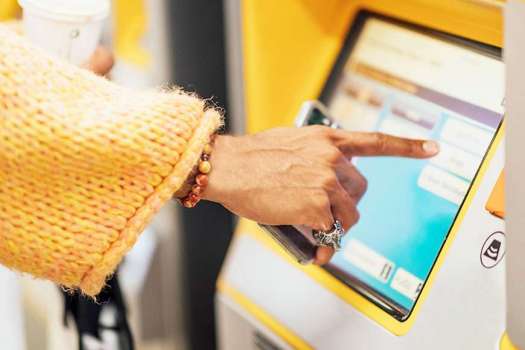 Cincoze DS-1101 Used in Metro Ticketing Machines to Improve Mass Transportation Services
Introduction
Transportation systems in modern cities, such as MRTs, subways, and buses, provide safe, comfortable, and efficient transport for the daily commuting needs of the general public, as well as easy access to the wealth of attractions, museums, cultural sights, and significant landmarks for locals and tourists from around the world. Mass transportation can reduce traffic congestion and air pollution so cities can achieve long-term sustainable development goals.
The increased population of large cities has raised the demand for better mass transportation and a heightened urgency for developing a smart urban rail transit system. Thanks to advanced information and communications technology (ICT) and computer technology, automatic ticketing systems can reduce the workload of subway and MRT ticket office staff. The automatic ticketing system must support a variety of functions, such as processing multiple payment options and capturing passenger images, while also obtaining passenger flow and operational statistics to help operators achieve real-time, accurate, and efficient decision-making.
A European system integrator specializing in automatic ticket vending machines needed an industrial computer for their ticket vending machines that operate year-round in subway stations. Since the quality of the IPC is critical to the reliable long-term operation of the system, they chose the Cincoze DS-1101 rugged embedded computer for this application.
Customer Requirement
Connections for Multiple Peripherals
Ticketing vending machines are fully automated solutions, allowing people to purchase tickets or top up stored value cards on their own. The ticket vending machine must include a touchscreen, coin and banknote collection, card swipe, password input, ticket collection, change dispenser, and receipt printing. They can even have image capture, money verification, and monitoring, so I/O such as video ports, USB, COM, DIO, LAN, and PoE are necessary. In addition, they require an internet connection to upload the data for real-time operational analysis, so any integrated industrial computer must have plenty of I/O ports for all these tasks.
Flexible I/O Expansion
Built-in rich I/O slots support many connection options. However, the integrator still preferred to use PCIe expansion slots to customize the interface adapter cards or other expansion cards according to the specific peripherals required for different projects and customer requirements.
Stable System Operation
The cramped, airtight ticket vending machine runs continuously throughout the year, and the small, cramped space inside is taxing on an industrial computer. For this reason, the quality and robustness of the computer are crucial for the long-term stable operation of the system.
Why Cincoze?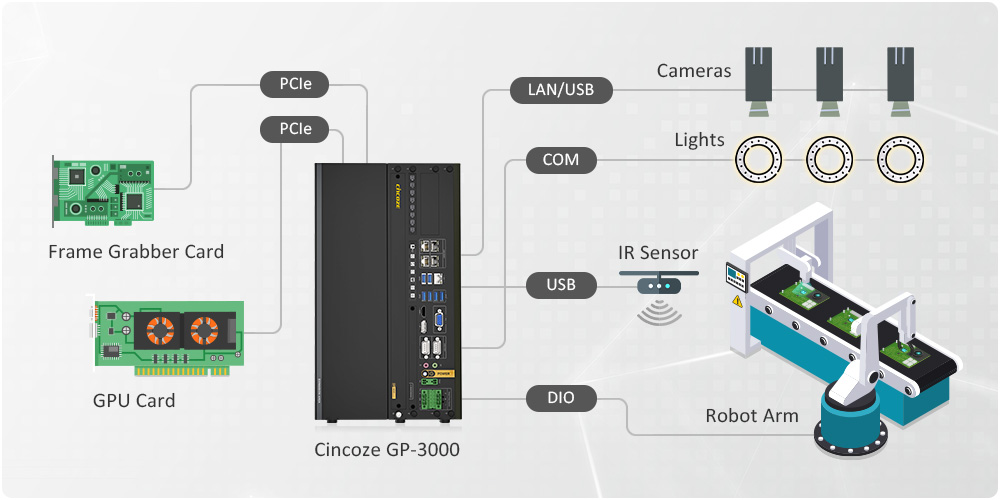 Rich I/O
The Cincoze DS-1101 embedded computer with Intel® Core™ processor can meet a variety of high-performance computing applications. The DS-1101 has rich I/O, including 2× GbE LAN, 8× USB, 2× COM (Power over Serial), 1× DVI-I, 2× DisplayPort, 1× PS/2, 1× Mic-In, and 1× Line-Out. In addition, 3× full-size Mini-PCIe expansion slots enable 4G and Wi-Fi wireless communication, and I/O expansion. The DS-1101 supports Cincoze's exclusive CMI and CFM modules, enabling additional GbE LAN, M12, COM, DIO, PoE, and power ignition (IGN) functions.
Up to 2× PCIe Expansion
The DS-1100 series has options for up to two PCI/PCIe expansion slots, with the DS-1101 and DS-1102 supporting one and two slots, respectively, allowing for expansion with various I/O, communications, image capture, and motion control cards. Cincoze's unique adjustable card retainer can tightly lock the expansion cards, providing a firm lock in high-vibration environments. PCI/PCIe expansion capability can meet the needs of various industrial applications. The DS-1100 offers a no-slot option for users who do not need PCI expansion.
Rugged Design
The DS-1101 is a rugged, fanless embedded computer composed of high-standard industrial components. It features a wide operating temperature (-40–70°C), wide-range DC power input (9–48V), high shock /vibration resistance (50G/5G), and overvoltage, overcurrent, and ESD protection. The unique thermal design and optional external fan kit provide excellent heat dissipation, making the DS-1101 suitable for deployment in harsh environments and mission-critical applications.
For industrial computing applications requiring more processing power, the DS-1300 series supports the more powerful 10th Gen Intel® Xeon® and Core™ processors while including all the other features like up to two sets of PCI/PCIe expansion slots and patented adjustable card retainer to hold expansion cards securely in place and stop them shaking loose in high vibration environments. The DS-1300 is suitable for industrial automation and machine vision applications.