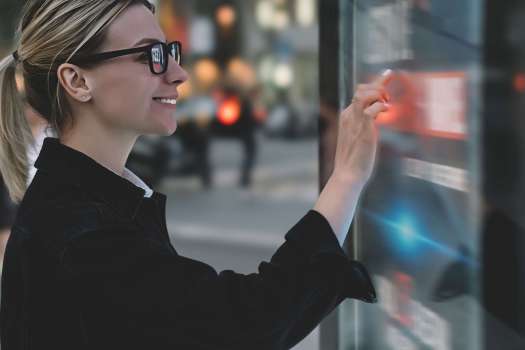 Digital signage management in airport
Project Introduction
Managing digital signage in public areas can be challenging. Pop-up windows and frozen/blue screens are common issues that users encounter. Pop-up windows appear unexpectedly and interrupt work flows. Alternatively, frozen screens can be caused by a variety of issues — including software bugs, hardware problems, and overheating. Blue screens of death (BSoD) indicate serious system errors and often result in data loss or worse.
Our Solution
Advantech's DeviceOn is a cloud-based device management solution that enhances flight information display systems (FIDS) by providing real-time device monitoring, troubleshooting, and over-the-air (OTA) software and firmware updates.
In this case, a major airport in China deployed a new FIDS solution developed by Advantech to deliver instant broadcasts to passengers. This system uses Intel® Core™ processors in unison with Advantech's DeviceOn to manage IT assets and reduce total cost of ownership (TCO). The customer in this case chose Advantech's DS-370, DS-980, and DS-081 solutions for digital signage management. Using DeviceOn reduces the time and manpower needed to manage the complex application of thousands of display screens use by passengers in airports. According to the customer, DeviceOn enables remote management capabilities that enhance customer experiences and efficiency.
Most importantly, DeviceOn's built-in AI-powered anomaly detection feature helps minimize the problems caused by pop-up windows, frozen screens, and other playback errors; ensuring smooth operation and preventing public communication problems. DeviceOn is capable of detecting and documenting abnormal situations and notifying relevant personnel quickly. Should a digital signage player crash or stop responding, and auto system recovery function will be triggered and operation will resume as fast as possible.
In addition, airport IT managers can use DeviceOn to lock volume control, USB, LVDS screen brightness, and prevent unauthorized access. These Windows Lockdown features can be applied to groups of computers at once via DeviceOn batch operations.
Feature Highlights
Anomaly detection
Blue screen recovery
Windows popup blocker
Automated alert notifications
Auto system backup & recovery