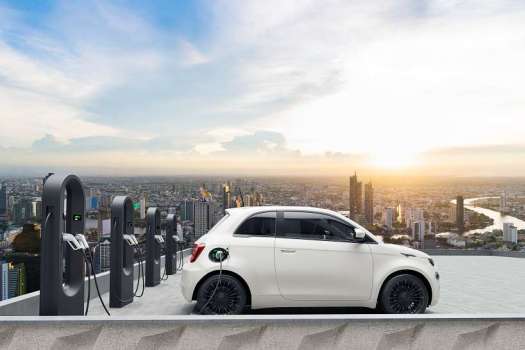 Data Collection and Transmission System for Electric Vehicle Charging Points
Background
Electric vehicles (EVs) are becoming more ubiquitous, partly due to the worldwide trend of policies and legislation that promote EVs and their development. This rapid growth has correspondingly also led to a huge explosion in the demand for EV charging facilities. Unfortunately, charging stations are currently still not widespread enough, so it is expected that there will be massive global growth in charging stations in the next five to ten years.
System Requirements
An Advantech customer, a manufacturer of charging stations, aimed to provide an easy, convenient, and reliable charging experience for EV users.
Most large-scale commercial pay-per-use DC charging stations are located outdoors, therefore the charging points must be able to withstand environmental and weather conditions such as dust, precipitation, sustained periods of sunshine, and extreme temperatures.
Charging stations must be able to transmit data stably and reliably. Information such as charging volume and billing details must be transmitted through the open charge point protocol (OCPP), and functions such as backend system management, remote real-time monitoring of stations, and energy management systems must also be integrated.
Project Implementation
EKI-2525I: Unmanaged Ethernet Switch
ICR-4461: Ultra high-speed 5G Route
System Description
The charging stations set up by the customer use Advantech equipment for data collection and transmission. Payment information entered by the user is sent to the remote data center via the Advantech ICR-4461 5G cellular router. After the payment is made, data is then transmitted to the charging point's controller through the Advantech EKI-2525I industrial unmanaged switch, which sends a signal to turn on the current in the charging station and send power to the connected EV. By utilizing a complete industrial communication solution, the customer ensures that the system is robust and that it provides a superior experience to the user. Furthermore, by transmitting data via OCPP, the customer can rest assured that the data will reach the system backend in a stable and reliable manner.
System Diagram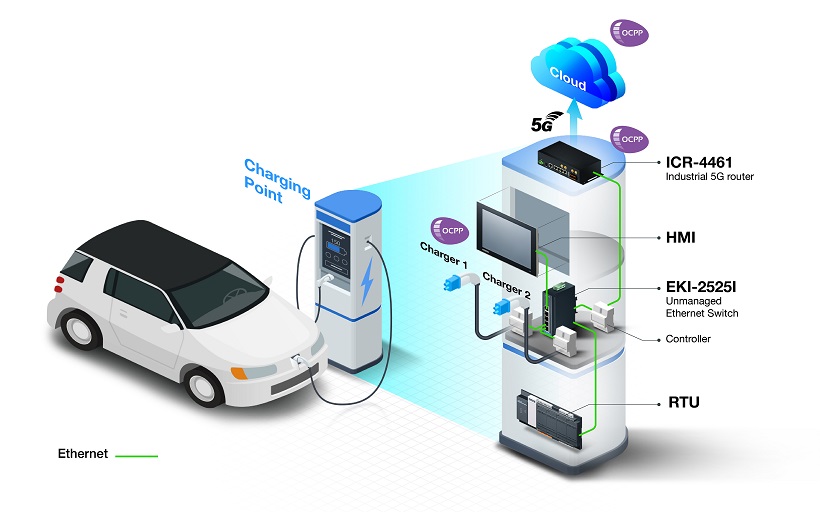 Why Advantech
The Advantech EKI-2525I unmanaged Ethernet switch is extremely robust. The customer's charging points are installed in areas with ambient temperatures ranging from -40°C to 75°C, and are subject to a diverse array of weather and environmental conditions. Furthermore, the charging points support 12–48 VDC redundant power input. These features help ensure maximum compatibility with EVs, which means that users won't need to purchase or use additional power converters.
Furthermore, Advantech's switches are equipped with a relay known as P-Fail, which can be used to quickly diagnose the status of switches. For this system, the P-Fail relay alarm has been changed from the traditional manual inspection method to a network-based TCP/IP real-time monitoring system, thereby significantly improving management efficiency.
The ICR-4461 is an Ultra-high-speed 5G NR (New Radio) Router & Powerful Edge Computing Gateway. The 5G "gigabit" speed and low latency, and high network availability is a real step to massive IoT and Enhanced mobile broadband (eMBB) applications - Mobile Internet access, Camera and security systems, Industrial systems, and many other high data demand applications.
As a standard, ICR-4461 is equipped with five Ethernet 10/100/1000 Mbps (1× independent and 4× switch), SFP cage (independent port), one USB host 2.0, microSD reader, serial lines RS232 and RS485, CAN Bus, two binary inputs, and two binary outputs. This router contains two SIMs readers, which are placed on the rear side of the device.
All electronic systems inside charging points must overcome the issues associated with the strong electromagnetic waves caused by EV charging; for this system, this is accomplished through the equipment's 4,000 VDC Ethernet electrostatic discharge (ESD) protection. Each charging point has its own systems, but with Advantech's routers and switches, the individual points are connected together as well as connected to the backend platforms, thus achieving unified management and monitoring.