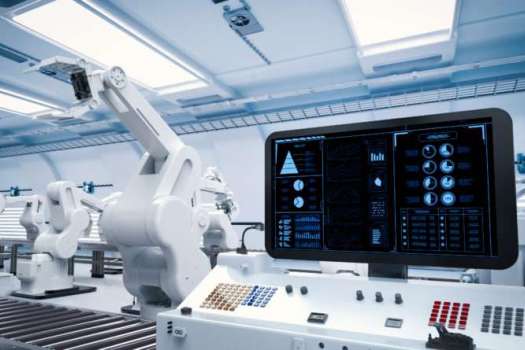 Edge Gateway Platforms Help Make Machines Intelligent
Industry 4.0 is the past, current and next big thing. The idea relies on sophisticated software and machines that communicate with each other to optimize production. Most machine builders are facing strong demands for providing their customers with the machines that deliver productivity, flexibility, efficiency and availability. The more innovative the machine manufacturer is, the better its position in the market. The advent of intelligent machines is enabling machine builders to innovate in ways that have never been possible before, for example, to ensure that machines and other automated equipment work at maximum efficiency with virtually no downtime.
Make Machines Smarter
Industry 4.0-enabled smart machine capabilities continue evolving greater autonomy, flexibility and adaptability. A machine builder focused on providing exceptional quality and value for all of their customers was looking for powerful and customizable industrial computers to make their machines more intelligent, more reliable and more powerful.
As a leading promoter of Industry 4.0, Advantech has developed its UNO series of powerful yet flexible embedded box PCs to serve as intelligent machine coordinate solutions that facilitate digitization. With their innovative yet reliable design and intelligent software, UNO systems enable smarter interconnected machines capable of communicating and learning.
Making the Most of Machine Communication with Advantech's Automation Computers
In the most basic terms, Advantech's UNO platforms are a series of powerful yet flexible embedded box PCs that serve as data gateways that enable legacy equipment to become easily integrated into Industry 4.0 smart factories. At present, the majority of manufacturing devices that are still currently in use consist of legacy systems, many of which run stand-alone, isolated applications.
The machine builder cooperated with Advantech to slash development time and maintenance costs and improved gross margins substantially within months. They deployed the Industry 4.0 edge gateway UNO-2473G to provide the Industry 4.0 edge gateway UNO-2473G to provide superior processing power as well as signal strength for them to run their software and HMI with unparalleled performance and reliability. Equipped with an Intel® ATOM™ processor, UNO-2473G is designed to deliver adequate computing and is capable of running multiple software applications seamlessly.
In fact, Advantech's UNO-2000 series takes the value of IIoT edge gateway platforms that extra mile. The UNO gateways feature state-of-the-are Intel processors capable of running multiple software applications simultaneously, while their strong and reliable signals ensure that data transmissions to HMIs are achieved without distortion or ghosting issues. Equipped with a rugged metal enclosure, wide power input range, and wide operating temperature range, the UNO-2000 series of embedded automation computers are suitable for application in even the harshest industrial environments.
With front-accessible hot-swappable HDD/SSD bays, iDoor modularity, and versatile mounting options, the design of each UNO systems are easy to upgrade and apply to different applications with single module, reducing maintenance time and costs. Most importantly, Advantech's Edge Intelligence Service (EIS) allows UNO systems to communicate and conduct automated processing for real-time monitoring and control, in addition to supporting cloud-based data analysis to facilitate intelligent factory operations. This remarkable suite of features and strengths means that Advantech's UNO gateways can handle larger workloads and produce higher quality signals than similarly priced competing products, making them extremely cost-effective and efficient.
Simple Solutions for Complex Probelms
With Industry 4.0, the smallest of differences can add up to massive competitive advantages and profits, as intelligent industrial automation solutions allow manufactures to work smarter, not harder. And, while the concepts underlying Industry 4.0 can seem complicated, transforming a traditional machine into a smart machine doesn't have to be. With Advantech's UNO system, the machines of yesteryear become the smart machines of the future, bringing enhanced productivity, improved product quality and maximized profitability and customer satisfaction.
Product Solutions
UNO-2473G – Intel® ATOM™ E3845-Celeron® J1900 Processor Regular-size Automation Computer
TPC-2151T – Modular Industrial Thin Client Multi-touch Panel Computer with 15″ XGA LED LCD and Intel® Celeron®