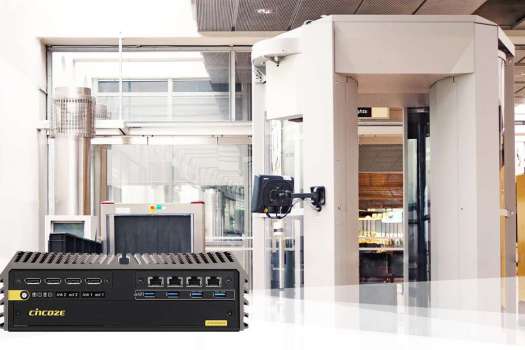 Enhanced Efficiency of Full-Body X-ray Scanners for Airport Security
Imagine a young lady standing in line at the airport preparing for the security check. She wears a pair of boots with metal decoration and carries a fashionable bag, which perfectly matches her belt. But when she steps into the security check, she must take off her boots and belt—and hand over her handbag. Soon she will experience her body being patted and searched by security guards…

Security checks at major airports worldwide use stringent measures and new technologies to prevent terrorist and criminal infiltration. While confronting these threats, the comfort and satisfaction for ordinary travelers passing through customs is still important. Thanks to modern technologies, full-body scanners with ultra-low-dose x-ray radiation are now available to complement existing metal detectors and hand searches.

Our customer, a system integrator specializing in building operational equipment in Africa, selected the GM-1000 with NVIDIA® Quadro® Embedded T1000 MXM for its full-body x-ray scanner system. This x-ray detection system can be deployed in prisons, airports, transportation hubs, border ports, mining farms, and special events that require full-body security checks.
Customer's Requirements
Small Form Factor
This full-body x-ray scanner is in a compact cabinet that can be installed in limited-space aviation checkpoint areas. Inside the compact cabinet, a rugged computer provides automated control, high throughput, and reliability to enhance the efficiency of any security checks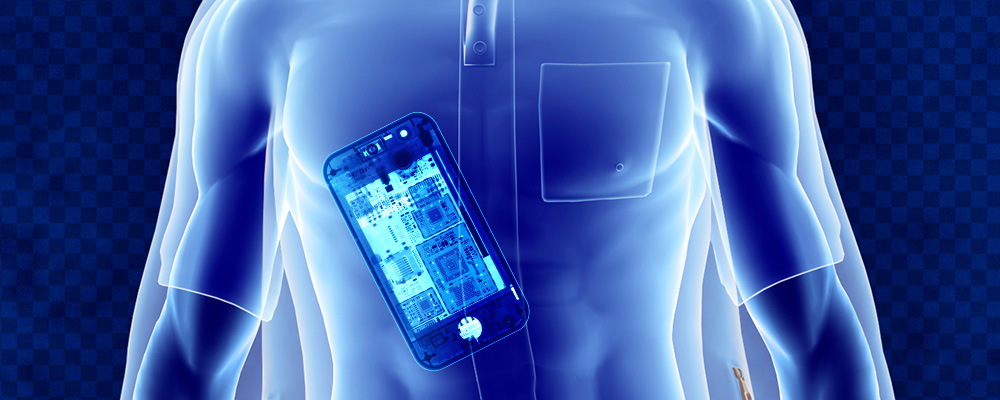 Image Processing & Analysis
Machine vision technologies help computers to inspect, analyze, and recognize images. The machine vision system captures images from the x-ray scanner and then transmits the data to a computer, where the images are stored or processed. The computer must have a high-performance CPU and GPU to provide the necessary processing power to quickly analyze and identify potential threats and prohibited items and avoid long queues and crowds.
Multiple I/O Options
In addition to image analysis, the computer in the full-body, x-ray scanner must connect to various peripherals, such as a video camera, audio intercom, fingerprint scanner, barcode scanner, and controls on the opening/closing of the door. A 27-inch, 4K medical touch monitor, installed on the cabinet's exterior allows the operator to monitor the scanned images. Therefore, appropriate I/O is required.
Why Cincoze?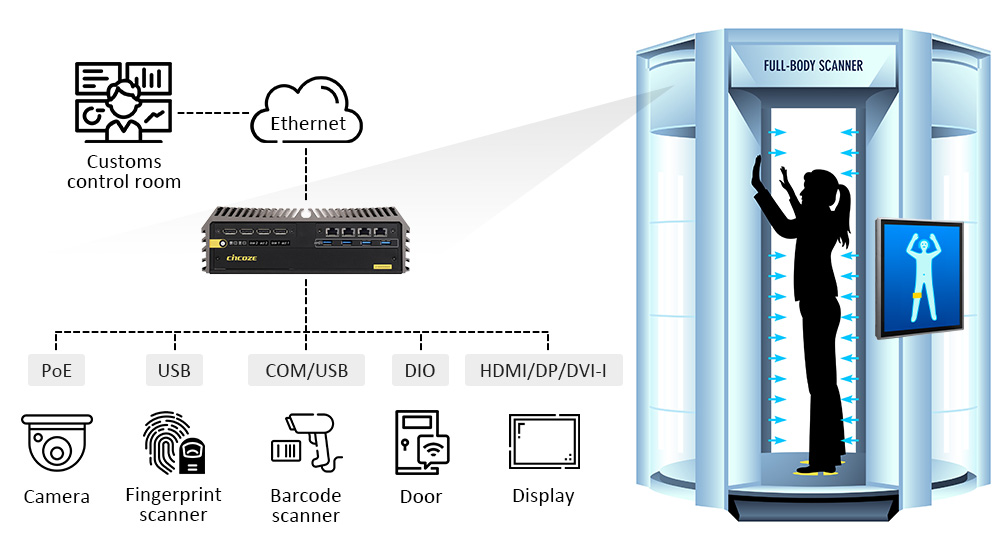 Compact and Fanless
The space for deployment of equipment is limited. GM-1000 is designed with a compact form factor, sized at 260 mm x 200 mm x 85 mm. In addition, GM-1000 is fanless, which avoids the problem of equipment maintenance costs. Thus, it is an ideal solution to fulfill space-constrained environments and provide high product reliability.
High-performance GPU Power
The GM-1000 is a rugged GPU computing platform that provides accelerated AI computing to deal with applications such as machine vision, image processing, deep learning, and artificial intelligence. Powered by 9th/8th Intel® Xeon®/Core™ CPU, the GM-1000 supports MXM 3.1 socket type A/B modules, including MXM modules based on NVIDIA® Quadro® RTX3000, T1000, and P2000 GPUs. Supplemented with artificial intelligence software, the GM-1000 can fulfill versatile, high-performance computing applications deployed in the AIoT world.
Rich I/O and Versatile Expansion
The GM-1000 has multiple I/O interfaces, including 2x GbE LAN, 4x COM, 8x USB, 1x HDMI, 1x DisplayPort, and 1x DVI-I. It can be customized with additional functionality and connectivity through Cincoze's innovative CMI and CFM technologies. The GM-1000 can be configured with more I/O and functions such as 2x 10GbE LAN, 4x GbE LAN, 4x M12, 2x COM, DIO, PoE, and power ignition sensing.