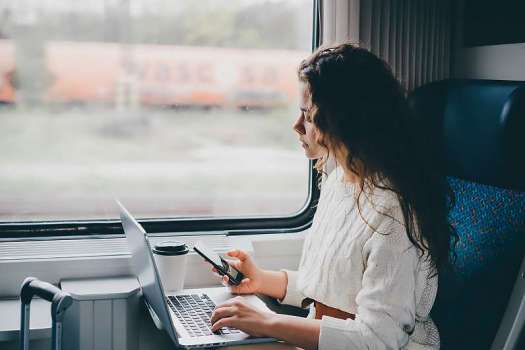 Polish Intercity Railway Builds On-Board Infotainment System with Advantech Solution to Significantly Improve Rider Experience
Project Introduction
In-vehicle infotainment (IVI) systems provide a way for the automotive industry to offer product differentiation and innovative services. Rail transit vehicles have followed suit—passengers riding long-distance trains no longer have to wait idly in route to their destinations.
Unlike the automotive industry, railway on-board infotainment not only provides entertainment, such as movies, music, e-books, and games, but also relevant notifications such as arrival information and travel routes. IVI also provides train operators with back-end management functions such as usage analysis, aggregate statistics, content delivery, and fleet monitoring. Without a powerful and complete on-board controller, handling such a huge amount of video and data is difficult.
Advantech's fanless system and managed Ethernet switches designed for railway applications are products capable of processing large amounts of data in on-board infotainment systems and providing high-speed wireless network services. This high-performance solution ensures the smooth transmission of images, sounds, data, and control commands, while helping passengers easily navigate online and access travel and safety information. Train operators can better understand passenger needs through statistical analysis.
System Requirements
In Poland, trains are an important means of transportation for locals moving from city to city and are the most commonly used means of transportation for visitors seeing major tourist attractions. To upgrade existing trains, PKP Intercity S.A., an operator of long-distance passenger trains, decided to provide audio and video playback and wireless internet service in their cars to create a relaxed and pleasant riding environment that enhances passenger experience and overall satisfaction.
The Polish intercity railway needed to introduce a system that included an array of services and management functions, such as various audio and video entertainment content, train information, advertising, wireless internet access, network usage statistics and analysis, bandwidth allocation, and fleet management. In addition to developing software to build the on-board infotainment platform and creating wireless network modules, the system integration vendor responsible for this project needed to purchase embedded computers and network switches that met EN 50155 specifications and could stably ensure train operation.
The embedded computer, key to the overall system, had to meet the following conditions: fanless operation, a wide temperature range, simple dust proof design, and models small enough for easy installation under the body of the front or rear of the car. A variety of expansion interfaces for adding mobile networks or wireless network modules, GPS modules, and solid state drives (SSD) so that the on-board infotainment platform could fully perform an array of functions were also required.
System Overview
Advantech provided two products, a fanless system ITA-5831 and managed Ethernet switch EKI-9516, to meet the needs of this project for providing wireless multimedia services. The ITA-5831, an on-board infotainment system and wireless network module developed by the system integrator and embedded in each car, not only provided multimedia content but also offered Wi-Fi AP for internet access through a connected EKI-9516.
The operating process of the entire system was as follows: content and Information from the control center are received by ITA-5831 and then synchronized to each other via the EKI-9516. Passengers watch movies, listen to music, read e-books, or play online games through online apps via the touch panel on each seat or handheld device (including mobile phones and tablets). Train-related information such as arrival information travel routes are broadcast to passengers through these devices. Advantech provides a GPS module for each train to assist the traffic control center in scheduling and fleet management.
The system understands current wireless network usage through the ITA-5831. Administrators can adjust the network bandwidth at any time to ensure smooth network connections. The ITA-5831 also records internet and audiovisual content use by passengers during the ride. When the service ends and the train returns to the depot, all data is downloaded to the control center for statistical analysis so that the operator can find new services or marketing solutions that are suitable for the passengers.
The ITA-5831 is an on-board controller that provides information processing and monitoring management for rail vehicles. The built-in high-end Intel processor and chipset allows it to process a large amount of data. Its compact size (220 x 88 x 198.8mm) meets the project's requirement that the height should not exceed 90mm. The wide temperature design (-40 ° C ~ 70 ° C) allows trains to execute data downloading operations smoothly during the winter when the temperature at the depot drops below zero.
In addition, a variety of I/O interfaces and customized services meet the functional needs of various cases. For example, for the special requirements set by the system integration vendor for this project, Advantech customized the ITA-5831, which originally provided three miniPCIe and two SIM card slots, into a model with five miniPCIe slots, allowing the vendor to arbitrarily configure LTE mobile network modules or Wi-Fi wireless network modules according to the travel area (domestic or transnational).
Also, the ITA-5831, which supports general hard drives, SSD solid state drives, and mSATA, can meet this project's storage needs for a large amount of audio and video content. If more storage space is needed, the system integration vendor can expand it by adding an ITA-EM module, which is simple and convenient, while controlling implementation costs.
Project Induction
ITA-5831: Fanless system with built-in Intel® 6th generation Core™-i processor that met EN 50155 rail application standard
EKI-9516: 16-port managed GbE Ethernet switch with M12 connectors that meets EN 50155 and IP67 protection
System Diagram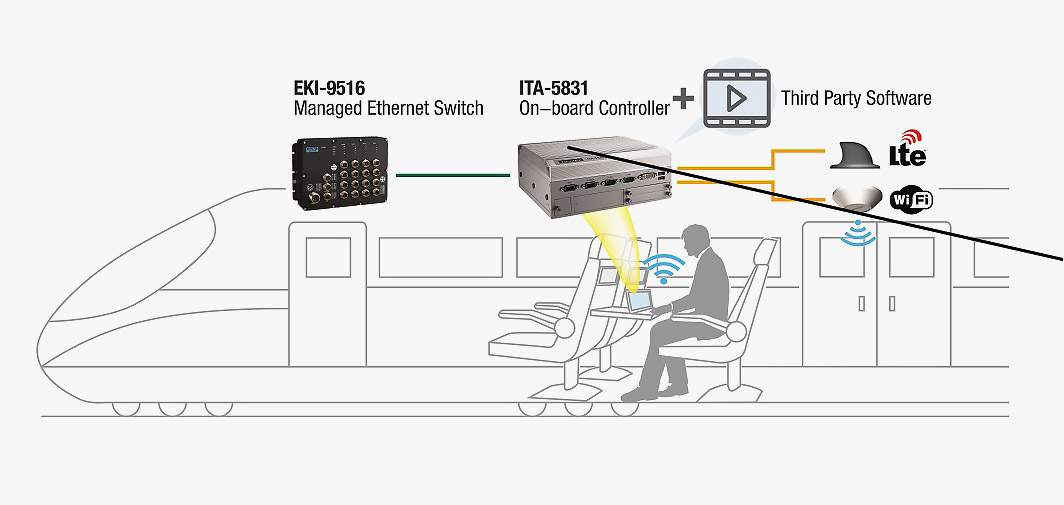 Conclusion
The on-board infotainment system is a tool that provides passengers with necessary information and a variety of services. To create greater benefits, the on-board infotainment system for rail vehicles must also provide entertainment content with both monitoring and management functions. However, because of the large amount of information that needs to be processed and displayed, a powerful and flexible hardware platform becomes the key to whether the system can provide high-quality audiovisual enjoyment and high-speed wireless transmission.
The ITA-5831, which offers high performance, multiple I/O configurations, easy expansion, and EN 50155 compliance, is powerful enough to handle a large amount of information for on-board infotainment systems. The customized service also allows this embedded on-board computer to meet the needs of different integration scenarios for system integration vendors. With the managed Ethernet switch, it can bridge wireless network APs to content servers.
Because of its comprehensive advantages, the ITA-5831 was adopted by the 25 trains in the first phase of the Polish intercity railway project. In the future, all trains used by this railway company will gradually introduce the solution to provide passengers with high-speed wireless network bandwidth and streaming media that allows train operators to obtain relevant information to monitor and manage fleets as well as gain insight into customer needs to create more services that satisfy passengers and enhance competitiveness in the market.