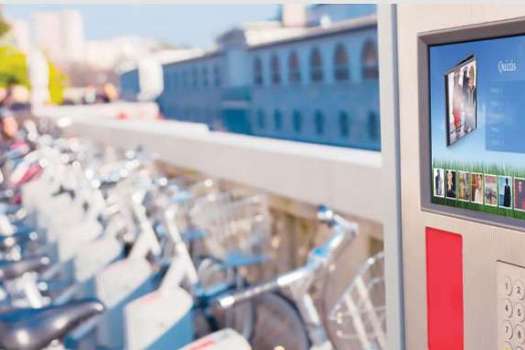 Intelligent bike rental systems in urban transport
By 2050, more than 70% of the world's population is expected to live in cities. To increase energy efficiency and reduce carbon emissions, governments are increasingly building smart bike rental systems and encouraging the public to use green bikes for short trips. When traveling through major cities over the past few years, you may have noticed bike parking on the sidewalks available for public use. Today, in more than 500 cities in 49 countries of the world, advanced bicycle sharing programs with a common fleet of more than 500,000 bicycles are carried out.
Challenge
The customer was looking for an integrated solution. Because intelligent bicycle rental systems operate around the clock outdoors, the system must be strong, reliable, accurate and durable. The uncontrolled operation aspect also poses additional challenges both in terms of environmental protection and operational suitability.
Solution
For this system, Advantech combined the IDK-2110, 10.4" 1 200 nits, high brightness liquid crystal display (LCD) with a rugged touch panel projection-capacitive touch screen (PCAP) and wide-temperature computer on a single MIO-2263 board capable of withstand extreme environmental conditions, and a self-service interface has been provided for registering and ordering bicycles.The LCD kit provides integration flexibility, allowing customers to focus more on system design.

User-friendly interface for reading in sunlight.
To ensure legibility of text in direct sunlight, the system has an IDK-2110 LCD kit 10.4 inches 1200 nits with high brightness. The wide operating temperature range from –20 to 70° C and the low power consumption of just 7.1 W make it ideal for any environment. In addition, the IDK-2110 is also equipped with a visually connected, customizable, projection-capacitive touchscreen widescreen.
Despite the prolonged exposure to the environment, the touch panel remains very visible and easy to navigate. The robust touch sensor for the Projection Capacitive Touch Panel (PCAP) has been specifically selected due to its reliability in outdoor environments where constant exposure to the elements can interfere with normal operation.
High reliability and overall performance
To ensure round-the-clock operation, an intelligent bike rental system must include reliable and durable equipment. Offering users the world's smallest Pico-ITX single-board computer in the world with a wide temperature range, Advantech's MIO-2263 is an intelligent, low-power solution for locations without a power source. This solution supports a combination of a single board computer architecture and a touch display, and can be powered by solar energy. The entire unit provides an ideal user interface and an effective bike lock control system. The inclusion of an ambient light and proximity sensor guarantees an appropriate backlight brightness in relation to environmental conditions. With the proximity sensor, the device is activated only when the user interacts with the interface, thereby reducing energy consumption. The MIO-2263 connects to the IDK-2110 via compatible LVDS and backlight cables. With this highly efficient system and integrated display solution, Advantech provides system integrators with a solid and solid foundation for future development.
Advantech Solutions
MIO-2263
Intel® AtomTM Processors on Chlp E3825 and Celeron J1900 (up to quad-core processors)
Support for two independent screens via 24-bit low-voltage differential signal (LVDS), video graphics adapter (VGA) and handheld markup language / HDMI
Flexible design with multiple integrated I / O points.
Rich I / O interface.
Supports SUSIAccess and Embedded APIs (up to Quad Core)
10.4" LCD display supports 800 × 600 resolution
1200 cd / m2 with LED backlight
Wide range of operating temperatures from –20 to 70° C
Projection Capacitive Touch Technology
LVDS interface