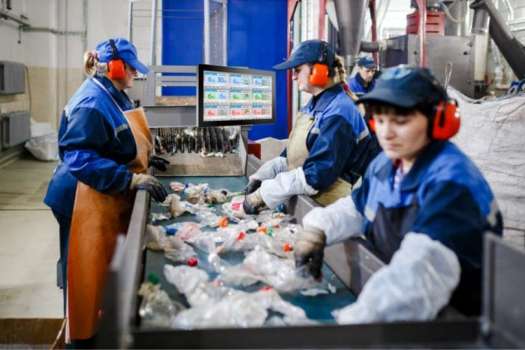 UTC-520 IP65 offers Enhanced Operational Effciency for Waste Facilities Management
Introduction
With increasing globalization, the flows of waste materials dealt with by waste management facilities are becoming increasingly mixed and diverse, containing items ranging from household plastic, glass, and metal products to the chemical, biomedical, electronic, and other forms of potentially hazardous waste. This highly heterogeneous waste flows, in turn, are increasingly difficult to manage and sort, making the ability to track and collect data on incoming waste items ever more critical in order to maximize facility efficiency and profitability. At the same time, waste management facilities contain relatively harsh environmental conditions that require durable and reliable management terminals for optimal operational efficiency.
When deployed as waste facility management terminals, Advantech's ruggedized all-in-one UTC-520 IP65 touch computers can rapidly increase facility automation and improve operational efficiency. With a full IP65-rating, these computers can also be employed as interactive digital signage supporting more streamlined tactile, enhanced facility operations. Easily integrated with waste facilities infrastructures, management systems, and a wide range of diverse peripherals, Advantech's AiOcomputers provide intelligent management for waste facility operations by facilitating rapid waste processing, increasing efficiency, and enabling effective process visualization with application-oriented functionality.
Solutions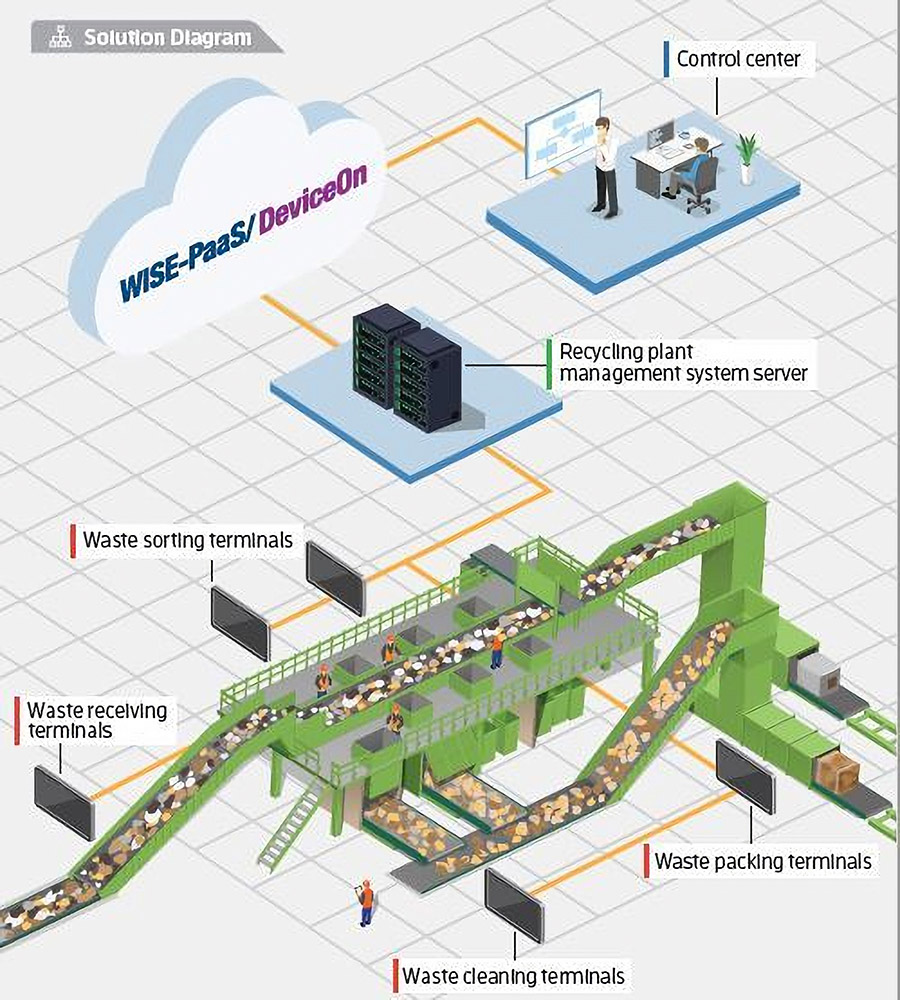 Incoming Materials Terminals for Accurate and Rapid WasteProcessing.
When installed in the receiving area of a recycling plant or other waste management facility, the UTC-520 IP65 allows for the efficient verification, sorting, and directing of all incoming waste materials. The 21.5" panel terminal provides a clear display of real-time information to enable the smooth management of even highly disparate waste material flows. Moreover, by offering status displays at each processing station, a system utilizing UTC-520 IP65 PCs can achieve the active monitoring andSolutionsmanagement of any processing errors to ensure improved operational efficiency, while the glove-compatible touchscreen of the UTC-520 IP65 allows workers to avoid taking off their gloves, making the operation of the terminals even more effortless. Better still, the UTC-520 IP65 can be integrated with optional camera modules, light sensors, and even a waterproof Wi-Fireceiver with cable-free connection to ensure the reliable processing and management of incoming material flows. customer orders, and service status.
Interactive Facility Signage for Effective Communication
The all-in-one UTC-520 IP65 PC can also be employed as interactive digital signage for the display of critical operation metrics and information throughout the facility. By providing clear displays of graphs and charts for visualization and comparison, digital signage makes it easy for workers to understand complex statistical data, including real-time inventory data, and to receive related instructions, safety information, and announcements. Meanwhile, the UTC-520 IP65's 21.5" 16:9 widescreen monitor supports both landscape and portrait screen orientations for enhanced flexibility in a variety of processing plant contexts.
A Rugged and Reliable Panel PC with Full IP65-Rated Protection
Purpose-built to ensure high-performance even in harsh industrial environments, the UTC-520 IP65's corrosion-resistant stainless steel enclosure has full IP65-rated resistance to liquid and dust, making it well protected against the various chemicals and particulates to which a waste facilities management terminal might be exposed, while the UTC-520 IP65's I/O ports come equipped with robust M12 connectors that allow it to be quickly deployed, tested, and maintained. Moreover, compared to consumer-grade panel PCs, the UTC-520 IP65 supports a wide operating temperature range (-10 ~ 50 °C/14 ~ 122 °F), ensuring stable operation and reliable performance under severe temperature variations, as well as a wide input voltage range(12 ~ 32 V) that allows switching between power sources without the use of converters, making the UTC-520 IP65 ideally suited for recycling plants and related waste management environments.