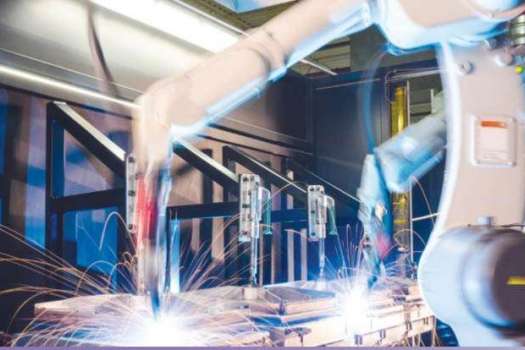 Welding robots in China
Over the past decade, China has seen a rapid development in the welding equipment industry. The country has become the world's largest producer and exporter of welding equipment. In recent years, there has been a sharp development of equipment for the automation of welding robots, and since China is already the world's largest market for industrial robots, sales last year grew by 54% compared to 2013.
Challenge
Previously, welding robotics could not respond flexibly, since all welding processes and welding parameters were predefined depending on the conditions. But with the development of intelligent network technologies, a real-time measurement and dynamic monitoring system was developed that allowed us to quickly respond to environmental changes. The next generation of welding robots provides high speed and precise motion control with sight sensors on the welding head for quick, real-time adjustment.
Solution
EtherCAT is a popular industry standard for robotics and motion control systems due to its high accuracy, open structure, ease of integration and cost-effective functions. For autonomous welding robotics, the video measurement system detects changes in the external environment and transmits information to robots that can adjust welding parameters in real time. Advantech's MIO-2263 technology with Intel Gen 7 graphics makes it easy for customers to implement EtherCAT master and video measurement.
Outstanding dual-USB 3.0 processor and graphics performance
MIO-2263 graphics are based on Intel® Gen 7 graphics architecture with DirectX 11, Open GL 4.0, and Full HD video. Hardware acceleration is included for H.264, MVC, VPG8, JPEG / mJPEG, VC1 / WMV9 and MPEG2 standards. With enhanced multimedia and graphics performance as well as USB 3.0, the MIO-2263 is ideal for a video measurement system.
Robust design for embedded applications
The MIO-2263 complies with the IEC standard for electrostatic discharge protection for a COM port transceiver with l5kV air gap protection and 8 kV contact protection for RS-232. The MIO-2263 was designed with 100% solid state capacitors that provide better reliability, and its high Tg PCB value (TG-170) means the board is more stable when operating in high vibration environments.
Industrial Cloud Client with WISE-PaaS / RMM
The MIO-2263 includes Advantech's WISE-PaaS / RMM remote management software, which creates intelligent management features in embedded computing applications to ensure uninterrupted system operation with less maintenance. WISE-PaaS / RMM constantly monitors the status of several devices and sends alarm notifications by e-mail and SMS. Other utilities are included, such as System Restore (Acronis), System Protection (McAfee) and KVM Remote Switching Tools (keyboard, video adapter, mouse) for protection and recovery.
MIO-2263
Great graphics capabilities
Built-in high speed USB3.0
Universal Intel Ethernet Controller
Strict design and material criteria
Remote software package support