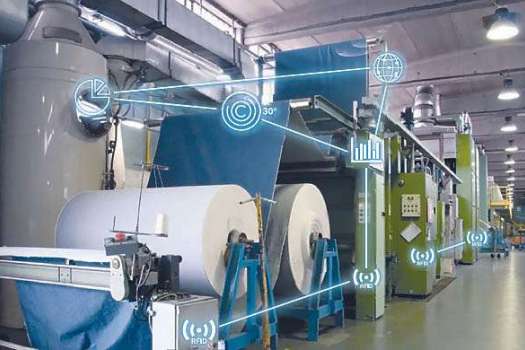 A virtualized platform (WISE-PaaS) allows you to use and upgrade work in a textile factory using IoT technologies
In order to optimize efficient production flow, a textile company in Taiwan has established an IT team responsible for implementing IoT applications. The company then joined the Advantech WISE-PaaS Alliance to gain access to the highest technology support. They used WISE-PaaS to deploy IoT applications in their efforts to create an Industry 4.0 manufacturing environment and more intelligent business practices.
Task
At any time, up to 2,000 textile carts are used in a textile company. These carts carry materials or semi-finished products from room to room. Previously, a handwritten description sheet was attached to each cart. This traditional processing method has made product tracking extremely difficult. In addition, the problem was that each trolley of materials or semi-finished products got on the right processing workstation. Therefore, the company wanted an intelligent solution for tracking assets in its factories. They also wanted to find a solution that would help them collect technological data in order to increase production efficiency.
Decision
As part of the Advantech WISE-PaaS Alliance program, a textile company has deployed a trolley tracking system in its plant. RFID tags were attached to each cart, and an RFID reader antenna was attached to each machine or piece of equipment. Now, as the cart approaches, the radio frequency identification (RFID) reader obtains the identifier of that cart from its tag and transmits data to the ARK-1123 data gateway. Using WISE-PaaS / RMM software to remotely manage data and devices, the gateway provides data transfer and device security. WISE-PaaS also provides a software interface for REST-compliant applications and services for easy integration with MES for electronic production records. In addition, Microsoft Azure provides IoT Big Data computing and analytics. Most importantly, the WISE platform provides easy access to various programming platforms and can be integrated with existing management solutions to improve product / service quality and business intelligence.
IoT-enabled electronic production records and tangible asset accounting
The functions of the trolley tracking system in this textile plant are two-component: one of them is to create records on the production of materials, components and production processes, and the other is in the trolley tracking system. The system is a typical IoT application - it is a cost-effective solution that combines radio frequency identification (RFID) technology to implement electronic control and real-time accounting of tangible assets. WISE-PaaS provides integrated RFID data management and cart management for REST-compliant applications and services on a user-friendly dashboard, providing easy and intuitive accounting of tangible assets. These integrated tools allow users easily and efficiently manage production records. This significantly improved the efficiency of the company's production line, helping the company achieve its Industry 4.0 production environment and increase competitiveness.
Advantech Solutions
WISE-PaaS and the Alliance Advantech WISE-PaaS program provide the Alliance partner program to further develop business potential. Within the Alliance, collaboration between academia and industry on innovation can also contribute more effectively to existing solutions. Advantech offers alliance members a starter kit for developing IoT, SDK / Protocols, Microsoft Azure, professional consulting and technical training services, finding business partners, creating a joint marketing program and much more to form a win-win strategy necessary for success in the IoT market.