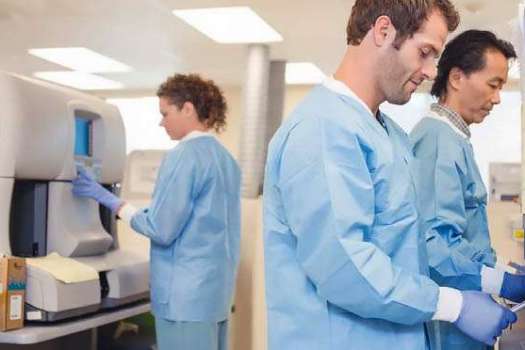 Ultra Slim Modular Panel PC for Surface Area Analyzer
Surface and pore size analyzers offer a comprehensive solution for determining the surfaces of solid materials and using the well-established gas adsorption techniques to measure surface area and porosity of solid particles. They are widely used in the medical industry and provide single point and multipoint surface analysis, as well as the ability to absorb various gases.
Task
An analyzer of the distribution of surface area and pore size should provide a complete solution for reliable long-term use. It should have high MTBF support and durability to ensure long product life. An interactive interface is required for precise control and ease of operation. Finally, a compact computing system is required for portability and space saving.
Solution
Advantech provided this customer with an ultra-slim, modular PC solution that includes the ARK-1122 slim, integrated fanless system and IDS-3115 15" frameless touch display with an Intel Atom N2600 processor. This combination satisfies the needs of both computation and graphic display, which allowed the customer to create his own flexible analysis system.
The modular solution is delivered comprehensively, individual cables and a VESA mounting bracket are included, so the customer can easily integrate our solution into his application using highly efficient cable equipment.
Modular design saves space, cost and flexibility
The modular solution provides a flexible and cost-effective choice for integrating screens and PCs so that customers can choose the package that perfectly suits their needs. Compared to traditional panel PCs, it is 30 mm thinner and saves up to 30% of development costs. In addition, the modular solution delivers reliable performance with a dual-core processor and comes with three different I / O ports for connecting peripherals and transmitting data over the Internet.
Easy-to-read interactive interface for easy control
The 15-inch PC with XGA modular panel has a 5-wire resistive touch screen that provides reliable performance and guaranteed longevity for 10 million touches.
In addition, it allows you to easily control all the functions of the device without using an external computer. The open front panel architecture provides a housing with space to accommodate the brand name. In addition, with Advantech's built-in WISE-PaaS / RMM remote management software, customers can remotely monitor and control in real time to protect the device from cyber threats and attacks.
Advantech Modular Panel PCs and Fanless Industrial PCs provide customers with a flexible solution that can be customized to their specific needs, schedule and budget.