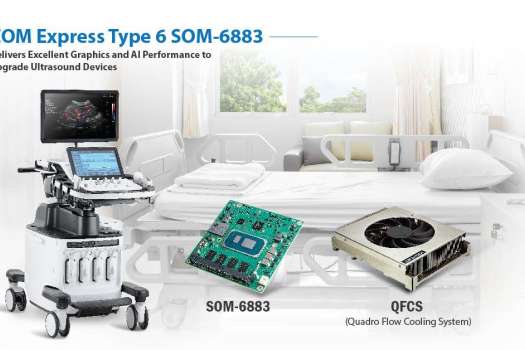 Use of SOM-6883 in medical equipment
Ultrasound System Requirements
Effective ultrasound systems accelerate diagnosis, and help doctors make better, quicker treatment decisions. To this end, ultrasound machines require extreme processing performance and graphics rendering to enhance diagnostic accuracy, and instantly acquire precise images. Analogously, easily moveable is also required to accommodate changing medical scenarios and trends, especially when treating patients with limited mobility or travel/movement restrictions caused by COVID-19.
Challenges
High-end ultrasound usually leverages FPGA, graphics cards, or AI accelerator modules to enable high computing and graphics performance, so the system design is complicated and cause higher cost with additional GPU or VPU engine integration. Moreover, because of pursuing extreme performance, these systems will inevitably encounter heat dissipation issues. In normal applications, cooling solutions address these issues. However, the modern and stylish ultrasound machines have limited space for cooling solutions and even request quiet in the hospital environment.
This combination of restrictions and requirements creates the following challenges:
Additional hardware/software integration costs yield high development expenses
Despite space restrictions, these solutions necessitate highly-reliable to deliver accurate and timely service for healthcare
Common thermal modules, being too large for compact devices and too noisy for use in medical environments — are ill fitted to mobile ultrasound solutions
Excellent Performance SOM-6883 and QFCS Technology
Advantech's SOM-6883 delivers excellent computing performance with equipped 11th Gen. Intel® Core™ Processors (Tiger Lake-UP3) and 96 EUs with Intel iRIS® Xe graphics. When compared with previous generations, the SOM-6883 yields a 3X graphics performance increase and 2X AI model benchmark test results without extra graphics card implementation. In addition, Advantech QFCS (Quadra Flow Cooling System) technology with low profile and low noise features can release all TDP power to derive 100% performance.
Not only breakthrough performance, this model supports DDR4 memory down, and super speed PCIe Gen4 (16GT/s), USB 4 Type-C interface, and other advanced I/O to create a slimmer, vibration resistant characteristic for customers' system design. In sum, Advantech's compact (95 x 95 mm/3.74 x 3.74 in) SOM-6883 board is an ideal solution for ultrasound machines.
Advantech's Solution
The processor in this powerful compact embedded board satisfied our customer by delivering native computing/graphics performance, and 8K SDR high-resolution displays. In addition, the SOM-6883 empowers AI-based diagnostics without the use of a second graphics card. These features ease the development, reduce the costs, and quicken the time-to-market for ultrasound systems. Advantech provided professional design-in services aimed at expediting the implementation of SOM-6883 into our customer's ultrasound systems. On the other hand, Advantech also provided signal integrity consultants, EMI consultant, BIOS customizations, and ready-to-use software utility. Advantech's Edge AI Suite toolkit delivered a user-friendly environment for the selection of board SKUs; and more than 100 validated AI modules with converters to our customer.
Advantech's patented thermal solution, the QFCS thermal solution, is compatible with Intel® strain gauge standards. This silent, slim, and light solution efficiently dissipates CPU heat, and is easily adaptable to customer needs. When paired with SOM-6883, the compact 26 mm (1.02 in) QFCS delivers excellent performance with a minimal noise level (45dB) and is suitable for applications in medical environments.
Conclusion
Advantech uses hardware and software design-in services to deliver innovative products to medical applications. We are committed to helping customers adapt to AIoT while reducing their time-to-market.
Key Features
[SOM-6883] COM Express R 3.0 Type 6 Compact Module
Powerful 28W low-power consumption 11th Gen. Intel® Core™ 4 core processors
Excellent graphics and AI via Intel® iRIS Xe Graphics G7 96 EUs
Low profile board with anti-vibration memory down design
Four independent 4K displays (up to two 8K)
Configurable USB 4 Type-C slim I/O, and Thunderbolt
Super Speed I/O expansion: PCIe Gen4 (16GT/s), USB 3.2 Gen2 (10Gbps), 2.5GbE Slim, quiet QFCS thermal solution