Advantech Ethernet Switches: Maximizing the Value of Coal Mining Automatic Monitoring System
Intellectual Automation Comes to the Coal Mining Industry
Due to the rapid pace of technological change, data transmission processes are becoming more sophisticated and the application of automatic monitoring is emerging as a major global trend. In the coal mining industry, utilizing intellectual automation can significantly increase the effectiveness and efficiency of monitoring systems. A reliable industrial ring network system also plays an essential role in modern coal mines. To supervise mining equipment in real-time, a highly secure, reliable and efficient control system is indispensable.
Planning a Modern Real-Time Monitoring System
A coal mine in China deployed an industrial ring to realize data interoperability. The network system collected data on automatic equipment from each monitoring station. To construct a modern real-time monitoring system, the factory also introduced an advanced automatic control system to manage each stage of the automated production process. By employing these systems, the coal mine hoped to create a cutting-edge integrated control system.
Obstacles: Existent Devices, Independent Systems, Complicated Maintenance
Nevertheless, the automation system couldn't achieve optimal results. In the factory, there were already several automated processes for drainage, ventilation, power supply, coal sorting, industrial television, security monitoring, and active automation systems which were built during different periods. Independent systems also disabled data interoperability. Low reliability with information integration caused problems in real-time monitoring and factory security and specialized maintenance staff were required to handle different aspects of complex equipment maintenance.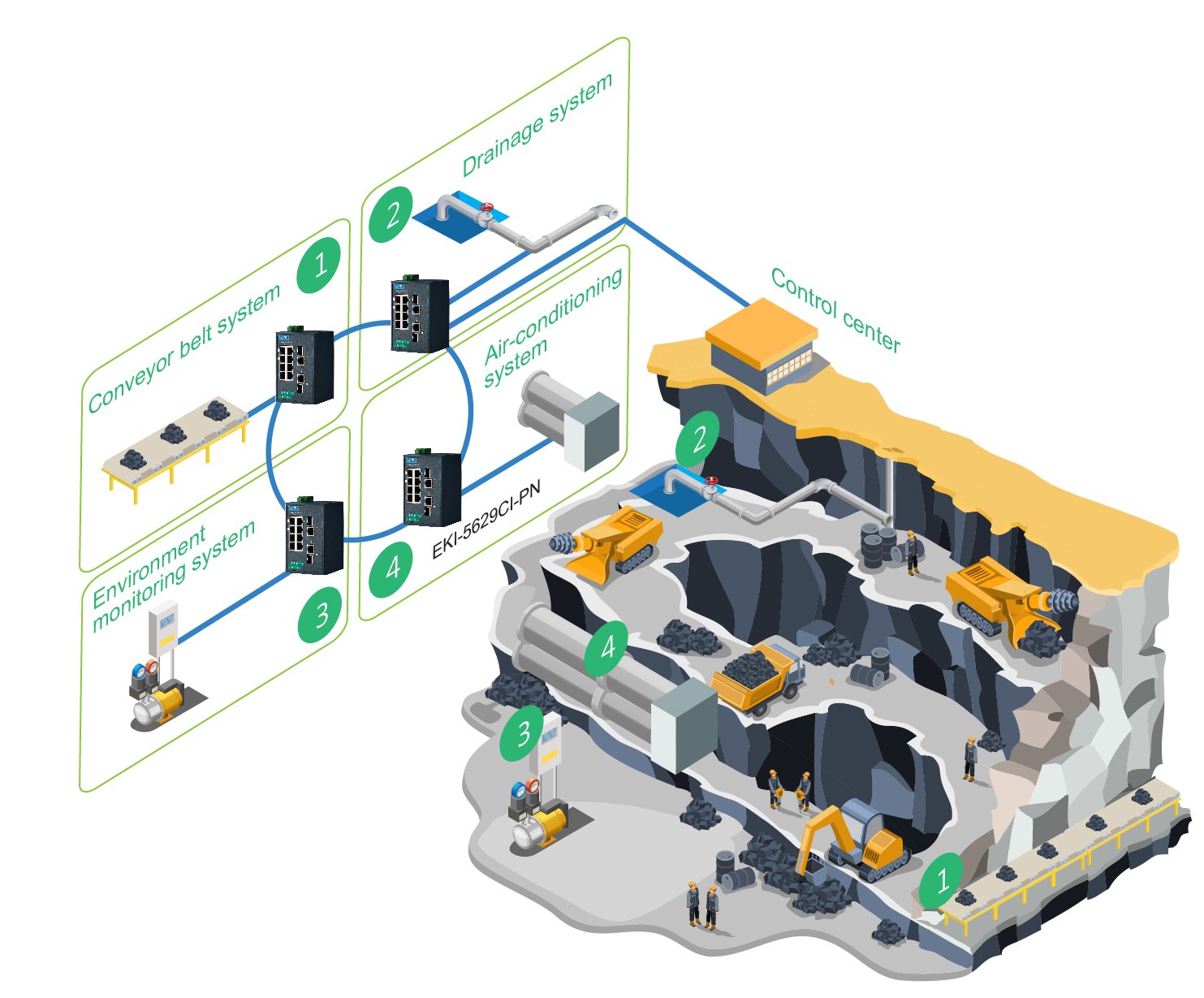 Advantech Ethernet Switch: Real-Time Network Connectivity for Data Transmission
Advantech provided Managed Redundant Industrial Ethernet Switches for this project. The EKI-5629CI-PN was equipped with X-Ring Pro redundancy for ultra-high-speed recovery times of less than 20 ms. The eight Fast Ethernet ports and two Gigabit Copper/SFP combo ports (EKI-5629C/I-PN) supported 100 and 1000-Gbps fiber optical transceivers. Flexible SFP slots enabled users to insert different transceivers according to their needs. To function stably under extreme environmental conditions in the coal mine, the switches were designed as fan-less and built for an extreme temperature range of -40 to 75° C.
Intuitional Expansion, Upgrading and Maintenance
The EKI-5629CI-PN proved highly flexible for different Internet applications, including network typology and service content. The configurable and modular designs of both the software and hardware allowed for capacity expansion, function upgrading, and maintenance. Furthermore, the systems used Web and a B/S structure. Software with open network interfaces enabled data transmission to backstage areas such as central control rooms and management departments in different levels.
Ethernet and PROFINET Protocols for Seamless Communication
Advantech's PN Managed Ethernet Switches supported MRP which satisfied the PROFINET real-time communication standard. With the PROFINET standard, users could manipulate Internet management or upper software to do centralized management over equipment and switches.
A Painless Upgrade and Expansion of Network Communication
As automatic monitoring technology has gone viral in recent years, the coal mining industry has begun introducing industrial rings into factories to improve managerial efficiency. Advantech's EKI-5629CI-PN managed Ethernet switches are well suited for use in this industry due to their high reliability for data collection, integration, and transmission. By implementing Advantech products, the coal mine solved monitoring problems while also preparing for the future installation of products with open network interfaces. With the trend toward the automation of monitoring spreading widely across industries, Advantech's cost-effective solutions and reliable products help companies maximize the value of automation.
About EKI-5629CI-PN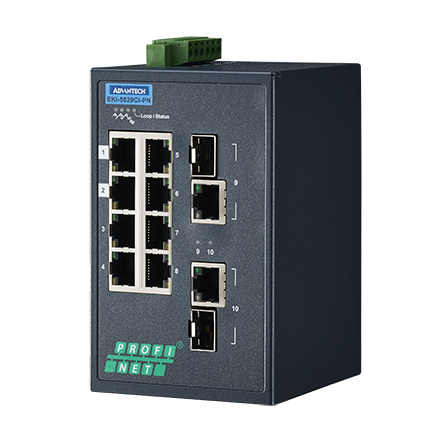 8FE+2G Combo Managed Ethernet Switch support PROFINET, -40~75℃
Entry-Level Managed Switch
IXM function enables fast deployment
Provides GSDML files
Management: SNMP v1/v2c/v3, WEB, Standard MIB, Private MIB
Supports Media Redundancy Protocol (MRP slaves)