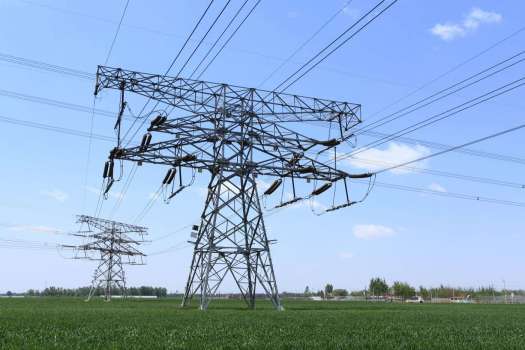 Advantech Collaborates with CAC to Install Substation Automation System in Naypyidaw
Electricity is an indispensable resource in modern society. Its availability effects societal conditions found in factories, government, and banks; as well as the daily lives of users inside and outside cities. When pressing a light switch, few people consider the infrastructure needed to distribute electricity.
Difficulties in Unified Substation Management:
Substation Automation Becomes the First Step Towards Urban Upgrading
Substations are an essential part of modern energy infrastructure. Energy demands are increasing with the world's population. Ensuring stable and sufficient power supplies via substations is a considerable challenge for governments around the world. Traditional substations consist of mechanical equipment and manual switches which creates systems that are susceptible to human error. When issues emerge, in the form of power surges or tripped circuit breakers, operators are tasked with solving problems and reporting information in real time. This creates problems in unified monitoring, power dispatching, and management. To address this, many of the world's governments have promoted "Substation Automation". According to Smart Energy International, in the next decade Europe will invest up to US$23.9 billion in unified substation management to increase energy efficiency. Similarly, the government of Myanmar is seeking "Substation Automation" solutions.
Myanmar Resident Services Company Adopts Advantech's Products to Build Substation Automation System
At the beginning of 2020, Myanmar Resident Services Company (CAC) deployed Advantech's solutions to assist the government in constructing automatic centralized monitoring systems at 10 substations in Myanmar's capital city Naypyidaw. CAC decided to employ Advantech's products in Naypyidaw after attending Advantech's technique training, which overviewed successful applications in Asia and Europe. They also received recommendations from Advantech's business partner in Thailand.
Utilizing Advantech's Equipment :Integrating Various Communication Protocols with ECU-4784, EKI-9226 and 17" FHD KVM
Each of Naypyidaw's substations has electricity meters, circuit breakers, relays, and various other equipment used in monitoring factories. The substation automation system utilizes ECU-4784 industrial PC as gateways, as well as EKI-9226 switches and 17" FHD KVM monitoring screens. These devices integrate different communication protocols from different facilities, and unify data collection, transmission, and monitoring.
ECU-4784/ECU-4784A industrial PCs are IEC 61850-3 and IEEE 1613 certified products. They are compliant with the international standards that define communication protocols at substations. The products minimize energy use via a fanless design and maximize efficiency with Intel Atom® D525 processors. ECU-4784 connects to third-party RTU devices and EKI-9226, while collecting DI/DO signals and IP-based machine conditions. The PCs also connect relays and MFM Series. Data is later integrated and transmitted wirelessly to a central control room through third-party routers.
Designed for harsh environments, EKI-9226 industrial rackmount managed Ethernet switches are IEC61850-3 certified. They support stable operation in the temperature ranges endured at substations -40 ~ 75 ˚C (-40 ~ 167 ˚F). EKI-9226 is equipped with 20 SFP fiber-optic ports and 6 Gigabit RJ-45 ports. Fiber-optical transmission's total internal reflection prevents data transmission noise interference interruption and ensures transmission quality. A switch can connect to more than 20 IP devices efficiently and transmit data to Advantech's ECU-4784 industrial PCs. The system enables centralized management and allows operators to monitor substations in real-time regardless of their location or time zone.
ECU-4784 integrates various communication protocols such as IEC-61850, IP and Modbus, and transfers data 17" FHD KVM display modules and third-party routers. Advantech's KVM supports Full HD 1080 resolution and are equipped with VGA and DVI-D ports. Operators can utilize the 17-inch widescreen LCD display modules for the on-site monitoring of substations.
Using the completed automation system, data from ten substations can be collected, analyzed, and displayed simultaneously. Operators can remotely monitor each substation with ease.
System Architecture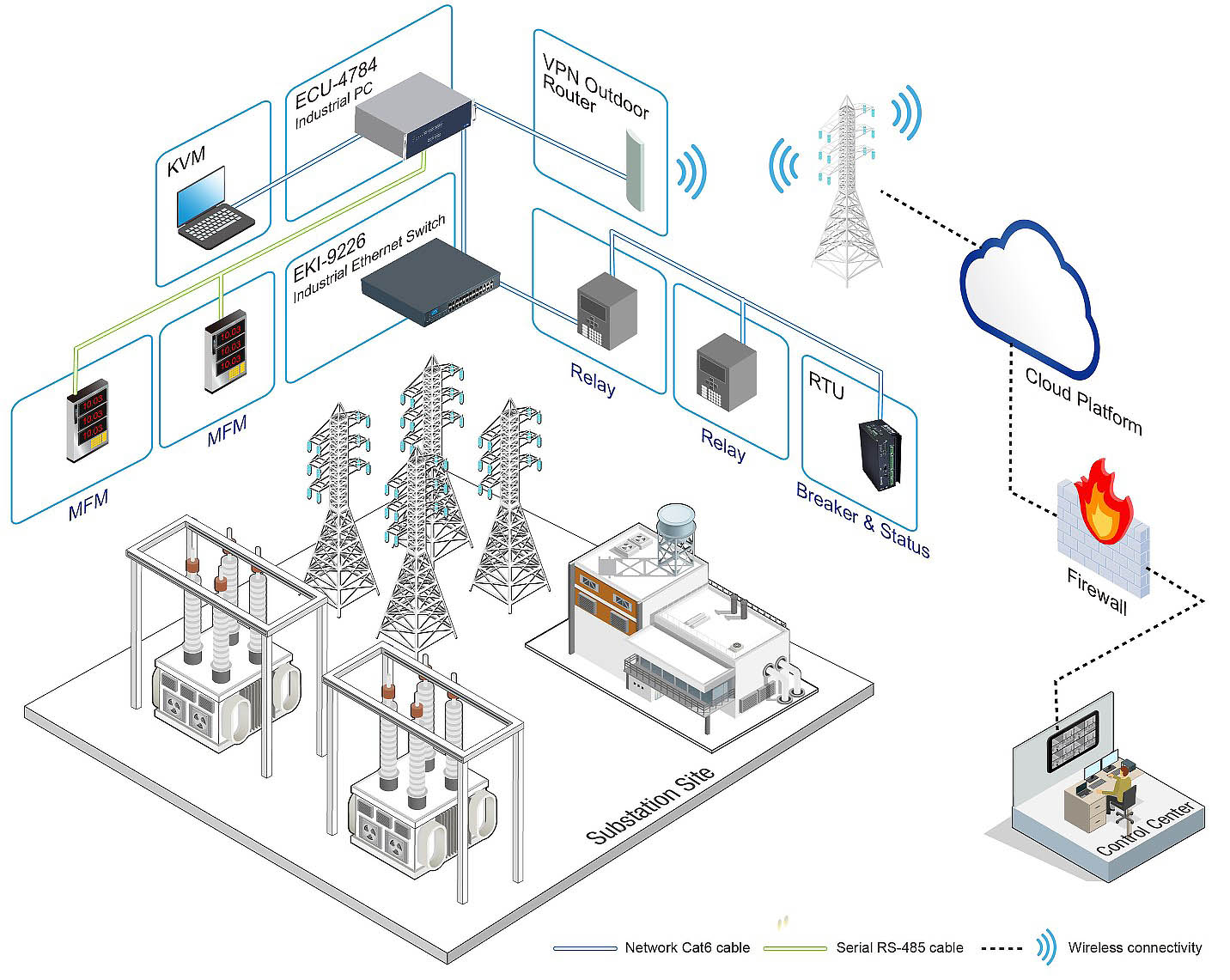 Deploying Advantech's Products for Fast System Construction and Lower Cost
Advantech's highly compatible and easy-to-install products enabled Myanmar CAC Corporation to complete system construction in under two months. Additionally, Advantech's competitive pricing and high durability helped the company reduce setup costs dramatically. In its efforts to advance Industry 4.0, Advantech has devoted itself to assisting every global industry. To this end, they are developing intelligent and automatic Internet, becoming a prominent industry leader, and continuing to work towards societal gains.