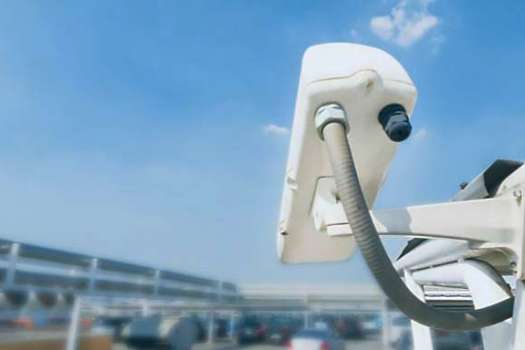 EPolice Solutions Enhances Road Safety in China
Ensuring the effective management and control of increasingly heavy traffic in China is an extremely difficult task. This situation is further exacerbated by the significant gap between the least and most developed areas. However, with Advantech's help, local authorities are creating the ePolice solution, which features advanced video surveillance to respond to the demands of China's growing traffic.
Challenge
Heavy vehicle traffic, as well as the high frequency of accidents / collisions, are becoming commonplace not only in large cities, but also in less developed areas of the country. Given the limited staff, an electronic video surveillance system was introduced to compensate for the shortage of police officers. Now this ePolice solution can work 24/7 year-round to accurately record traffic dynamics.
Solutions
To improve the flow of traffic, the ARK-2150 provides several expansion options that can be easily integrated with third-party video surveillance equipment and software to provide a comprehensive NVR solution. Each ePolice unit includes roadside cameras, signal lights, Preventing a hazardous situation, induction coil, wired / wireless network modules, switches, and electronic control device Intelligent video identification at road intersections.
Developed SDKs and APIs for monitoring and managing devices
This ARK solution not only provides video surveillance hardware, but also integrates the hardware, firmware and software with the SDK and API into a complete package, which eliminates the need for the complex programming required to make low level system calls. This allows system integrators to focus on developing their own applications and functions, which allows them to enter the market faster. Remote management software, such as Advantech's WISE-PaaS / RMM, makes it easy to develop real-time centralized management ePolice solutions that can easily integrate advanced applications like the VMS or IVA operating system.
Multifunctional extension for various scenarios
ARK Embedded Fanless Systems can support up to three Mini-PCIe slots for installing 3G, Wi-Fi and CANBus modules. For example, in the public bus information system, the CANBus module provides connectivity to the vehicle's network, which makes it easy to track and monitor vehicle data, such as speed, gear usage, braking and fuel consumption — data that is invaluable in determining whether it's tangible or intangible liability in relation to road accident. And to improve communication, the 3G module and several SIM cards provide real-time access and the ability for vehicle drivers to communicate with each other and with the control center.
Advantech Solutions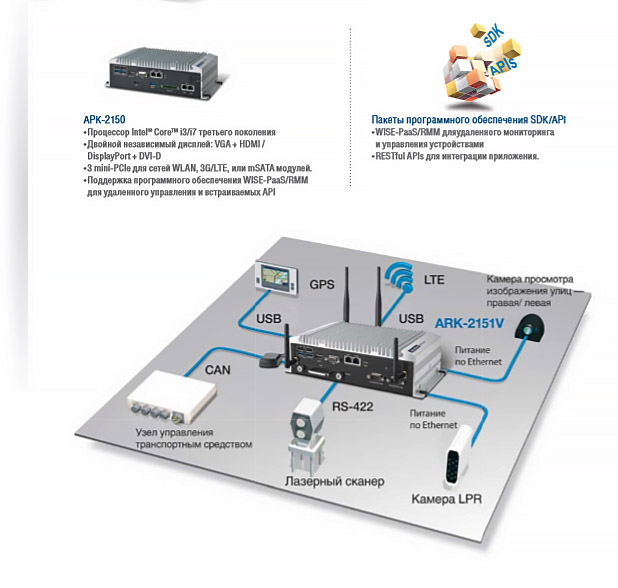 ARK-2150
3rd Generation Intel® CoreTM i3 / i7 Processor
Dual independent display: VGA + HDMI / DisplayPort + DVI-D
3 mini-PCIe for WLAN, 3G / LTE, or mSATA modules.
WISE-PaaS / RMM software support for remote management and embedded APIs
SDK / API Software Packages
WISE-PaaS / RMM for remote monitoring and device management
RESTful APIs for application integration.