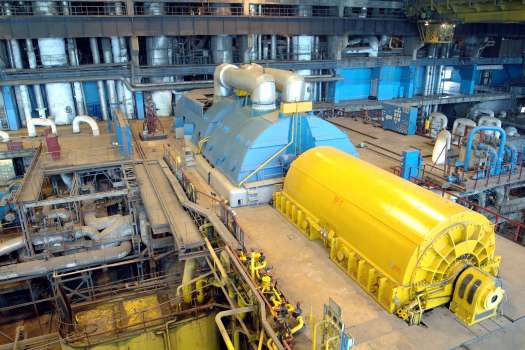 Solution to automate the production of existing machinery
An increasing number of enterprises need to transform and modernize their production lines to intelligent production. The biggest challenge for monitoring enterprise equipment is how to complete signal collection and establish communication between devices of different brands and types.
This client was required to monitor the status of each of his machines, including on / off time, production volumes and stack lighting.Advantech offers an integrated solution that automates production using existing machines at no additional cost to buy new machines.
System requirements
This customer mainly manufactures precision molds, standard mold parts and related injection molding products. Their production line has a total of 19 machines from three different brands. Some of these machines have been in operation for over 20 years.
The following questions require consideration:
Machines from different manufacturers use different communication protocols, which requires protocol conversion.
Some older machines do not support communication interfaces, which means that external sensors must be used.
In the workshop there are many metal objects that can cause signal interference, and the close space is inconvenient for wiring; therefore, the new system must have simple and convenient wiring.
The new system had to track the status of various brands and generations of machines, as well as generate daily production reports, intuitively display the use of production line equipment and provide information for changing gears.
System description
The customer wanted to monitor the working status of the machines. However, most older machines do not have communication ports, and for those that do, it is difficult to get communication protocols for suppliers. Thus, various instruments for collecting signals were installed in the sensors, and the ADAM-6250 was used to determine the state of the machines (for example, work, shutdown, idle, breakdown) and stack indicators.
ADAM-6250 modules were installed on each machine. The serial connection configuration was adopted to connect adjacent modules to minimize wiring. The collected data was then aggregated on the local automation computer UNO-2184G.
Since the workshop was located far from the control center, the EKI-2525 switch was used to transfer data to the control room.
Advantech professional service integrators were able to retool machines so that signal data could be collected using sensors. The operating status of the machines can then be mapped in reports to see the effectiveness of the equipment on site.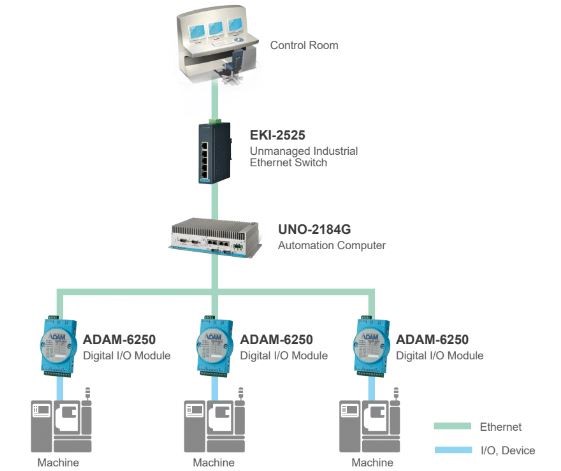 Conclusion
Advantech can offer reliable, stable and cost-effective complete solutions that include remote I / O modules, switches and industrial computers. The system has increased production efficiency by more than 30% for this client. In addition, the system has an alarm mechanism and a malfunction button that allows you to monitor the status of the equipment. This made it possible to plan repairs and maintenance in a timely manner, thereby increasing the service life of equipment, reducing the number of failures and saving more than 20% of equipment costs.